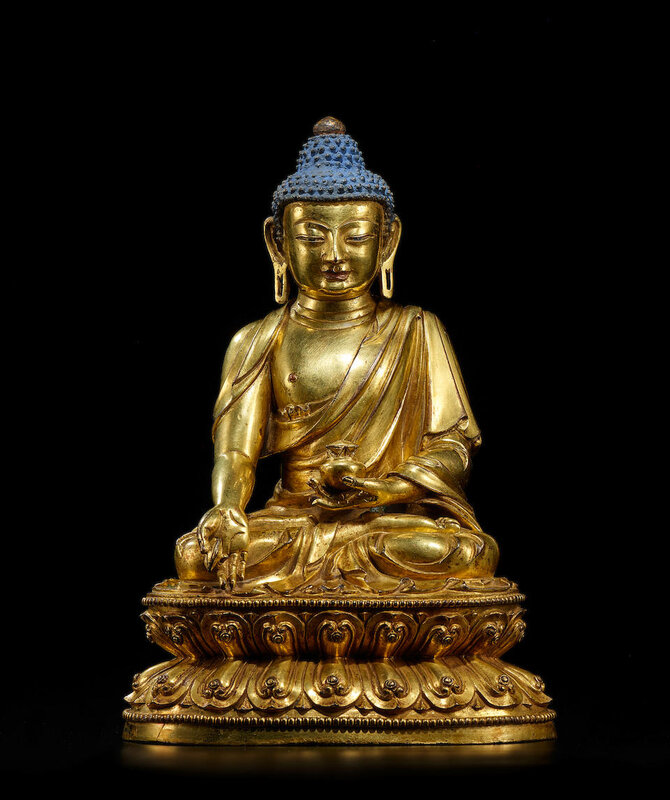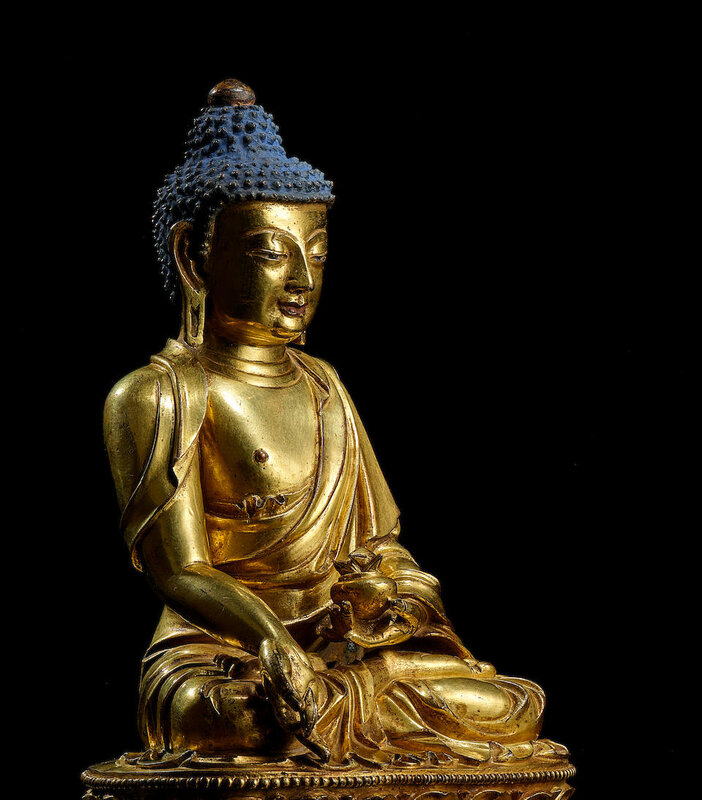 Lot 22. A gilt copper alloy figure of Bhaishajyaguru, Tibet, 15th century. Himalayan Art Resources item no.16980. 27 cm (10 5/8 in.) high. Est: HK$ 2,000,000 - HK$ 3,000,000. Sold for HK$ 2,502,500 (€ 267,504). © Bonhams 2001-2021.
Skillfully modelled and thickly gilded, this impressive bronze depicts Bhaishajyaguru, the Medicine Buddha, who is worshipped in Mahayana and Vajrayana Buddhism to overcome physical, mental, and spiritual sickness, and to purify karmic debt. In line with classic iconographical prescriptions, his left hand holds a medicine jar containing nectar from the myrobalan plum, and his right hand extends in the wish-granting gesture (varada mudra) while holding a single fruit between the thumb and index finger.
Note: During the Yongle (r.1402-24) and Xuande (r.1425-35) reigns, Chinese imperial workshops produced refined gilt bronze sculptures in a distinct style, exemplified by the widely published Shakyamuni in the British Museum (1908,0420.4), and another Yongle-marked Bhaishajyaguru sold at Christie's, New York, 19 March 2014, lot 1624. To strengthen secular and religious alliances with Tibet, some of these bronzes were gifted to Tibetan hierarchs and monasteries, where they subsequently influenced Buddhist images produced locally. The current lot is a superior example of bronze images created in Tibet in close emulation of the imperial style.  

Stylistic parallels can be drawn between the present work and the two aforementioned Yongle bronzes. The classic Yongle style is evident across all three bronzes in the treatment of the robes, namely in the dramatic pleats falling from the left shoulder, tight ruffles around the waist, and rounded folds across the legs. Similarities extend to the plump cheeks and square jaw, as well as the elongated lotus petals evenly spaced around the base between two rows of rounded pearls.

Although following much the same style, subtle stylistic details set this Tibetan Bhaishajyaguru apart from imperial models. For instance, each lotus petal encircling the base culminates in a two-point tip cradling a round jewel, whereas those in the Yongle examples end in a three-point curl. The robes of the Tibetan figure are also afforded slightly thicker folds with harder edges, as if made of a heavier, warmer, less silky material. Additionally, his right shoulder is covered by the robe, a detail absent from the Yongle or Xuande bronzes, but more commonly seen in Ming pieces produced later in the 15th century (see Buddhist Statues of Tibet, Hong Kong, 2003, p.235, no.224; and Sotheby's, Paris, 15 December 2016, lot 129).

Also see another Yongle-inspired Tibetan bronze, ungilded and not as faithful to the imperial style, sold at Bonhams, Hong Kong, 29 November 2016, lot 124.
Bonhams. Images of Devotion, Hong Kong, 21 Apr 2021