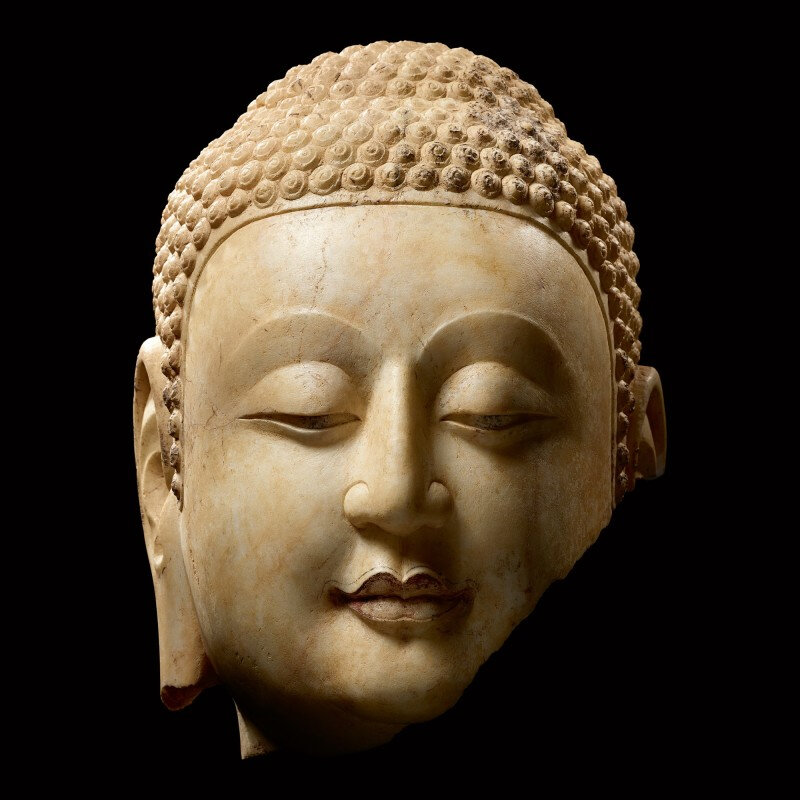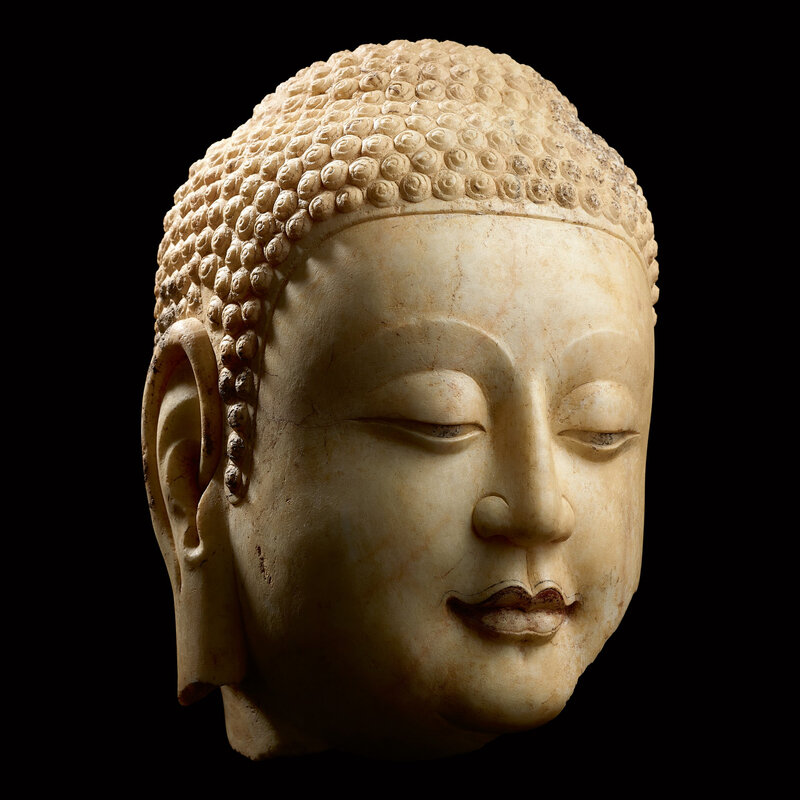 Lot 5. A superbly carved rare marble fragmentary head of Shakyamuni Buddha, Northern Qi dynasty (550-577); 27.8 cm. Estimate: 3,000,000- 5,000,000 HKD. Lot sold: 3,780,000 HKD. Courtesy Sotheby's.
sensitively modelled, the benevolent face depicted with a pair of heavily-lidded downcast eyes, an elongated nose flanked by pendulous ears and delicately hemmed lips, all below evenly arched eyebrows, the hair arranged in dense rows of spiral curls rising to a faintly domed ushnisha, stand.

Note: The Northern Qi dynasty was one of the most vibrant periods in the history of Chinese art, both religious and secular, as its openness towards foreigners, their ideas, beliefs and goods, immensely enriched the local cultural climate. Buddhist sculpture experienced perhaps its most glorious moment in this period. While in the Northern Wei period, manners of depiction had only just been adapted from their south and central Asian prototypes, in the Northern Qi they had matured and developed into native styles. Yet, they still emanate the seriousness of strong religious beliefs and had not yet moved towards the pleasant and more decorative imagery of the Tang dynasty.
It is extremely rare to find a marble head of the Buddha of this fine quality. Sensitively defined with an expression of deep serenity, this head is related to sculptures recovered from a hoard at the Longxing Temple in Qingzhou, Shandong province, where Buddha heads in many different variations were found; compare, for example, the Northern Qi heads illustrated in Qingzhou Longxingsi fojiao zaoxiang yishu/Buddhist imagery art at Longxing Temple of Qingzhou, Ji'nan, 1999, pls 118-121; and others included in the exhibition Masterpieces of Buddhist Statuary from Qingzhou City, National Museum of Chinese History, Beijing, 1999, p. 121. Compare also a marble head of the Buddha in the Hoppenot Collection, Paris, illustrated by Daisy Lion-Goldschmidt, Chinese Art, New York, 1980, pl. 118; another head illustrated in Osvald Sirén, Ars Asiatica, vol. VII, pl. LVI, no. 641. Another similar example was sold in our New York rooms, 22nd September 2005, lot 16. See also a Northern Qi limestone Buddha head with comparable facial features in the collection of the Metropolitan Museum of Art, New York, illustrated in Denise Patry Leidy and Donna Strahan, Wisdom Embodied: Chinese Buddhist and Daoist Sculpture in the Metropolitan Museum of Art, New York, 2010, cat. no. A12 (fig. 1).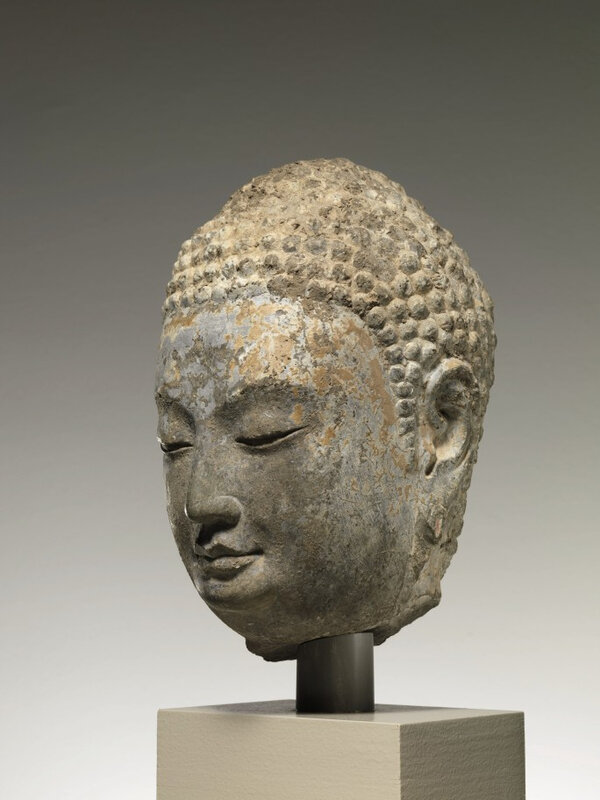 A limestone head of a Buddha, Northern Qi dynasty. Purchase, The Vincent Astor Foundation Gift, 2001. The Metropolitan Museum of Art, New York (No. 2001.422).
Sotheby's. Monochrome III, Hong Kong, 22 April 2021