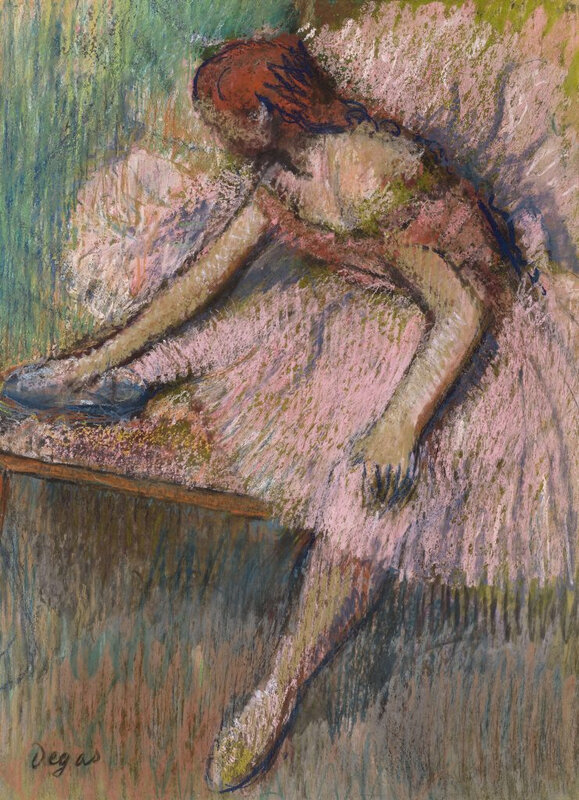 Edgar Degas, Danseuse rose, circa 1896, estimate: £2,500,000-3,500,000. © Christie's Images Ltd 2021
LONDON.- Edgar Degas' Danseuse rose (circa 1896, estimate: £2,500,000-3,500,000) and Femme sortant du bain (circa 1886-88, estimate: £1,300,000-1,800,000) will feature in Christie's 20th and 21st Century Evening Sale on 30 June 2021. Together, they represent Degas' exploration of two of the themes he found most enduring – that of the dancer at rest and the intimate gestures of a woman bathing. Through the second half of his career, pastel had become Degas' favoured medium, its materiality allowing him to build up complex layered colour schemes in his compositions. These two works on paper illustrate not only the evolution of Degas' technique over the course of a decade, reflecting his mastery of the medium, but also the growing importance of working in series within his practice at this time. Danseuse rose and Femme sortant du bain have remained in the same private collection for over 20 years and have not been seen publicly since the 1990s.
Keith Gill, Head of Impressionist and Modern Art, Christie's London: "These two exquisite works on paper offer insight into key themes that Degas returned to again and again in his practice. His fascination for capturing the female form in private moments led him to repeatedly explore the subjects of dancers as they paused or women as they bathed. He presents the viewer with an intimate encounter with the sitters, deftly experimenting with the medium of pastel to create layered surfaces, dense in texture and dappled with light. We are thrilled to offer Danseuse rose and Femme sortant du bain in London in our June 20th and 21st Century Evening Sale. Danseuse rose has not been seen in public since it was sold in the landmark sale of the Reader's Digest Collection in 1998 – where it had resided for over 50 years."

The theme of the female dancer occupied Degas intensely during the final two decades of his career, with the artist devoting more than three-quarters of his production in all media to the subject. In compositions such as Danseuse rose, Degas offered an informal glimpse of life behind the curtain, into a world of incredible athleticism, movement and action, as well as the rare moments of repose and respite between rehearsals or performances. The soft pink tones of the dancer's costume fill the composition, her voluminous skirt spreading around her in a cloud of colour, capturing the subtle play of light and shadow through the material. Using an array of different strokes to render the contrasting textures of her costume, her skin, and the surrounding environment, Danseuse rose demonstrates the increasingly bold and experimental nature of Degas' work in pastel at this time. The pose adopted by the young woman appears repeatedly in sketches and pastels of this period, both on her own and in multi-figure works such as Les Grandes Danseuses vertes (circa 1898) at the Ny Carlsberg Glyptotek, Copenhagen, and Danseuses (Danseuses au repos) (circa 1898) at the Fondation de l'Hermitage, Lausanne. The large number of works Degas devoted to exploring this pose attests to his persistent interest in the shapes conjured by what seems to be a casual movement.

In contrast to his depictions of dancers who are most often engaged in or seen preparing for a public spectacle, Degas' scenes of bathers present women engaged in an intensely personal ritual. He was fascinated, first and foremost, by their movements, their gestures, the sudden and unexpected sensuality of an open shoulder or a slowly moving arm. In Femme sortant du bain the woman's body is filled with a palpable inner tension, her muscles held taut as she reaches over the edge of the tub and prepares to step out of the water. Bright sunlight falls through the window on the left, creating a delicate play of light and shade along the length of her body, and highlighting the golden tones of her hair, gathered in a loose knot atop her head. While the female bather is a subject rich with a multitude of art historical precedents, Degas places his women firmly in his own time, creating a thoroughly modern conception of this traditional subject.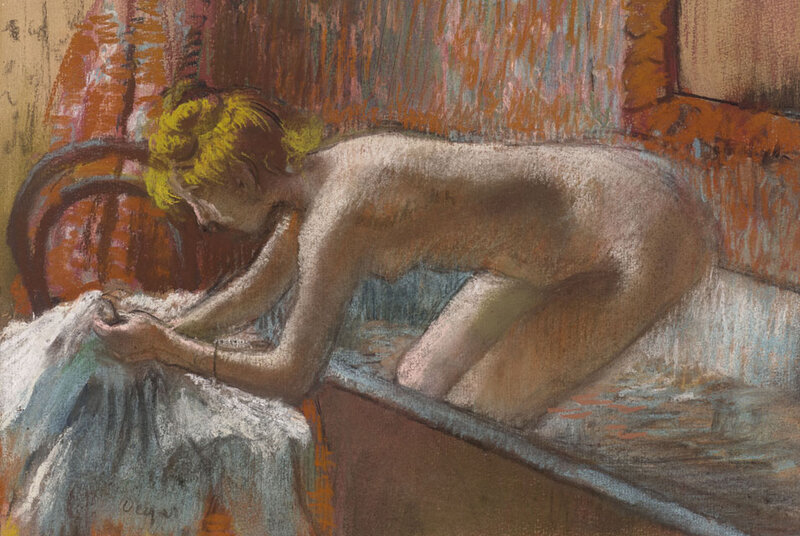 Edgar Degas, Femme sortant du bain, circa 1886-88, estimate: £1,300,000-1,800,000. © Christie's Images Ltd 2021