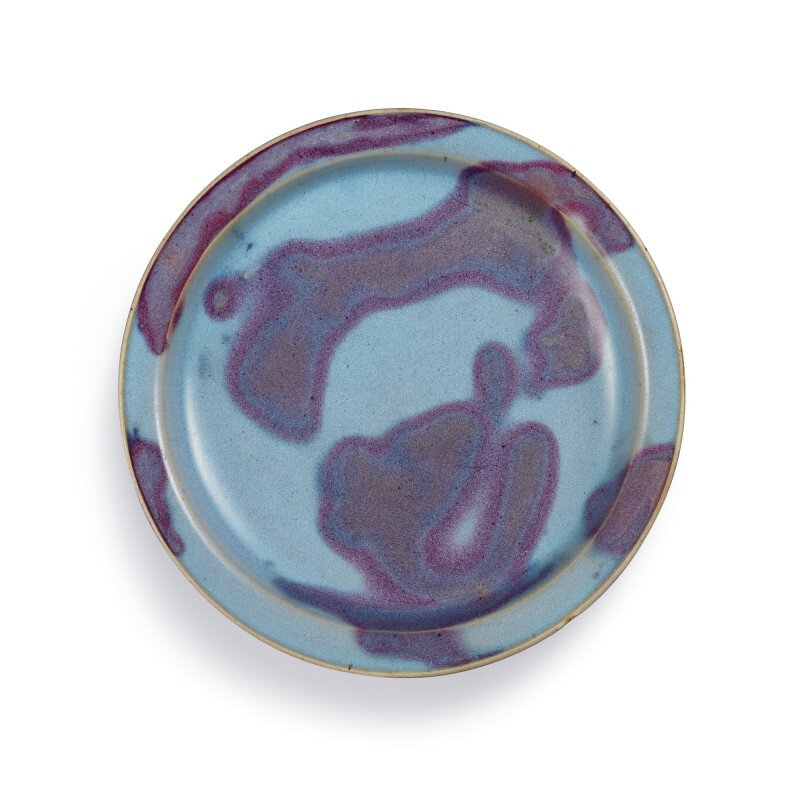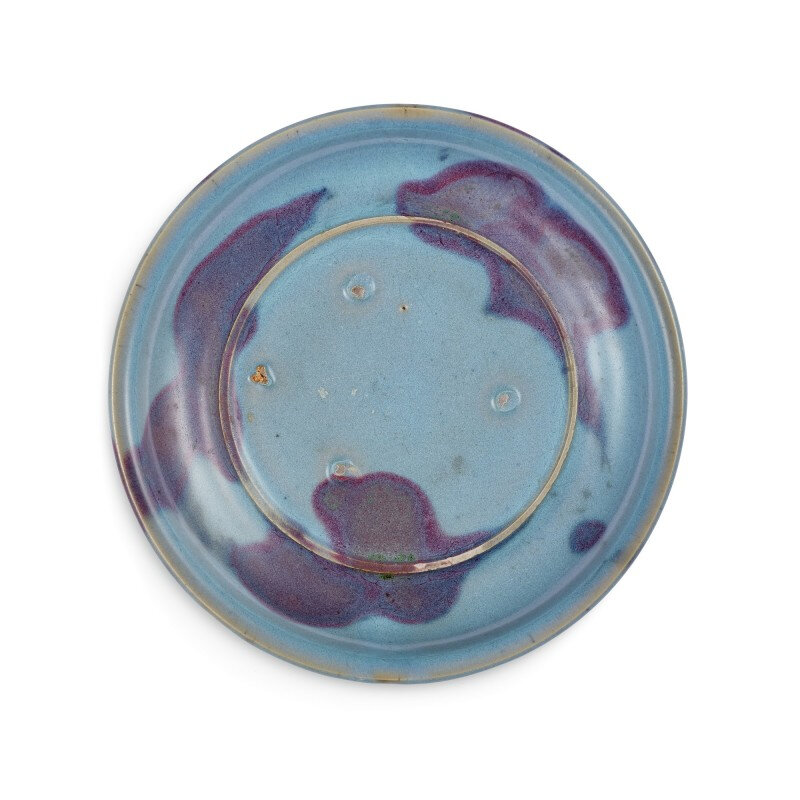 Lot 16. An outstanding Junyao purple-splashed dish, Song dynasty (960-1279); 18.5 cm. Estimate: 18,000,000 - 25,000,000 HKD. Lot sold: 26,795,000 HKD. Courtesy Sotheby's.
finely potted with rounded thin sides springing from a short slightly tapered foot, the exterior evenly covered with a rich, ruby-coloured enamel, the base inscribed in underglaze blue with a four-character reign mark within a double square.
Provenance

:

The Canton Collection, Hong Kong.
Sotheby's London, 12th November 2003, lot 134.
An important private American collection
.
Literature

:

Jane Sze, The Rainbow Aloft: Jun ware, Hong Kong, 2020, pl. 15.
Jane Sze, 'Some Forms and Uses of Jun Wares', Arts of Asia, November-December 2020, vol. 50, no. 6, p. 115, pl. 9.
Exhibited: Selected Treasures of Chinese Art, Min Chiu Society Thirtieth Anniversary Exhibition, Hong Kong Museum of Art, Hong Kong, 1990-1991, cat. no. 97.
In Pursuit of Antiquities: 40th Anniversary Exhibition of the Min Chiu Society, Hong Kong Museum of Art, Hong Kong, 2001, cat. no. 131.
Principal Ware of the Song Period from a Private Collection, Eskenazi, London, 2015, cat. no. 17.
True

Individuality

in Chinese Ceramics
Jun wares inhabit an exceptional place in Song ceramics and follow an aesthetic of their own. In an atmosphere characterized by subtle, understated taste, they stand out as the only ceramics of exuberant style. At a time, when ceramics for the table were generally thinly potted and glazed in muted tones of near-white, hazy green, or dark brown, Jun vessels were unique in the boldness of their potting as well as their colouration. The present piece is an outstanding example of this remarkable production. With striking, deeply coloured splashes both inside and outside, fully glazed, and supported in the kiln on only three spurs, dishes of this type are among the best wares of this early Jun production line.
With their ravishing purple-and-blue colour combination, Jun wares are among the most daring creations in the history of Chinese ceramics and certainly the most flamboyant of the major wares of the Song dynasty (960-1279). They are extraordinary also because their basic, bright sky-blue glaze colour derives not from a pigment but from an optical illusion – indeed not unlike the blue of the sky – as minute spherules of glass in the glaze are scattering blue light. The red derives from a copper-rich pigment applied to the blue glaze, which is difficult to control in the firing and thus unpredictable in its outcome. This chance effect makes the ware particularly desirable, since every piece is truly unique, the individual patterns and tonal variations created as if by nature.
Jun pieces of this type have the contemporary feel of abstract paintings. Song connoisseurs were extremely advanced in their taste. Generally, the court and the aristocracy in most countries and periods valued precious materials, complex forms and lavish designs, as well as perfected regularity in their artefacts. The Song ruling elite, right up to the imperial court, was able to appreciate simplicity, asymmetry, abstraction, and the ever-changing creations of craftsmen mastering their materials as well as the complex ceramic firing process. It may be the appreciation of the individuality of calligraphic or painterly brush strokes in ink on paper that explains the sensibility of Song connoisseurs to works such as this ceramic piece, which could be the work of a modern artist.
With their chunky potting and thick glaze application, Jun wares required simple shapes, and the present plain, open form is ideally suited to display the purple composition on the blue ground. The angularity of the rim, accentuated by its pale olive-coloured edges, where the glaze has drained to a thin layer, sets the whole in focus like the frame of a picture.
Jun ware was produced in many different regions of Henan province. The Jun type site is represented by the Juntai kilns at Yuzhou, Yu county, located in the modern county of Yuxian, the former region of Junzhou, where several kilns have been excavated that continued production into the Ming (1368-1644) and are perhaps best known for their later manufacture of flower vessels. In the Northern Song (960-1127) and Jin (1115-1234) dynasties, however, several manufactories produced very similar 'Jun' wares to the same high standard, including the famous Ru kilns at Qingliangsi in Baofeng.
A closely related dish fragment from the Yuxian kiln site attributed to the Song dynasty, with bright splashes also on the reverse and a similar foot and spur marks, is illustrated together with a complete dish, probably from the Palace Museum collection, in Gugong Bowuyuan cang Zhongguo gudai yaozhi biaoben [Specimens from ancient Chinese kiln sites in the collection of the Palace Museum], vol. 1: Henan juan [Henan volume], Beijing, 2005, pl. 448; fragments of similar dishes, some plain blue on the reverse, and some attributed to the Jin dynasty, have also been discovered at the Lushan kiln site, ibid., pl. 110, the Bacun kiln site, pl. 354, and other Yuxian sites, p. 447 top right and pl. 433.
The close connection between the three important Henan manufacturing centres, the Ru, Zhanggongxiang and Jun kilns, has been the subject of an exhibition at the Poly Art Museum, Beijing, 2009. The relationship is manifest particularly on fully glazed pieces that were fired on spurs, such as this dish, a manufacturing method rare among Jun wares. The Beijing exhibition included monochrome blue dishes of related type, with low foot ring but fired on three spurs that left thick spur marks on the base, excavated in Ye county, south of Yuzhou and Baofeng; see Henan xinchu Song Jin mingyao ciqi tezhan [Special exhibition of porcelains recently excavated from famous Song and Jin kilns in Henan], Poly Art Museum, Beijing, 2009, pp. 120-21.
Another very similar dish in the Palace Museum, Beijing, also with purple splashes inside and outside, but the splashes in form of several large uneven spots, also supported on three spurs, is published in Jun ci ya ji. Gugong Bowuyuan zhencang ji chutu Junyao ciqi huicui/Selection of Jun Ware. The Palace Museum's Collection and Archaeological Excavation, Palace Museum, Beijing, 2013, pl. 21 (fig. 1). Two similar dishes from the collection of George Eumorfopoulos are now in the British Museum and Victoria & Albert Museum, London, respectively, the former, a more densely splashed piece in the Sir Percival David Collection, is included in the Illustrated Catalogue of Ru, Guan, Jun, Guangdong and Yixing Wares in the Percival David Foundation of Chinese Art, rev. ed. London, 1999, no. 93; the latter, perhaps lacking the spur marks, formerly in the collection of Richard Bennett, is illustrated in Rose Kerr, Song Dynasty Ceramics, rev. ed. Hong Kong, n.d. (2020), pl. 28 right (fig. 2); both are also described in R.L. Hobson, The George Eumorfopoulos Collection of Chinese, Corean and Persian Pottery and Porcelain, London, 1925-8, vol. 2, nos B90 and B93.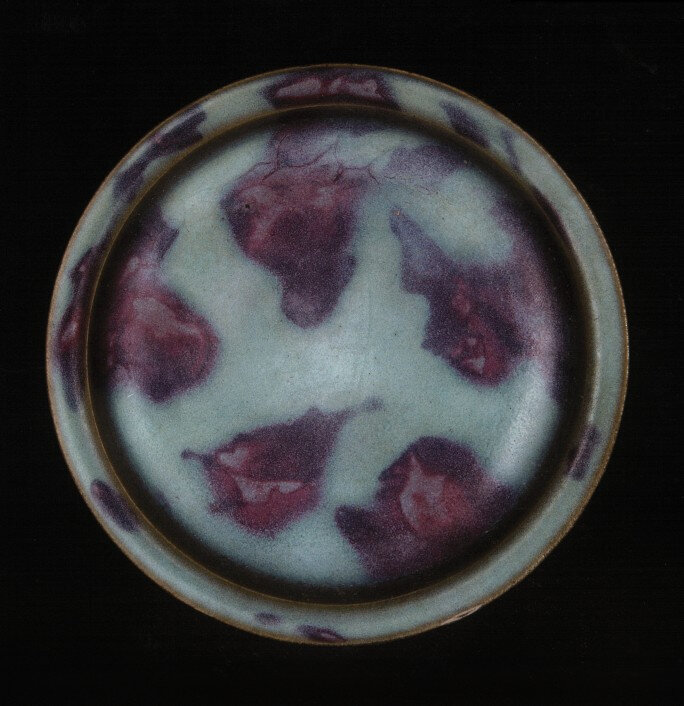 fig. 1. A Junyao purple-splashed dish, Song dynasty (960-1279) © Palace Museum, Beijing.
fig. 2. A Junyao purple-splashed dish, together with two Junyao bowls, Northern Song-Jin dynasty, 12th-13th century. Stoneware, glazed. Diameter: 18.8 cm. Purchased with the assistance of The Art Fund, the Vallentin Bequest, Sir Percival David and the Universities China Committee (C.845-1936, CIRC.141-1935 and C.844-1936) © Victoria & Albert Museum
A dish with strong splashes on both sides but supported in the kiln on five spurs, was included in the exhibition Alchemy in Blue. Ancient Jun Ware from the Yip Collection, University Museum and Art Gallery, The University of Hong Kong, Hong Kong, 2008, cat. no. 44 and illustrated on the catalogue dust jacket. A dish with just two purple splashes on the reverse and three much thicker spur marks, in the Asian Art Museum of San Francisco, is illustrated in He Li, Chinese Ceramics. The New Standard Guide, London, 1996, pl. 241.
Only few comparable dishes have been sold at auction; one with similar striking splashes also on the reverse and fired on three spurs, was sold in our London rooms, 9th June 2004, lot 172 and again in our New York rooms, 23rd March 2011, lot 548. Two other related dishes are apparently plain blue on the reverse; one sold in these rooms 30th October 2002, lot 300 and again in our London rooms, 10th November 2010, lot 182; the other, reputedly from collection of Oscar Bjork and Klas Fåhraeus, Sweden, sold in our London rooms, 16th May 2012, lot 85, and included in the exhibition Junyao, Eskenazi, London, 2013, cat. no. 10.
Sotheby's. Monochrome III, Hong Kong, 22 April 2021