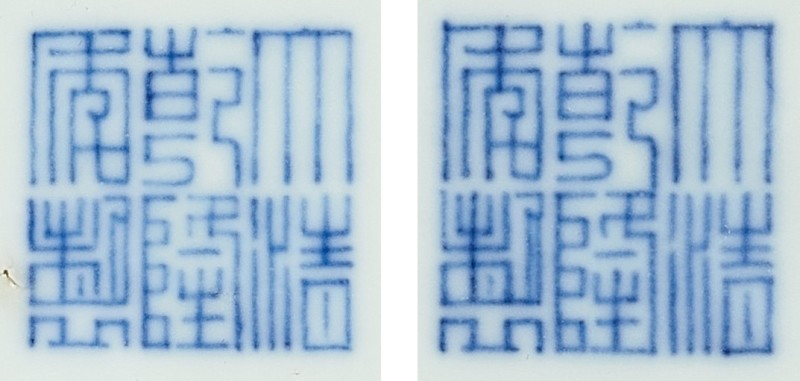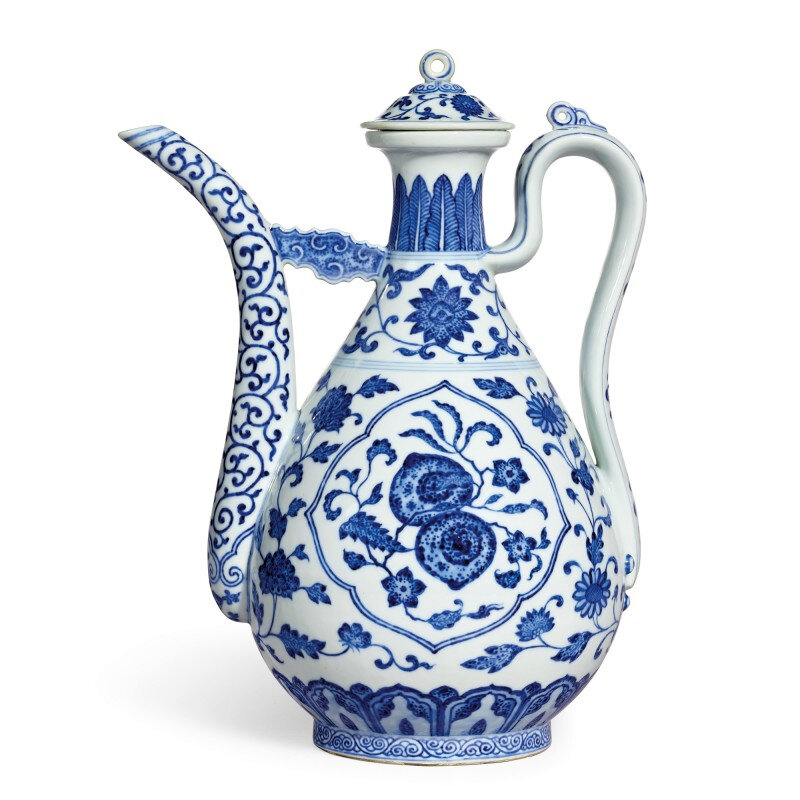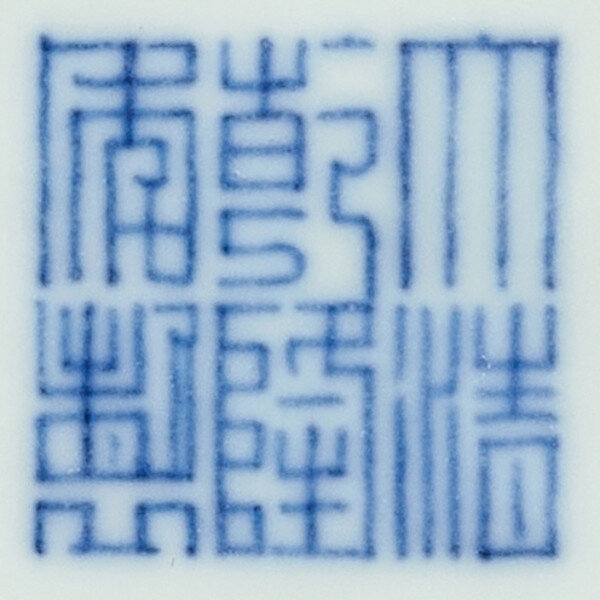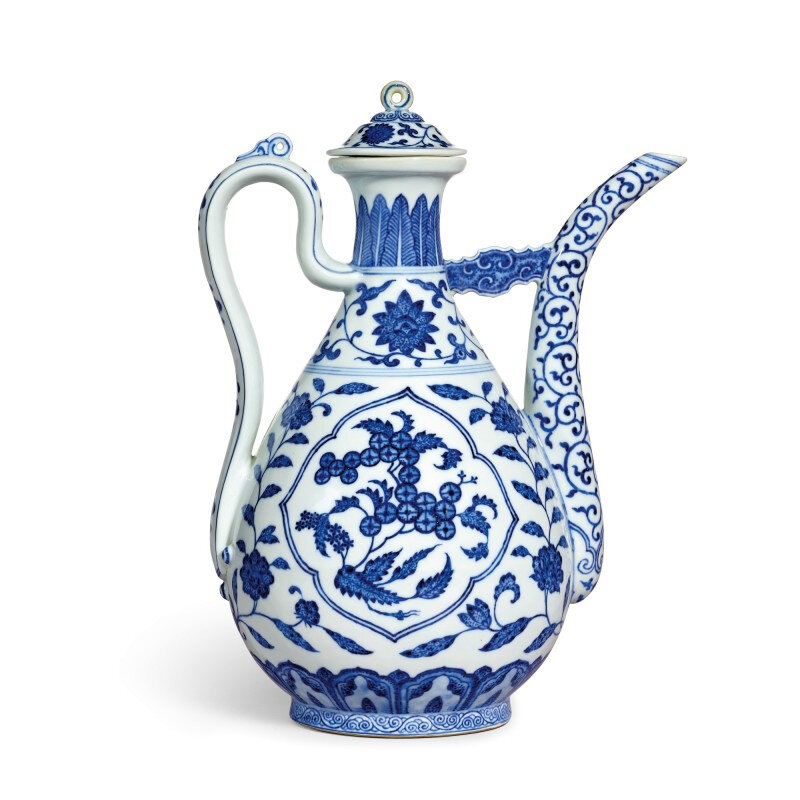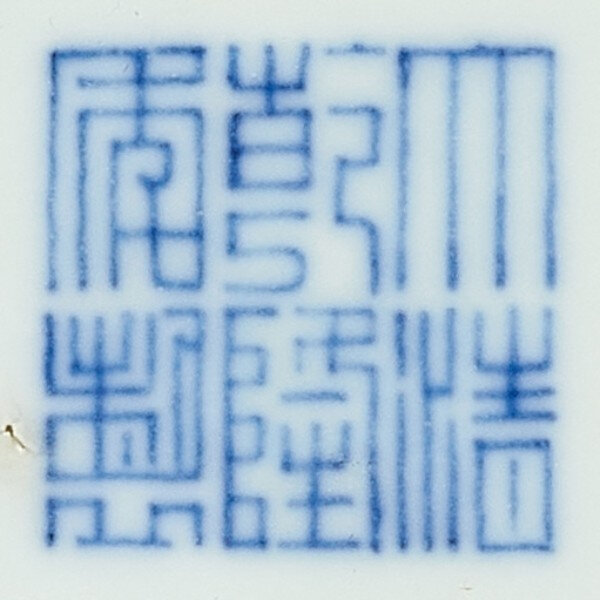 Lot 3618. A rare pair of Ming-style blue and white ewers and covers, Seal marks and period of Qianlong (1736-1795); overall 29.5 cm. Estimate: 3,000,000 - 5,000,000 HKD. Lot sold: 3,780,000 HKD. Courtesy Sotheby's.
the broad curving body painted with a foliate band of composite blooms between a ruyi border and a band of foam-crested waves, the vase angling to broad shoulders similarly painted with the sequence of crested waves, floral, and ruyi pendent bands, the waisted neck collared with a further border of scrolling lotus flowers, flanked by two tubular handles decorated with crested waves, the everted rim with a band of pendent trefoils below a further band of waves, all supported on a slightly flared foot with a band of lappets, the base inscribed with a six-character seal mark.
Provenance:

A French private collection

.
Ferri & Associés, Paris, 29th June 2012, lot 152
.
Note: It is rare to find a pair of Qianlong-marked ewers of this high quality, complete with their original covers. The well-known, successful design originated in the Yongle period, when the form of ewer of the Hongwu reign and ultimately the Yuan dynasty was developed and improved and matured to a highly pleasing model. Ewers of this form were produced in the Yongle reign in many different designs, but the peach-and-loquat version appears to have become the most popular, which it also remained in the Qing dynasty.
A reconstructed ewer from the Yongle stratum of the Ming imperial kiln sites was included in the exhibition Jingdezhen Zhushan chutu Yongle guanyao ciqi [Yongle Imperial porcelain excavated at Zhushan, Jingdezhen], Capital Museum, Beijing, 2007, cat. no. 66.
A Qianlong ewer of this design, from the Qing court collection, still in Beijing, is illustrated in Geng Baochang, ed., Gugong Bowuyuan cang Ming chu qinghua ci [Early Ming blue-and-white porcelain in the Palace Museum], Beijing, 2002, vol. II, pl. 210, together with a Yongle prototype, vol. I, pl. 19, and others attributed to the Xuande period, vol. I, pls 95 and 96; and a Jiaqing version, also in the Palace Museum, Beijing, is published in Geng Baochang, ed., Gugong Bowuyuan cang gu taoci ciliao xuancui [Selection of ancient ceramic material from the Palace Museum], Beijing, 2005, vol. II, pl. 249. Another Qianlong piece is in the Topkapi Saray Museum, Istanbul, together with two Yongle prototypes, illustrated in Regina Krahl, Chinese Ceramics in the Topkapi Saray Museum, Istanbul, ed. John Ayers, London, 1986, vol. III, no. 2565, and vol. II, no. 618. Qianlong examples are also in the Shanghai Museum, included in Lu Minghua, Shanghai Bowuguan zangpin yanjiu daxi / Studies of the Shanghai Museum Collections: A Series of Monographs, Mingdai guanyao ciqi [Ming imperial porcelain], Shanghai, 2007, p. 239, pl. 5-1; and one with a cover in the National Palace Museum, Taipei, is published in Porcelain of the National Palace Museum. Blue-and-White Ware of the Ch'ing Dynasty, vol. II, Hong Kong, 1968, pl. 14.