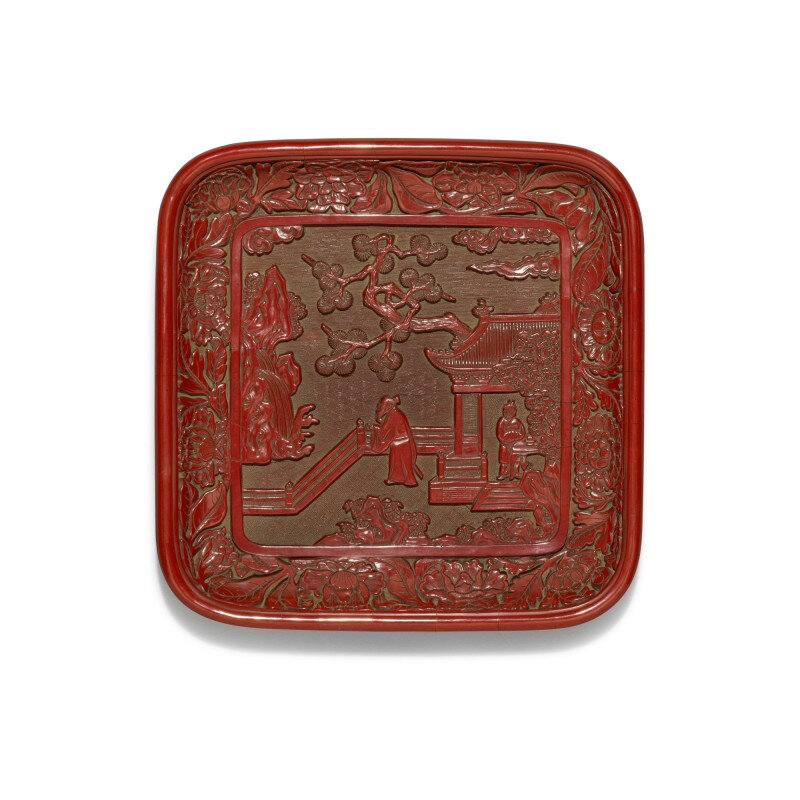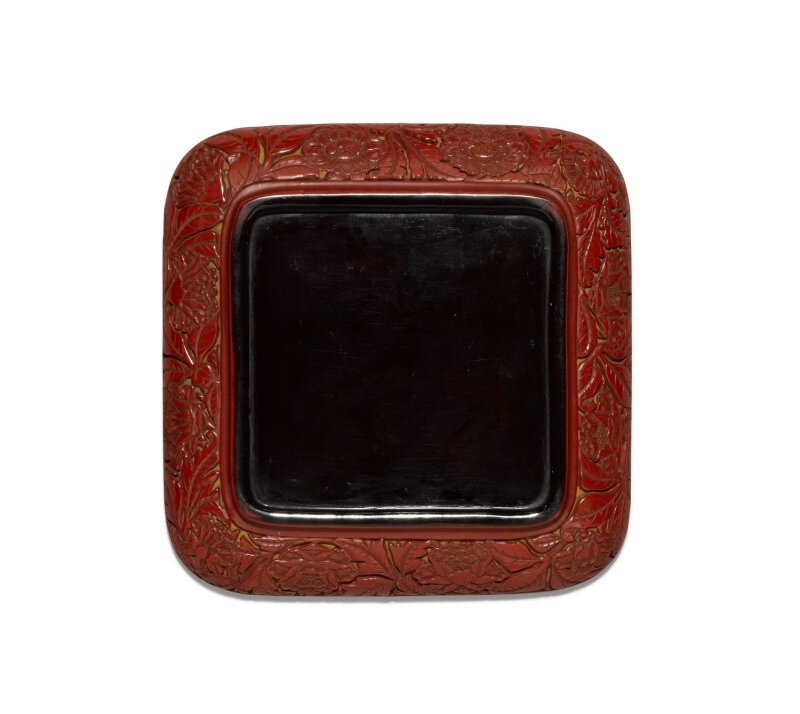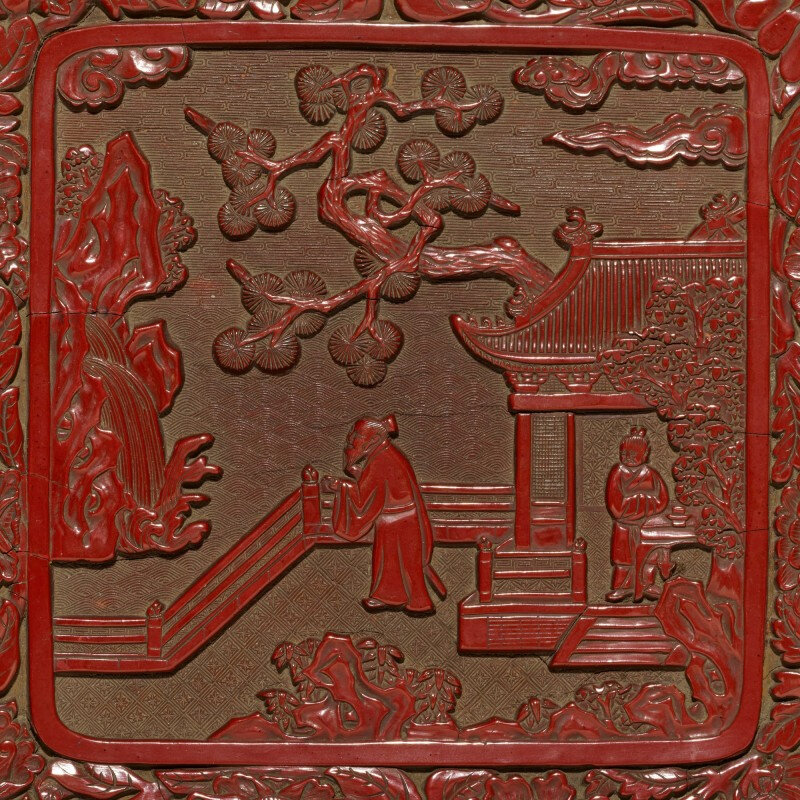 Lot 28. A rare and finely carved cinnabar lacquer 'figural' tray, Ming dynasty, 15th century. Width 17.8 cm, 7 in. Estimate: 60,000 - 80,000 GBP. (C) 2021 Sotheby's
the shallow sides meeting at rounded corners, deeply and boldly carved in the centre with a scholar in a fenced garden ornamented with rockwork, accompanied by an attendant standing inside the pavilion with a pine tree issuing from behind, all surrounded by a border of leafy flower sprays depicting peony, gardenia, chrysanthemum and rose blooms on the interior, and peony, pomegranate, chrsanthemum and camelia blooms on the exterior, the base lacquered brown, Japanese wood box.
Note: Contemplative scenes such as shown here, depicting elderly gentlemen at leisure, with or without companions, gazing at a picturesque scenery from the idyllic surroundings of a country retreat with pavilion and waterside terrace, with attendants nearby preparing refreshments, are a classic motif of early Ming carved lacquer ware. They are known in endless variations on dishes, trays and the covers of boxes, and are usually accompanied by classic composite flower scrolls.
Such depictions are discussed in Craig Clunas, 'Human Figures in the Decoration of Ming Lacquer', Oriental Art, vol. XXXII, no. 2, summer 1986, pp. 177-188, where he mentions (p. 186) that in such figure scenes men are less frequently depicted in official dress and more often in "the simple gown and topknot of gentlemen of leisure". See, for example, similar motifs on circular boxes in the Palace Museum, Beijing, attributed to the Yongle period, accompanied by similar composite flower scrolls around the outside, Zhongguo qiqi quanji, vol. 5, pls 17 and 20.
Both the figure motif and the flower scrolls are done in the classic style that has become characteristic of the early Ming, but the shape of this dish is extremely rare in that period. More common are square lacquer dishes with indented corners, such as dish from the Qing court collection in the Palace Museum, Beijing, attributed to the Yongle reign, also carved with a figure scene and accompanied by similar flower scrolls, illustrated in The Complete Collection of Treasures of the Palace Museum. Lacquer Wares of the Yuan and Ming Dynasties, Hong Kong, 2006, pl. 39.
Lacquer dishes of square shape with rounded corners, similar to the present dish, are more often found in the Yuan dynasty, usually carved with overall flower or flower-and-bird designs, see Sō Gen no bi. Denrai no shikki to chūshin ni/The Colors and Forms of Song and Yuan China. Featuring Lacquerwares, Ceramics, and Metalwares, Nezu Institute of Fine Arts, Tokyo, 2004, no. 95; Jan Wirgin, 'Some Chinese Carved Lacquer of the Yüan and Ming Periods', Bulletin of the Museum of Far Eastern Antiquities, no. 44, Stockholm, 1972, pl. 1; or N.S. Brommelle and Perry Smith, eds, Urushi. Proceedings of the Urushi Study Group, June 10-27, 1985, Tokyo, Santa Monica, 1988, p. 101, figs 3-6.
Later in the Ming dynasty, square lacquer dishes tend to have more angular corners; compare a dish carved with very similar theme included in the exhibition Chinese Lacquer from the Jean-Pierre Dubosc Collection and Others, Eskenazi, London, 1992, cat. no. 16.