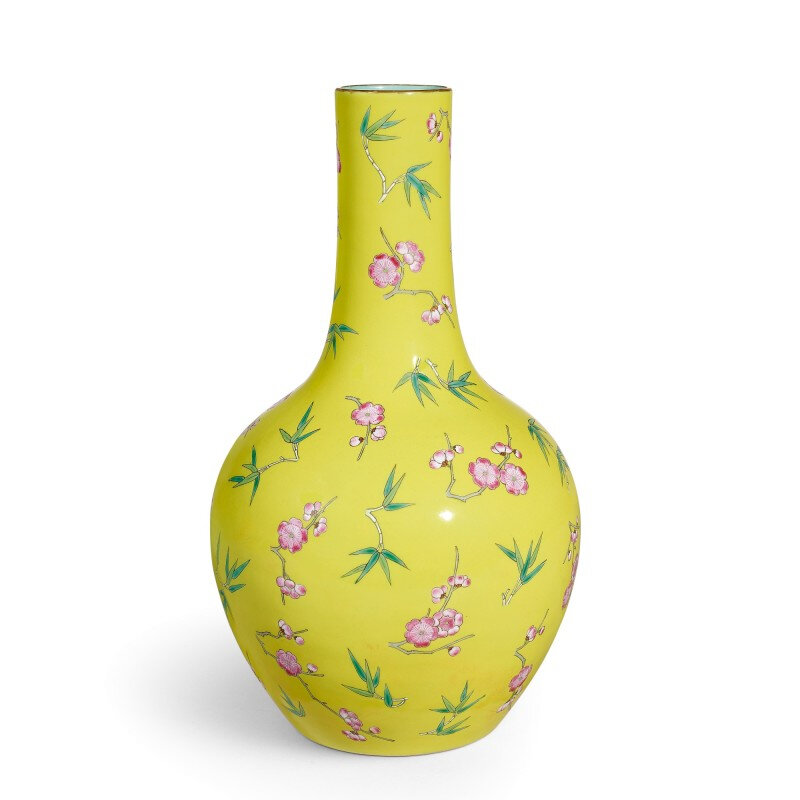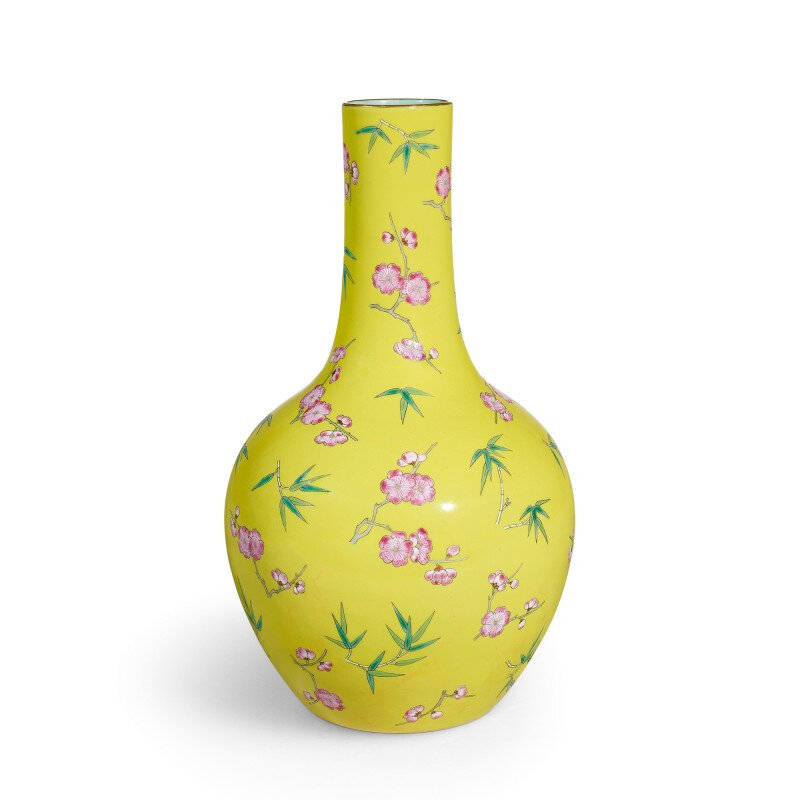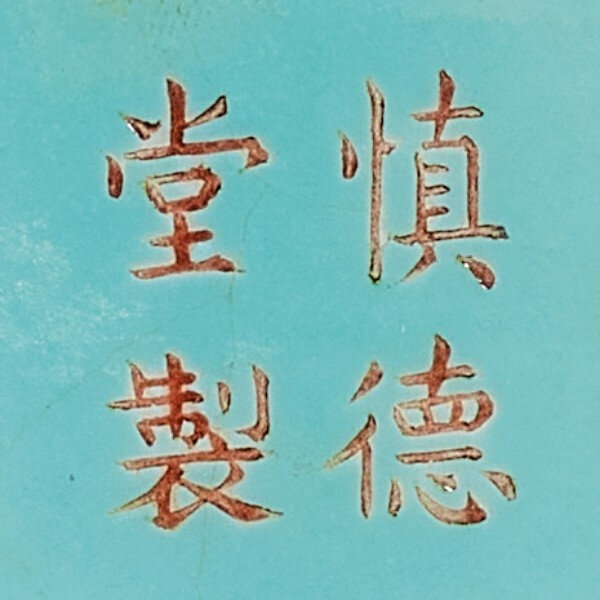 Lot 3637. An unusual yellow-ground famille-rose vase, Shendetang hall mark, Qing dynasty, Daoguang period (1821-1850); 31 cm. Estimate: 1,000,000 - 1,500,000 HKD. Lot sold: 2,142,000 HKD. Courtesy Sotheby's.
the finely potted globular body rising to a slender cylindrical neck with a gilded mouthrim, decorated around the exterior with scattered sprays of pink prunus blossoms and green bamboo, all reserved on a bright lemon-yellow ground, the interior and the base covered in a turquoise glaze, the recessed base inscribed in iron-red with a four-character hall mark Shendetang zhi ('Made for the Hall of Prudent Virtue').
Provenance

:

Collection of Alfred Morrison (1821-1897), Fonthill House, Tisbury, Wiltshire.
The Rt. Hon The Lord Margadale of Islay, T.D.
Christie's London, 18th October 1971, lot 75.
Jen Chai Art Gallery, New York, no. A531 (one of the gallery labels of J.T. Tai & Co.).
Sotheby's Hong Kong, 7th October 2010, lot 2129.
Note: This design of loosely distributed sprigs of prunus and bamboo on an intense yellow ground is highly unusual, although the Daoguang period is known for this style of neat, unfussy designs on an intensely coloured ground. Similar decoration appears on an incense burner with puce-coloured ground inscribed with a Daoguang seal mark, illustrated in Geng Baochang, Ming Qing ciqi jianding [Appraisal of Ming and Qing porcelain], Hong Kong, 1993, p. 303, fig. 512.
The present design was probably inspired by Yongzheng falangcai designs of prunus branches on a yellow ground, as can be seen on the outside of a bowl in the Palace Museum, Beijing, illustrated in Kangxi, Yongzheng, Qianlong. Qing Porcelain from the Palace Museum Collection, Beijing, 1989, p. 232, pl. 61; and on the outside of a dish in the National Palace Museum, Taiwan, included in the Museum's Special Exhibition of Ch'ing Dynasty Enamelled Porcelains of the Imperial Ateliers, Taipei, 1992, cat. no. 87.
Shendetang (Hall of Prudent Virtue) was the residence of the Daoguang Emperor in the Yuanmingyuan summer palace in the outskirts of Beijing, where it was located at the western side of the Jiuzhou Qingyan (Palace of Peace in the Nine Regions). Shendetang was completed in 1831, thus making Daoguang pieces with this mark attributable to the two decades between 1831 and 1850; see Ming Wilson, Rare Marks on Chinese Ceramics, London, 1998, cat. no. 8, where a yellow-glazed bowl with cranes bearing this mark is illustrated, from the collection of the Victoria and Albert Museum, London.
Sotheby's. Important Chinese Art, Hong Kong, 22 April 2021