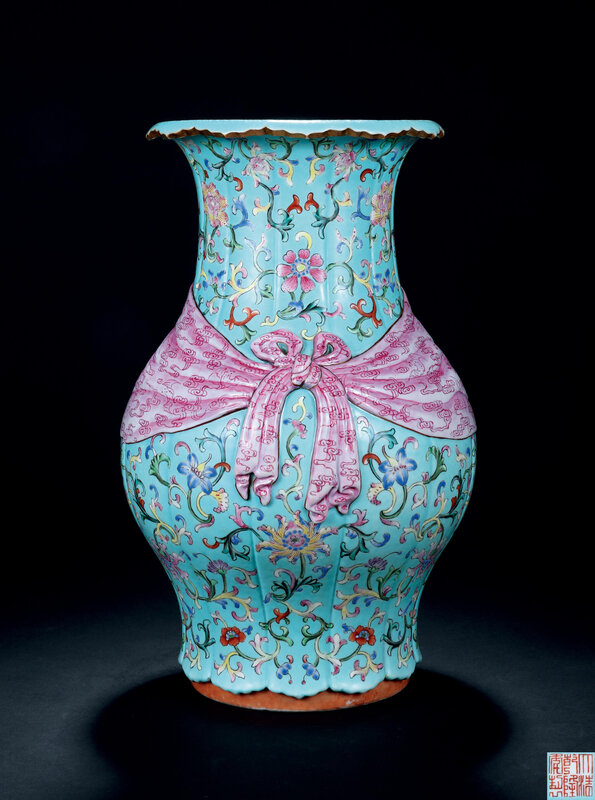 Lot 3217. A Turquoise-Ground Famille-Rose Trompe L'oeil 'Lotus And Bat' Vase, Qianlong Period (1736-1795). H 31cm. Estimate HKD 2,800,000 - 3,800,000 (USD 358,974 - 487,180). Sold Price: HKD 6,000,000 (USD 769,231). Copyright 2021 © Poly Auction Hong Kong Limited
This vase is finely potted with the body divided into twelve lobes and modelled with a bulbous central section sweeping up to a trumpet neck with a flaring mouth-rim with a lobed gilt outline of twelve bracket foliations. All are supported on a short foot applied with a pale brownish-orange wash. The shoulder is moulded with a beribboned pink sash tied at the centre and finely picked out in a darker pink with bats and ruyi cloud scrolls, reserved on the overall turquoise-enamelled ground decorated in multi-coloured enamels with stylised floral scrolls issuing curling leaves and tendrils. The turquoise base is centred with a white cartouche enclosing an iron-red six-character seal mark.
Provenance: An English Private Collection.
Note: During the Qianlong reign, potters became highly ambitious in their repertoire following the refinement of materials and craftsmanship. Vases such as this piece were made for show and are remarkable examples trompe l'oeil. Particularly famille-rose vases decorated with the eye-catching motif of a knotted cloth were much favoured by the Qianlong Emperor who had a preference for porcelain vessels that contained elements simulating objects in other materials. The emperor challenged the potters active at the imperial kilns in Jingdezhen to create pieces that were technically innovative and unconventional in their aesthetics, and the present vase is a good example of what the emperor may have envisaged.

Qianlong porcelains with the knotted cloth design are all of unique design, differing in form and decoration to the current vases. See a slightly smaller turquoise-ground baluster vase with a pink sash, in the Palace Museum, Beijing, illustrated in Kangxi. Yongzheng. Qianlong. Qing Porcelain from the Palace Museum Collection, Hong Kong, 1989, p. 359, pl. 40; one of gu shape, also with a ruyi-head shape band at the mouth, sold at Christie's London, 15th June 1999, lot 100; and a pair of pink-ground baluster vases, from the J.M. Hu family collection, sold in Sotheby's New York, 4th June 1985, lot 72, and twice in Sotheby's Hong Kong, 1st November 1999, lot 400, and 5th October 2016, lot 3611.

Japanese furoshiki packaging tradition strongly influenced the silky knotted cloth motif on the current vase. This motif is often found on Japanese lacquerware, such as a box included in the exhibition Toyo no urushi kogei [Oriental Lacquer Arts], Tokyo National Museum, Tokyo, 1977, cat. no. 297. This design was also employed on wares of various media during the Qianlong reign, for example see a painted enamel yellow-ground vase, in the Palace Museum, Beijing, included in the exhibition Splendours of China's Forbidden City. The Glorious Reign of Emperor Qianlong, The Field Museum, Chicago, 2004, cat. no. 336; and a painted beijing enamel falangcai pouch-shaped glass vase from Le Cong Tang Collection, sold in Sotheby's Hong Kong, 2019-10-08, Lot 1.
Poly Auctions.Imperial Treasures: A Selection of Qing Imperial Porcelains, Hong Kong, 21 April 2021