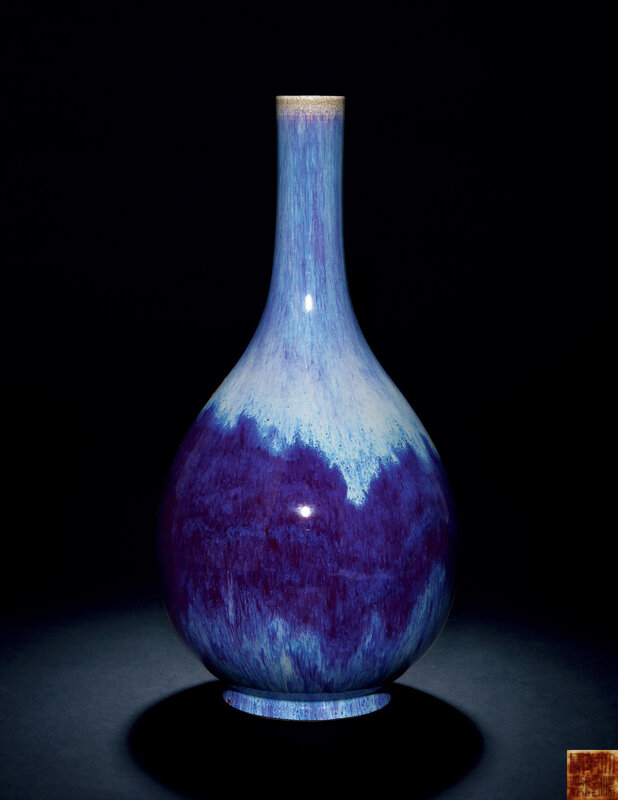 Lot 3220. A Flambé-Glazed Bottle Vase, Qianlong Period (1736-1795). H 46cm. Estimate HKD 1,800,000 - 2,200,000 (USD 230,769 - 282,051). Sold Price: HKD 3,840,000 (USD 492,308). Copyright 2021 © Poly Auction Hong Kong Limited
The vase is potted with an ovoid body rising from the slightly flared foot to a tall cylindrical neck, covered all over with a brilliant streaked flambé glaze varying from mauve to lavender and thinning to a pale mushroom at the rim. The base is covered with a mottled brown and pale celadon glaze, inscribed with six-character seal mark.
Provenance: 1. Christie's London, 8-9 December 1986, lot 422
2. Christie's Hong Kong, 3 December 2008, lot 2571
3. Christie's New York, 16-17 September 2010, lot 1439
4. Ten-views Lingbi Rock Retreat collection, purchased from Eskenazi, no. EK391.
Exhibition and Literature: Pure And Natural: Special Exhibition of Ming and Qing Monochrome Porcelains, Poly Art Museum, 2018, no.95.
Note: The three great Qing emperors, Kangxi, Yongzheng and Qianlong, were all enthusiastic collectors of antiques, and required that certain of the ceramics made for their courts were made in the ancient style. This distinctive glaze seeks to recreate the famous classical Jun wares of the Song period. The splashes and streaks characteristic of this glaze are described as yao bian, or 'transmutation glaze', which has been the subject of much research. For a discussion of this topic see R. Kerr, Chinese Ceramics: Porcelain of the Qing Dynasty 1644-1911, p. 75, and N. Wood, "The Evolution of the Chinese Copper Red", in R. Scott (ed.), Chinese Copper Red Wares, Percival David Foundation of Art, London, 1992, pp. 29-30.

The potters at the imperial Jingdezhen kilns were charged with the task of reproducing these glazes on porcelain. Such was the enthusiasm of the Yongzheng emperor for Jun glazes that the important Taocheng jishi bei ji (Commemorative Stele on Ceramic Production), composed by the famous imperial kiln director Tang Ying in 1735, lists no fewer than nine different Jun-type glazes, and noted that five of these were based upon ancient examples that had been sent from the palace in Beijing to the imperial kilns hundreds of miles to the south at Jingdezhen, in Jiangxi province. In order to achieve successful imitation of Jun glazes, Tang Ying went to considerable lengths, including sending his secretary Wu Yaopu to Junzhou in 1729 to try and obtain the recipe for Jun glazes. This dedication to the accurate recreation of Song dynasty glazes on porcelain continued well into the Qianlong period, when the present vase was made, and into successive reign periods thereafter.

Compare a flambé-glazed Qianlong-marked vase of similar height (48 cm.), although with gilt decoration, illustrated in The Complete Collection of Treasures of the Palace Museum: Monochrome Porcelain, Hong Kong, 1999, pp. 202-3, no. 182.
Poly Auctions.Imperial Treasures: A Selection of Qing Imperial Porcelains, Hong Kong, 21 April 2021