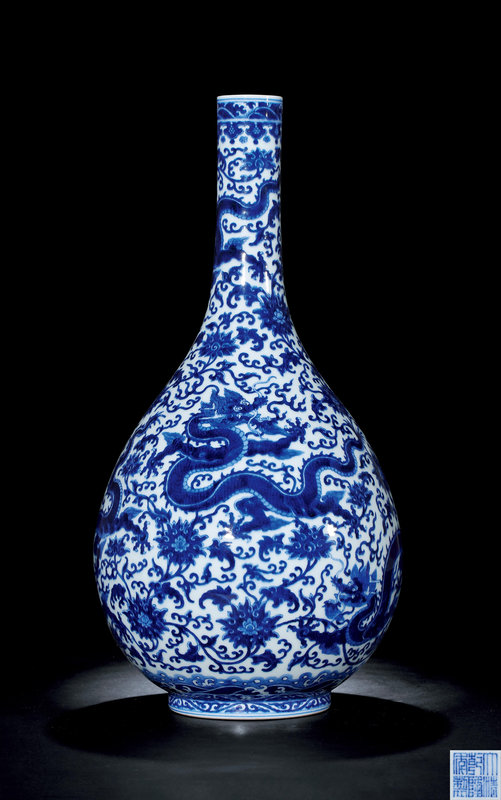 Lot 3215. A Very Important Fine Blue and White 'Dragon' Vase, Qianlong Period (1736-1795). H 26.5cm. Estimate HKD 35,000,000 - 42,000,000 (4,487,180 - 5,384,616). Sold Price: HKD 45,600,000 (USD 5,846,154). Copyright 2021 © Poly Auction Hong Kong Limited
The vase is well potted in elongated pear shape sweeping up to a slender neck. Its exterior is exquisitely painted in vivid cobalt blue with five sinuous five-clawed dragons striding in various positions around the vase amidst a dense lotus ground. All patterns are set between a band of waves and pendent ruyi heads encircling the mouth and waves and classic scroll skirting the foot. The base is inscribed with a six-character reign mark in underglaze blue.
Provenance: 1. Collection of Mrs Christian Holmes (1871-1941)
2. William H. Wolff, Inc., New York, January 1966
3. Collection of Mr. William B. Jaffe, New York
4. Collection of Evelyn Annenberg-Hall (1911-2005)
5. Christie's New York, 29 March 2006, lot 169 (cover lot)
6. Sotheby's Hong Kong, 8 April 2011, lot 3106
7. Sotheby's Hong Kong, 5 April 2017, lot 3618.
Note: The dragon is an important motif in Chinese culture because it represents the Emperor and thus is the symbol of imperial power. The present vase is applied with brilliant deep blue cobalt which replicates the 'heaping and piling' effect of early Ming underglaze-blue designs and reflects the high level of technical achievement attained by the craftsman in Jingdezhen.
This extraordinary vase is outstanding for its large size and represents the Qianlong Emperor's taste for antiquity, presenting with an ovoid body gently rising to a tall slender neck and showing dragons soaring through a dense network of lotus scrolls. Such design of dragons amongst floral scrolls originates in 15th century blue and white wares and was then revived under the preceding Yongzheng Emperor. Since that, such motif was widely produced throughout the Qing dynasty.

Large dragons depicted amongst lotus scrolls are found on Yongle globular vases, tianqiuping. By the Zhengde reign, the dragons became smaller in size and were surrounded by a tighter ground of flower scrolls in a style more closely related to the present decoration, with this motif decorating a range of wares including vases, dishes and bowls. Compare a Yongle tianqiuping sold in Sotheby's London, 1st/2nd April 1974, lot 187; and a Zhengde zhadou, illustrated in Regina Krahl, Chinese Ceramics from the Meiyintang Collection, London 1994, vol. 2, pl. 686, and sold in Sotheby's Hong Kong, 7th April 2011, lot 60.

Pear-shaped bottle vase was more commonly found on monochromes; for example see lot 3220 in the current sale of our room; another large Qianlong flambé-glazed vase in the Nanjing Museum, included in Zhongguo Qingdai guanyao ciqi (Chinese imperial porcelains from the Qing dynasty), Shanghai, 2003, p. 345; another in the Palace Museum, Beijing, published in The Official Kiln Porcelain of the Chinese Qing Dynasty, Shanghai, 2003, pl. 345.

Then the craftsman of Qing Dynasty innovatively applied blue cobalt on the current vase with elongated tall neck and pear-shaped body. This piece belongs to a special group of vases produced during the Qianlong period. Examples can be found in important museums and collections worldwide and each vase within the group appears to be uniquely decorated; for example see one painted with figures in a landscape, from the Qing court collection and still in Beijing, illustrated published in The Complete Collection of Treasures of the Palace Museum: Blue and White Porcelain with Underglaze Red (III), Hong Kong, 2000, pl. 119.

This exquisite dragon vase is extremely rare for its slender form decorated with a striking deep blue design of five dragons among a lotus flower scroll. No other closely related example appears to have been published, although a vase of this shape, similarly decorated with a broad band of underglaze-red dragons amongst a cobalt-blue floral ground between ruyi and lappet borders and stiff leaves around the neck, in the Palace Museum, Beijing, illustrated ibid., pl. 209. Compare also a smaller but very similarly decorated bottle vase of Yongzheng period rendered with four dragons against a composite flower scroll, sold in Sotheby's Hong Kong, 7th April 2015, lot 108.
Poly Auctions.Imperial Treasures: A Selection of Qing Imperial Porcelains, Hong Kong, 21 April 2021