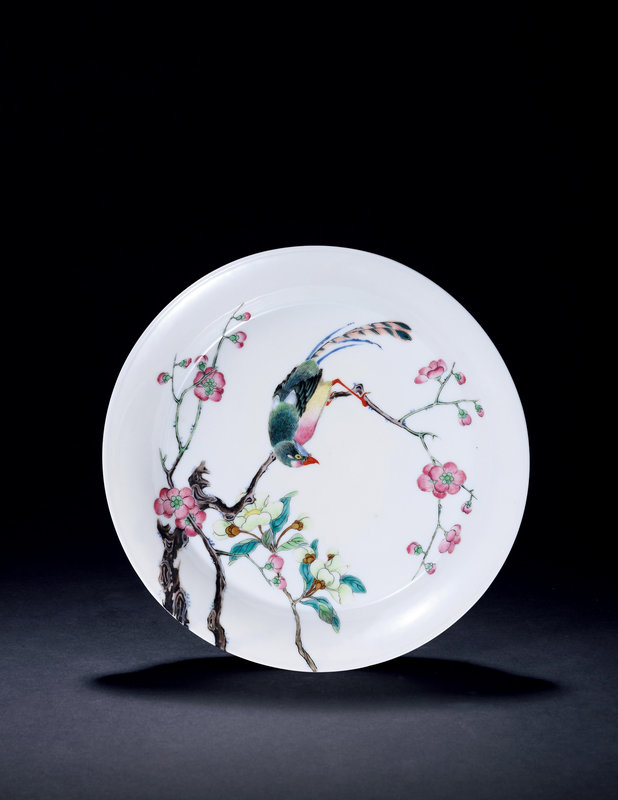 Lot 3222. A Famille-Rose Peach-Blossom and Bird Dish, Yongzheng Period (1723-1735). D 17.3cm. Estimate HKD 1,800,000 - 2,800,000 (USD 230,769 - 358,974). Sold Price: HKD 6,600,000 (USD 846,154). Copyright 2021 © Poly Auction Hong Kong Limited
This dish is finely potted and exquisitely enamelled with branches of flowering peach blossoms growing from the foot of the shallow dish on the exterior, extending over the rim to the interior, where the main branch arches elegantly to the top, bearing clusters of peach blossoms in full blossom and in bud form. The flowers are delicately painted in luscious pink, red and white tones with green dotted stamen, contrasting to superb effect of green leaves. Furthermore, the centre is depicting a long-tailed bird perching on a branch with its head turned backwards and body turned upside down in a playful position.
Provenance: 1. Collection of H.R.H. Palmer (1898-1970), no. 200
2. Sotheby's London, 27th November 1962, lots 82 and 83
3. John Sparks Ltd., London
4. Collection of Sidney T. Cook (1910-1964), and thence by descent
5. Sotheby's New York, 21 March 2018, lot 516 (one of a pair).
Note: A dish with poetic inscription in the Percival David Foundation of Chinese Art, London, decorated with flowering and fruiting peach and tree peony provides a good example of this type. See R. Scott, Imperial Taste - Chinese Ceramics from the Percival David Foundation, San Francisco/Los Angeles, 1989, p. 84, no. 52.
Poly Auctions.Imperial Treasures: A Selection of Qing Imperial Porcelains, Hong Kong, 21 April 2021