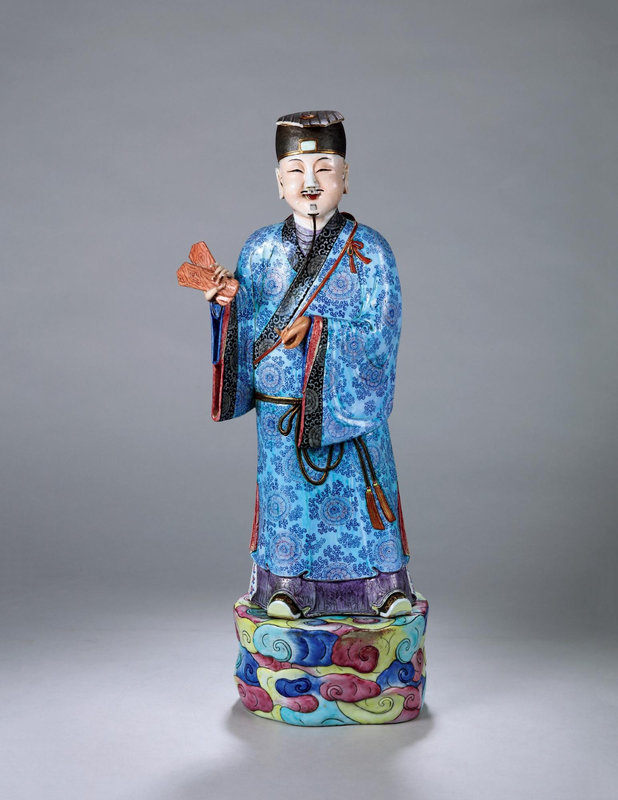 Lot 3223. A Famille-Rose Figure Of Lu Dongbin, Qianlong Period (1736-1795). Overall 48.3cm. Estimate No Reserve Price. Sold Price: HKD 504,000 (USD 64,615). Copyright 2021 © Poly Auction Hong Kong Limited
This figure of Lu Dongbin was nicely modeled in the round. He stands with castanets in his right hand and a sword slung over his back. His long flowing blue robes is painted with large floral blossoms. His beard on his smiling face is shaped with real hairs. The stand is painted with cloud scrolls and is covered in green, red, yellow and blue enamels.
Provenance: A French private collection.
Note: Lu Dongbin is the most well-known of the eight immortals, and is sometimes considered their leader. Lu Dongbin was a real man who was born in China around 796 CE. He was a poet and scholar in Tang Dynasty. According to legend, he became an immortal after completing ten trials set by Zhongli Quan, another one of the eight immortals, which included daring to drink a potion that would either kill him or make him immortal, and surviving. In art, he is usually depicted as a scholar with a long black beard and a black scholars hat.
Poly Auctions.Imperial Treasures: A Selection of Qing Imperial Porcelains, Hong Kong, 21 April 2021