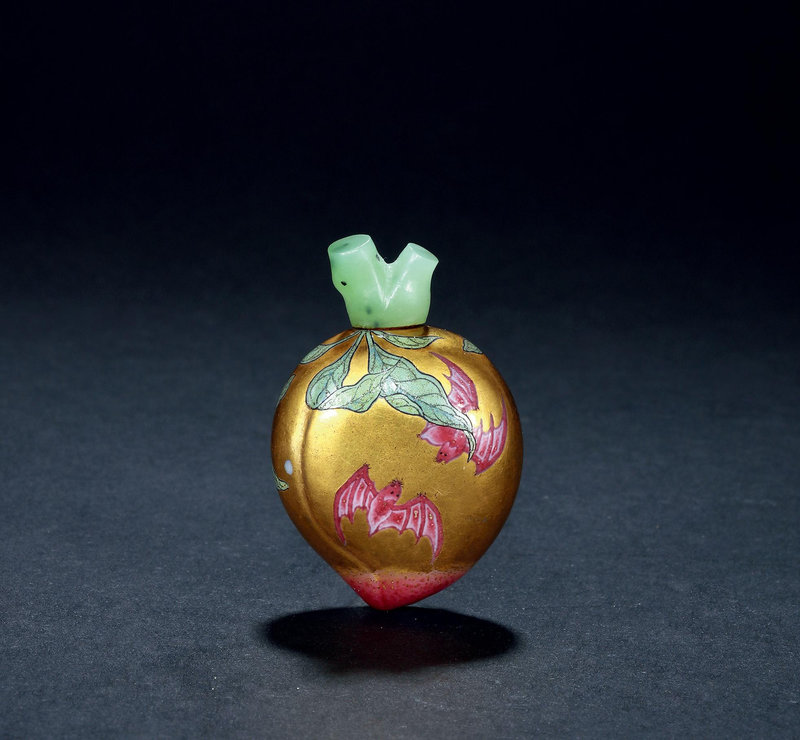 Lot 3301. A Fine Imperial Enamelled Gilt-Decorated Peach-Formed Glass Snuff Bottle, Yongzheng Period (1723-1735). H 5.2cm. Estimate 500,000 - 800,000 (USD 64,103 - 102,564). Sold Price: HKD 2,400,000 (USD 307,692). Copyright 2021 © Poly Auction Hong Kong Limited
A snuff bottle in the form of a peach. Predominant use of gilt on the surface that gradually reaches the ripened end painted with ruby-red enamel. Overall with a 'sanduo' design scheme that composes of the peach, embodied by the form of the vessel, the loquat and pomegranate that are painted on the surface of the body alongside bat motifs..
Provenance: 1. Collection of Mr. Gérard Wahl-Boyer, Paris, France, 1994
2. Duchange family collection, Paris, France.
Note: Pipa, also known as the loquat fruit is shaped like a lute and has a vibrant golden-yellow coat, symbolizing affluence and auspiciousness. Whereas the pomegranate often indicates a wish for plentiful offsprings, and the peach is a popular allegory for a good long life.

The present lot is likely made to be used, or for an imperial birthday celebration. Meticulous details signify a novel advancement in the porcelain industry during the Qianlong reign. It is extremely difficult to find a similar item. For reference, see a jade snuff box in the form of a peach, a collection in the National Palace Museum, Taipei, exhibited in Lifting the Spirit and Body: The Art and Culture of Snuff Bottles, National Palace Museum, Taipei, 2012, p. 230, no. IV-007. See another example from the collection of Sakamoto Goro, sold in Sotheby's Hong Kong, 27 May 2014, lot 123.

Similar motifs of loquat and pomegranate painted in enamels could be found on Yixing wares and porcelains, including several pieces of Yixing tea bowls in the National Palace Museum, Taipei, specifically a Yixing tea bowl with fruits and flowers painted in enamels, Kangxi period. Also, a pair of famille-rose 'san-duo' cups, Yongzheng period, from the collection of E. T. Chow, sold at Poly Beijing, 19 October 2019, lot 5037.
Poly Auctions. Imperial Treasures: A Selection of Qing Imperial Porcelains, Hong Kong, 21 April 2021