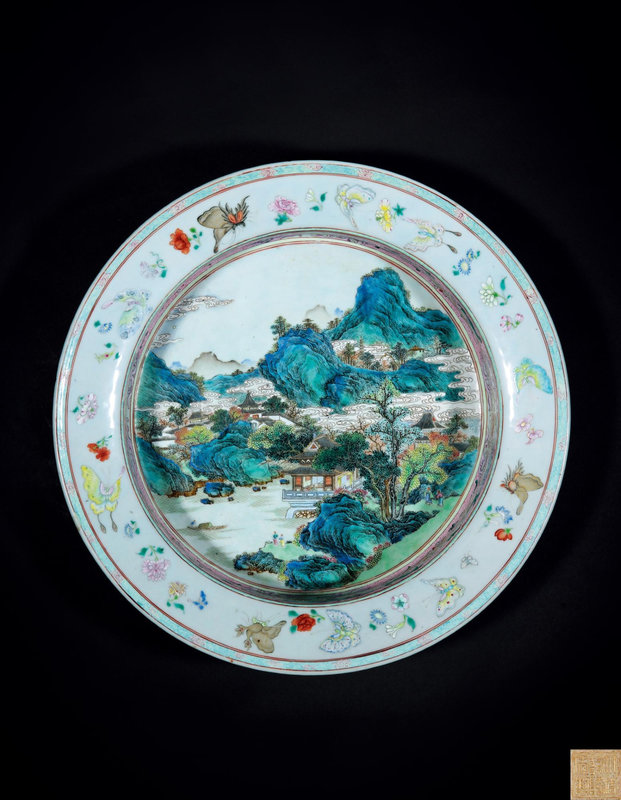 Lot 3307. An exceptional Yangcai 'Phoenix And Sun' 'Landscape' Basin, Qianlong Period (1736-1795). D 39cm. Estimate HKD 1,000,000 - 1,500,000 (USD 128,205 - 192,308). Sold Price: HKD 5,040,000 (USD 646,154). Copyright 2021 © Poly Auction Hong Kong Limited
The present lot is exceptionally well-potted with a foot that rises to a flat everted rim. Encircling the rim is a narrow decorative band which consists of lotus flowers on a pale turquoise background. The rim is delicately adorned with twenty-two flowers and twelve butterflies, each with unique designs. Further towards the center is a band of flowers on pink ground that surrounds the landscape scenery painted in the middle. The base is left unglazed, a six-character Qianlong reign mark is inscribed in gilt.
Provenance: 1. Collection of Mr. Sapjo, Monte-Carlo, 1982
2. Duchange family collection, Paris, France.
Note: The brilliantly painted interior indicates that imperial kilns at that time have reached a new height in terms of craftsmanship and innovation. Painted from the perspective of the 'bird's eye view', the scene is richly depicted with pavilions, mountains and streams. Roofs of pavilions emerge from within the misty mountains and are articulately drawn. Travelers are seen dwelling by the pond, in the pavilion, and along the mountain path. In the pond, a fisherman sails. Craftsmen have successfully transcribed conventional landscape painting styles onto a new, porcelain medium.

Under the supervision of Tang Ying (1682-1756), a unique batch of porcelains adorned with elaborate natural landscapes with pavilions and mountains were introduced. There are approximately only twenty similar works in the forms of bowls, vases, dishes and jars in the National Palace Museum in Taipei and The Palace Museum in Beijing. Qianlong Emperor's enthusiasm in material culture also played a crucial role in facilitating innovative designs on porcelains. Designs were often inspired by antiquity and European decorative elements, and later painted with a variety of imported glazes. A landscape with mountains and waters resonates with what Tang Ying alluded in Tao Cheng Jishi Beiji as an "imitation of the brush stroke [in landscape paintings]."

This lot is considered as an exemplary representative among similar styles of porcelains. Architectural elements are drawn to precision with the assistance of drawing tools. They are further adorned with vibrant glazes which completes the overall design. Rooftops of the pavilions in the painting reveal that the portrayed elements are in fact, palatial architecture. Painting techniques and styles demonstrated on this porcelain work show possible influence from the court painter Yuan Jiang (1671-1746), who was known for his jiehua paintings [also known as ruled-lined paintings or boundary paintings]. An example could be drawn from Yuan Jiang's painting titled The Summer Rain Longs to Arrive and the Four Scenes of Yangzhou album.
The delicately painted flowers and butterflies on the rim are special and uncommon, compare to a pair of famille-rose 'butterfly' double-gourd vases, sold at Christie's London, 9 May 2017, lot 99. It is also unusual to see motif of 'phoenix and sun' decorated in pink-enamel on the interior.

The emergence of landscape themes on porcelains exemplifies yet another achievement of the porcelain industry. In the past when there was only a simple selection of painting materials and resources, Chinese cultural elements could only be transcribed onto the porcelain medium to a limited extent. In fact, the porcelain innovation which features architectural landscapes is associated with the character of Tang Ying. Tang Ying was an educated elite himself, and was familiar with the arts of the literati. He was keen to promote literati culture within the porcelain industry and had eventually integrated the two, as exemplified by the present lot.

Compare a late Qing yangcai 'landscape' two-handled vase from the collection of the Qing Kuan family, sold in Poly Auction Beijing, 8 December 2018, lot 5421. Compare a pair of pink-ground famille-rose 'landscape' vases from the collection of J.T. Tai, sold in Sotheby's Hong Kong, 7 October 2010, lot 2130.

One other example of a 'landscape' themed porcelain made in Tang Ying's time was in the collections of Wong Kai Zu, Charles Russel, Paul and Helen Bernat, and now in the collection of Alan Chuang. The same piece was illustrated in Julian Thompson's The Alan Chuang Collection of Chinese Porcelain, Hong Kong, 2009, pl. 101, sold in Sotheby's London, 25 June 1946, lot 79, then in Sotheby's Hong Kong, 5 November 1988, lot 52, and Christie's Hong Kong, 29 April 2001, lot 516. Illustrated in Sotheby's Hong Kong Twenty Years, Hong Kong, 1993, pl. 294. Another example that is a brush pot was exhibited in Oriental Ceramics Society, China Without Dragons, Sotheby's London, 2016, no. 205, also on the cover.

Landscape decorations on porcelains resemble landscape paintings of the contemporaneous age. Compare a collection in The Palace Museum in Beijing which depicts an autumnal scenery, illustrated in Peter Y.K. Lam, "Tang Ying [1682-1756]. The Imperial Factory Superintendent at Jingdezhen," Transactions of the Oriental Ceramic Society, vol. 63, 1998-1999, p. 75, fig. 9.
Poly Auctions. Imperial Treasures: A Selection of Qing Imperial Porcelains, Hong Kong, 21 April 2021