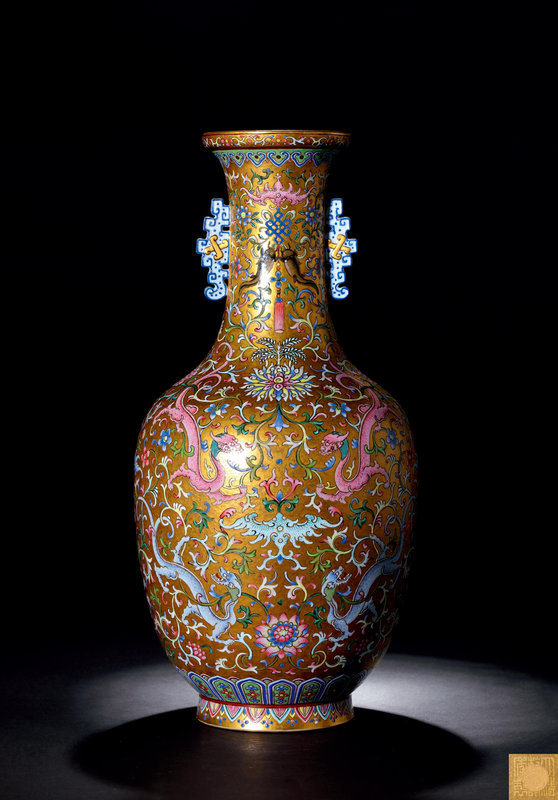 Lot 3310. A Rare Gold-Ground Famille-Rose 'Chilong' Vase, Qianlong Mark and Period (1736-1795). H 37.5cm. Estimate HKD 3,000,000 - 5,000,000 (USD 384,615 - 641,026). Sold Price: HKD 2,400,000 (USD 307,692). Copyright 2021 © Poly Auction Hong Kong Limited
Elegantly potted on a foot that rises to a sloped shoulder extending to a slender neck and a slightly flared mouth rim. A pair of handles in the form of an archaic chilong at the neck that is replenished with blue glaze against a white ground, with a '卍' swastika symbol painted in gold. The exterior and interior of the neck glazed in gold, a band of ruyi encircles the area near the mouth rim underneath a floral scroll. On the neck, bats hold ruyi knots in their mouths, below are pairs of fish and lotus flowers. At the center of the body is a bat encircled by four dragons. A band of lappets surround the foot and the base is painted in gold, with a six-character Qianlong reign mark inscribed in gold as well.
Provenance: 1. Collection of Mr. Sapjo, Monte-Carlo, 1983
2. Duchange family collection, Paris, France.
Note: A remarkable quality found on the surface decoration of this vase is its novel combination of coloured glazes. On the vast gold ground are swirling floral patterns painted in fencai glaze, accompanied by dragons, bats and fish that are embellished in pink and blue fencai glaze. Overall, with a thoughtful organization of motifs executed superbly.

There is a very lucid message of ever flowing blessings from heaven, good fortune, wealth, honour and longevity implied in the use of the specific animal symbolisms. Each detail is drawn to precision and exhibits sophistication in craftsmanship.

For a similar work with lotus, bats and fish motifs, refer to a gold-ground famille-rose vase in the National Palace Museum in Taipei, exhibited in Emperor Qianlong's Grand Cultural Enterprise, Taipei, 2002, cat. no. V-25.
Poly Auctions. Imperial Treasures: A Selection of Qing Imperial Porcelains, Hong Kong, 21 April 2021