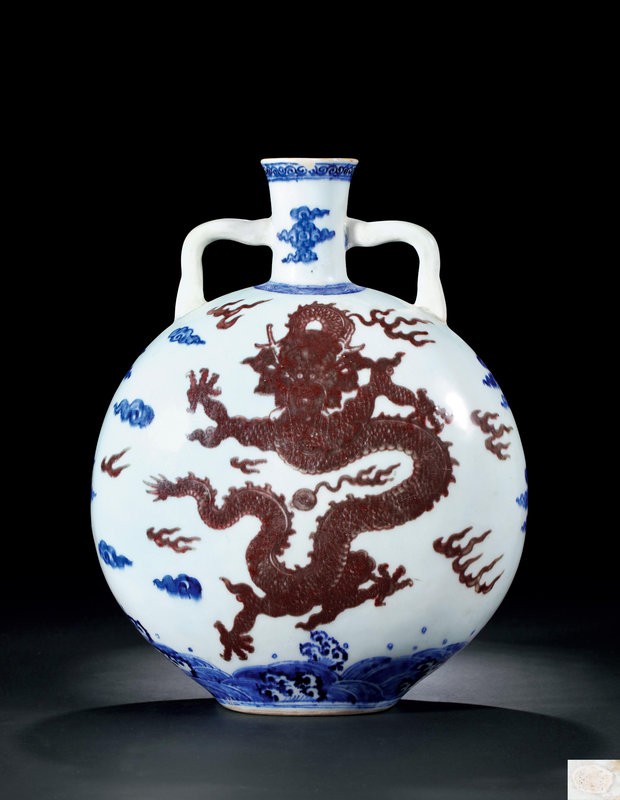 Lot 3316. An Underglaze-Blue And Copper-Red-Decorated 'Dragon' Moonflask, Qianlong Mark and Period (1736-1795). H 37.5cm. Estimate HKD 150,000 - 200,000 (USD 19,231 - 25,641). Sold Price: HKD 216,000 (USD 27,692). Copyright 2021 © Poly Auction Hong Kong Limited
A flattened spherical shaped body surmounted by a cylindrical neck and a set of handles. Each side depicted with a majestic dragon in copper-red glaze, then further adorned with patterns of waves and clouds sparsely distributed across the surface. The two dragons are front-facing and the center of their eyes replenished with blue underglaze. The base with a six-character Qianlong reign mark. Overall a finely crafted moonflask with supreme design elements.
Provenance: 1. Collection of Mme. Lucien Thenlot, Paris, France, 1994
2. Duchange family collection, Paris, France.
Note: See a Qing court collection for reference, illustrated in The Complete Collection of Treasures of the Palace Museum: Blue and White Porcelain with Underglazed Red (III), Shanghai, 2000, pl. 213. Compare a pair of works, displayed in The Palace Museum in Beijing, illustrated in Ming Qing shinei chenshe [Indoor Furnishings from the Ming and Qing dynasties], Beijing, 2008, fig. 103. See another example in the Ten View Ling-bi Rock Retreat collection, purchased from Eskenazi, illustrated in R.P. Marchant, Transactions of the Oriental Ceramic Society of Hong Kong, vol. 3, 1977-8, pp. 50-53, sold in Poly Auction Hong Kong, 2 April 2019, lot 3517. A similar example in the Hong Kong Museum of Art, exhibited in The Wonders of the Potter's Palette: Qing Ceramics from the Collection of the Hong Kong Museum of Art, Hong Kong Museum of Art, Hong Kong, 1984, no. 66. Another example in the T.T. Tsui collection, illustrated in The Tsui Museum of Art. Chinese Ceramics IV. Qing Dynasty, Hong Kong, 1995, pl. 84.
Poly Auctions. Imperial Treasures: A Selection of Qing Imperial Porcelains, Hong Kong, 21 April 2021