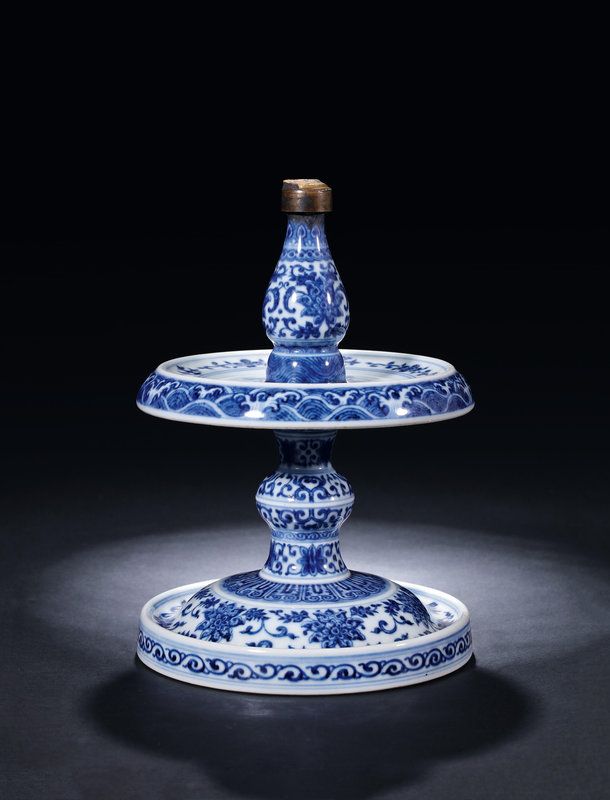 Lot 3317. A Blue And White 'Waves' Candlestick, Qianlong Period (1736-1795). H 37.5cm. Estimate HKD 60,000 - 100,000 (USD 7,692 - 12,821). Sold Price: HKD 180,000 (USD 23,077). Copyright 2021 © Poly Auction Hong Kong Limited
A candlestick supported on a circular base that rises to a candle holder at the top, meeting a wax tray halfway, all three levels fitted around a column. Curvatures dispersed rhythmically along the column. The surface of the vessel replenished in cobalt glaze rendered into floral patterns, and occasionally accompanied by auspicious clouds, sea waves and banana leaves. Overall a very fine piece exhibiting intricate designs and the potter's prowess.
Provenance: 1. Collection of Mme. Lucien Thenlot, Paris, France, 1994
2. Duchange family collection, Paris, France.
Note: Candlesticks from the Qianlong period can be grouped into two categories based on their functions. The first consists of candlesticks made to be five-piece altar garnitures and are generally larger. The present lot belongs to the second category of candlesticks which are usually within 20 cm in size and were made specifically for lights in the studies. Candlesticks were a unique object in the scholar's studio and were deeply favoured by Emperor Qianlong.
Poly Auctions. Imperial Treasures: A Selection of Qing Imperial Porcelains, Hong Kong, 21 April 2021