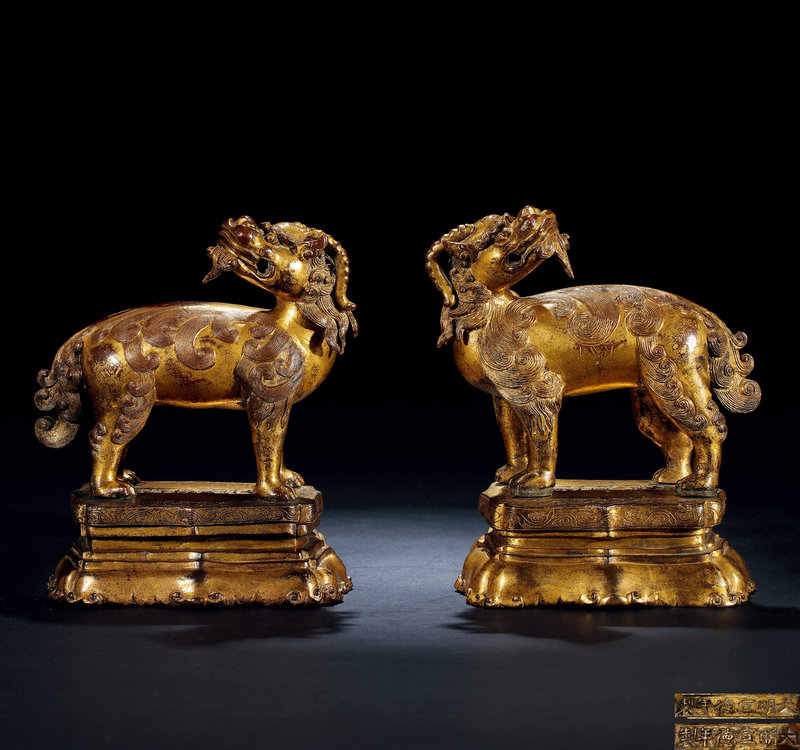 Lot 3321. A Pair of Gilt-Bronze 'Qilin' Figures, Xuande Mark and Period (1426-1435). H 18cm H 18.6cm. Estimate HKD 2,800,000 - 3,500,000 (USD 358,974 - 448,718). Sold Price: HKD 3,360,000 (USD 430,769). Copyright 2021 © Poly Auction Hong Kong Limited
Two very vividly sculpted gilt-bronze 'qilin' figures. Details on the beast's hair and horns are articulated and resemble typical Yongle and Xuande imperial productions.
Provenance: 1. Collection of Mr. Gérard Wahl-Boyer, Paris, France, 1987
2. Duchange family collection, Paris, France.
Note: These two are very vividly sculpted gilt-bronze figures of qilin. Details on the beast's hair and horns are articulated and resemble typical Yongle and Xuande imperial productions. These figures are both cast in the form of standing qilin, a kind of mythical beast, poised in recumbent position.
Such creature was believed to have the head of a dragon and body of a deer. These features are finely presented on the current figures, each with its outstretched neck turned right and looking upward, revealing ferocious expression and sharp teeth framed by a pair of ears and horns. The back of the head is cast with silky mane running down its spine ending in a furry tail. The hoofed feet firmly rest on the gilt-bronze stand, which was cast with a six-character Xuande reign mark on top. The edge of the stand is further carved and decorated with cloud scrolls.

The Yongle and Xuande periods witnessed a stylistic advancement that integrates Chinese and Tibetan aesthetics in the making of a variety of figures. These figures were made to be given to Tibetan monks as gifts from the imperial court. Contrary to bronze figures used in the Xuande court that bear reign marks which read from the left to the right, the inscription on the present lot reads from the opposite direction, resembling the Tibetan script. Among all existing Xuande imperial bronze figures, pairs of animal figures are extremely scarce.
There are a number of Yongle Buddhist figures in the world's private and museum collections, but to find one in the form of an animal and with a corresponding reign mark is truly remarkable. See a gilt-bronze Buddhist figure from Sotheby's Hong Kong 2006 auction for reference.

To the Ming court, an amiable relationship with Tibet was a crucial part of governance. As a result, a great number of imperially made figures were gifted to Tibetan monks as a show of respect and appreciation.

As a matter of fact, Yongle gilt-bronze Buddhist figures are deemed the best in the Ming dynasty in terms of their production quality. As an approach to pacify previously existing disputes with the West, the Ming court never hesitated to show their acceptance to Tibetan religions. During the reign of emperors Xuande and Yongle, construction of Buddhist temples and producing written religious texts were of great importance. Ming emperors would invite Tibetan religious leaders to the court as guests to officiate ritual ceremonies in the palace. Buddhist figures akin to the present lot are then gifted to these monks as a token of appreciation. The emphasis on creating more space for Buddhism in China led to increased contact between the Chinese and the Tibetans and the integration of two cultures is exemplified by the visual features on this pair of 'qilin' figures. It is then very likely that the present piece was once given to Tibetan monks from the Ming emperor.
.
Note the detail on the legs of the figures, there are traces of lost gilt that were created upon caressing the surface which might come from a worship process that was repeated for centuries. For comparison, see a gilt-bronze figure of a goat in the Speelman collection, sold in Sotheby's Hong Kong spring auction, 2014, lot 0084.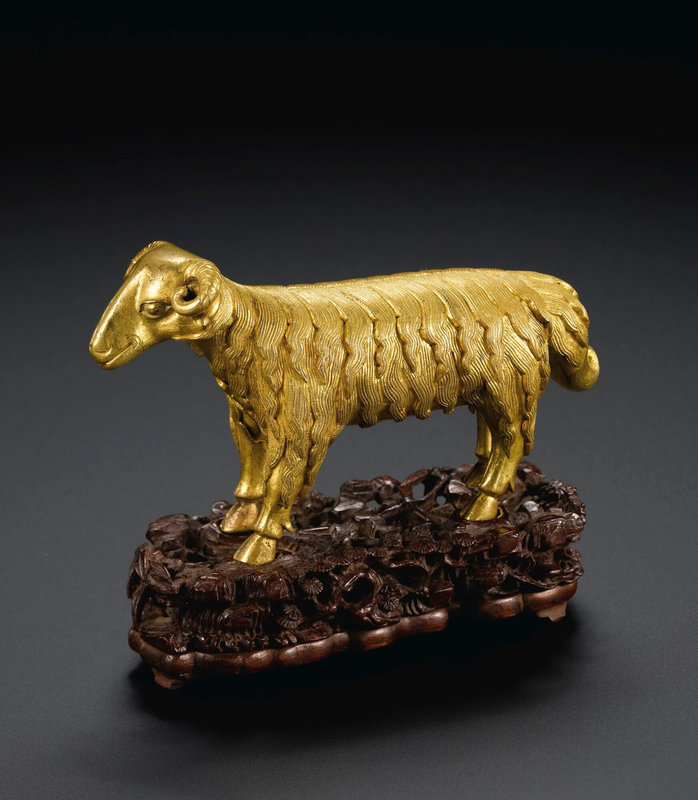 From the Speelman collection. A Gilt-Bronze Standing Figure of a Ram, Ming Dynasty, 15th Century; 12.5 cm., 5 in. Sold in Sotheby's Hong Kong 8 april 2014, lot 84. Courtesy Sotheby's.
Poly Auctions. Imperial Treasures: A Selection of Qing Imperial Porcelains, Hong Kong, 21 April 2021