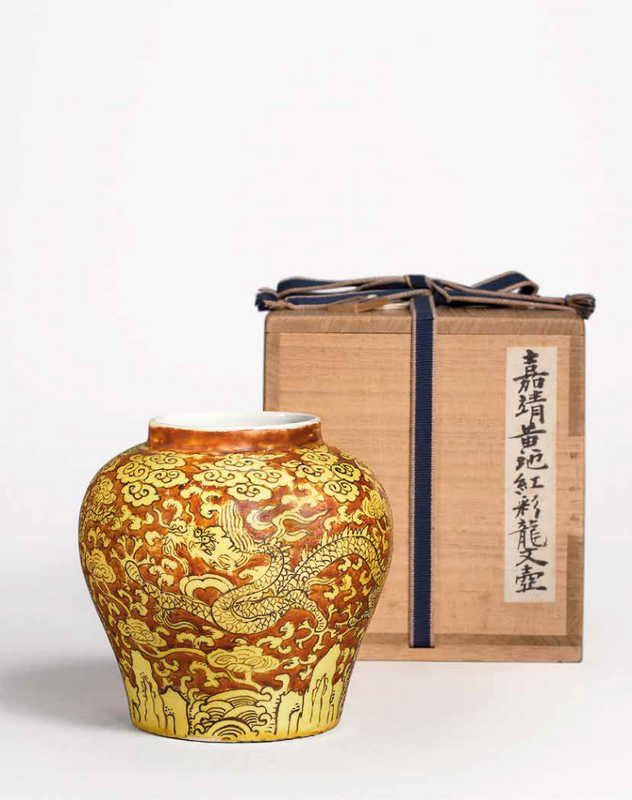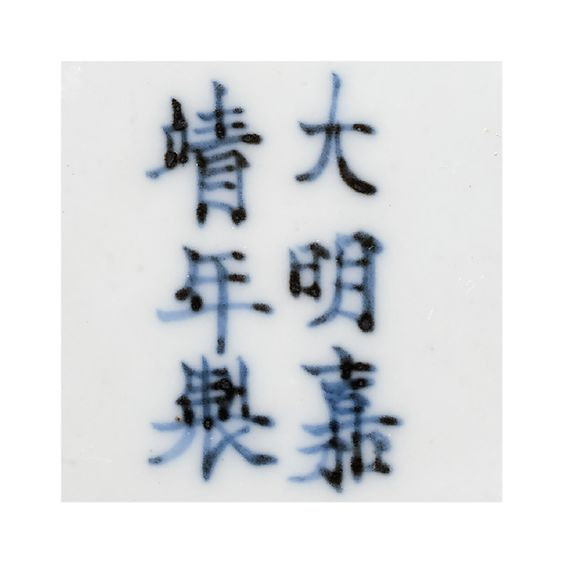 Lot 2983. An Exceptional And Rare Red And Yellow Enamelled 'Dragon' Jar, Jiajing Six-Character Mark In Underglaze Blue And Of The Period (1522-1566); 5 1/8 in. (13.5 cm.) high, double Japanese wood boxes with Mayuyama ribbons. Estimate HKD 1,500,000 - HKD 2,000,000. © Christie's Images Ltd 2021
The jar is decorated with a pair of five-clawed dragons striding amidst lingzhi sprays above a band of waves crashing against rocks and below a register of eight ruyi-shaped clouds, all brightly enamelled in iron red on a yellow ground with the outlines and details picked out in black.
Provenance: Mayuyama & Co. Ltd., Tokyo, 1990s
A Japanese private collection in Yamagata, acquired in 1990s.
Note: The red and yellow combination is a distinctive colour scheme of the Jiajing period. The result required three firings: first at around 1300 °C for clear-glazed porcelain, then at a lower temperature for the yellow overglaze enamel, and finally at a still lower temperature for the black outlines and the iron-red background. The process was laborious and required meticulous attention to details, contributing to the high failure rate and thus the rarity of these jars.

Jars with the same design and comparable size, ranging from 12.7 cm. to 15.2 cm. high, are found in museums and private collections worldwide, see, for example, the companion piece to the current jar in the Museum Yamato Bunkakan, Nara, illustrated in Mayuyama: Seventy Years, no. 834; one in the Ashmolean Museum, Oxford, included in the Oriental Ceramic Society Exhibition, Iron in the Fire, 1988, and illustrated in the Catalogue, no. 64; another in the Le Cong Tang Collection, formerly in The Manno Art Museum, illustrated in Selected Masterpieces of the Manno Collection, Japan, 1988, no. 117; a covered jar in the National Palace Museum, Taipei, illustrated by D. Lion-Goldschmidt, Ming Porcelain, Fribourg, 1978, no. 144; one from the Avery Brundage Collection now in the Asian Art Museum, San Francisco, illustrated by He Li, Chinese Ceramics: A New Comprehensive Study, New York, 1996, p. 239, no. 483; one from the British Rail Road Pension Fund, sold at Sotheby's Hong Kong, 16 May 1989, no. 28; and one from the Meiyintang Collection, sold at Sotheby's Hong Kong, 7 April 2011, lot 66.

Compare also to two similar jars of smaller size with a more globular proportion, one is illustrated in Mayuyama: Seventy Years, no. 833, which has a serrated design on the neck, and another in the National Museum of China, illustrated in Zhongguo Guojia Bowuguan guancang wenwu yanjiu congshu: ciqi juan (Mingdai), Shanghai, 2007, p. 159, no. 85, together with a larger example (13.5 cm.) of the same colour scheme but with lotus scrolls and emblems, no. 86.

A third size group exceeding 20 cm. in height exists. A greater number of examples from this group are known compared to the other two size groups, all of which have a classic scroll above the shoulders and a band of ruyi-heads above the foot, such as a jar in the Palace Museum, Beijing, illustrated in The Complete Collection of Treasures of the Palace Museum, Miscellaneous Enamelled Porcelains. Plain Tricoloured Porcelains, Shanghai, 2009, pp. 58-9 no. 50; another in the British Museum, London, illustrated by Jessica Harrison-Hall, Ming Ceramics in the British Museum, London, 2001, no. 9: 90; two jars included in the International Exhibition of Chinese Art, Royal Academy of Arts, London, 1935-6, with the neck cut-down, which has a cut-down neck from the collection of Dr. E. Hultmark, Stockholm, Sweden, no. 1949, and one from the Museum fur Kunst und Gewerbe, Hamburg, Germany, no. 1952; one from the Eugene Fuller Memorial Collection in the Seattle Art Museum, included in the exhibition Dragons in Chinese Art, China Institute in America, New York, 1972, no. 42; one with cut-down neck in the Museum of Fine Arts, Boston, illustrated in Oriental Ceramics, the World's Great Collections, Tokyo, New York, and San Francisco, 1980–82, vol. 10, no. 234; and one sold at Sotheby's Hong Kong, 7 October 2015, lot 3659.
Christie's. Important Chinese Ceramics and Works of Art, Hong Kong, 28 may 2021