James Welling, Phrasikleia, 2019. Huile et impression laser sur polyester.
GRAND-HORNU.- Quatre ans après Metamorphosis, l'exposition rétrospective que le S.M.A.K. a consacrée à l'oeuvre de James Welling en parcourant plus de vingt séries de photographies réalisées depuis les années 1970, le MACS invite l'artiste américain à présenter le travail photographique qu'il mène actuellement sur l'architecture et la statuaire de l'Antiquité gréco-romaine.
Intitulée Cento en référence à la pratique ancienne du « centon », désignant l'assemblage de fragments de diverses oeuvres poétiques ou musicales, cette nouvelle série trouve son origine en 2018, au Met (Metropolitan Museum of Art) de New York, lorsque James Welling prend des photographies du buste d'une impératrice romaine d'origine syrienne, Julia Mamaea, qu'il imprime ensuite en différentes couleurs grâce à un ancien procédé d'impression, la collotypie.
James Welling, Artemision Bronze, 2020.
Ému par la fluidité des colorants imprégnant le portrait autant que la pierre et redonnant au visage sa carnation, James Welling réalise que ce rendu délavé et diaphane opère dans le temps une double remontée : vers la statuaire polychrome de l'Antiquité et vers la photolithogravure noir & blanc des premiers albums consacrés aux missions archéologiques du 19e siècle.
Ces multiples tirages réalisés à partir d'un seul et même négatif de Julia Mamaea, image séminale et matricielle, déboucheront ensuite sur plusieurs visites de sites et de musées, notamment à Athènes et Éleusis, ainsi que sur l'étude des théories des couleurs dans l'Antiquité, en particulier celle d'Aristote. L'observation des objets colorés que celui-ci effectue dans la nature, chez les plantes notamment, trouve un écho étrange et lointain dans le processus photographique de James Welling, à travers sa description des phénomènes de fixation, de rinçage ou de virage des teintes, par exemple du vert des feuilles.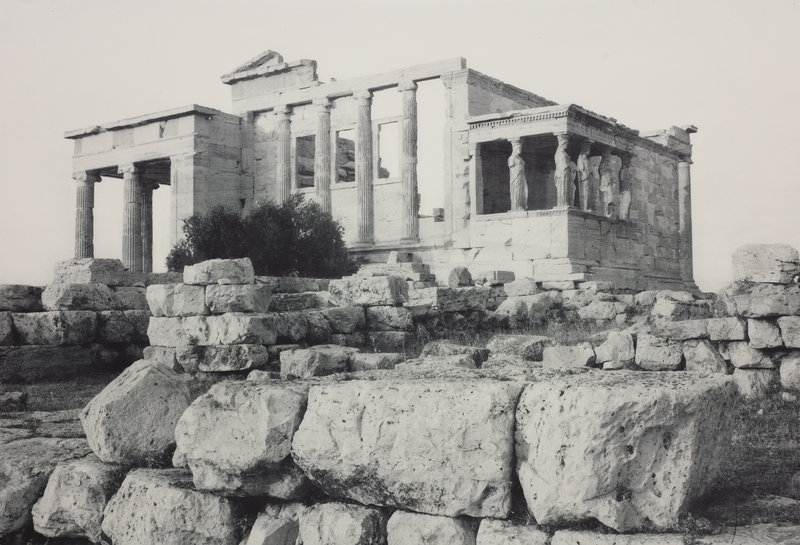 James Welling, Athènes. Facade occidentale de l'Erechtéion, 2019. Huile et impression laser sur polyester.

Cependant, cette conception archaïque des couleurs à laquelle font songer poétiquement les photographies de Cento, installées d'ailleurs dans l'exposition face à un wall painting reprenant le nuancier et les couleurs d'Aristote, n'est pas la seule destination du voyage temporel de James Welling. Depuis 1998, celui-ci se tourne vers les technologies numériques et la palette colorimétrique du logiciel Photoshop, avec le bénéfice esthétique de « libérer la couleur » du carcan du sujet et de sa condition historique : « Des couleurs intenses et de la feuille d'or mettaient en valeur textiles, cheveux et carnation », explique-t-il à propos de Cento et de son hommage à la statuaire grecque ; « les reconstitutions modernes de cette polychromie étonnent les visiteurs encore habitués à la pureté de l'idéal de beauté néoclassique. Mais je ne me suis pas uniquement intéressé à recréer la palette des Grecs anciens. Avec la technologie numérique, j'ai appliqué sur les sculptures des couleurs clairement antinaturelles dans l'idée que celles-ci s'infiltrent dans la pierre ancestrale et prennent vie indépendamment. »
- Denis Gielen. Commissaire de l'exposition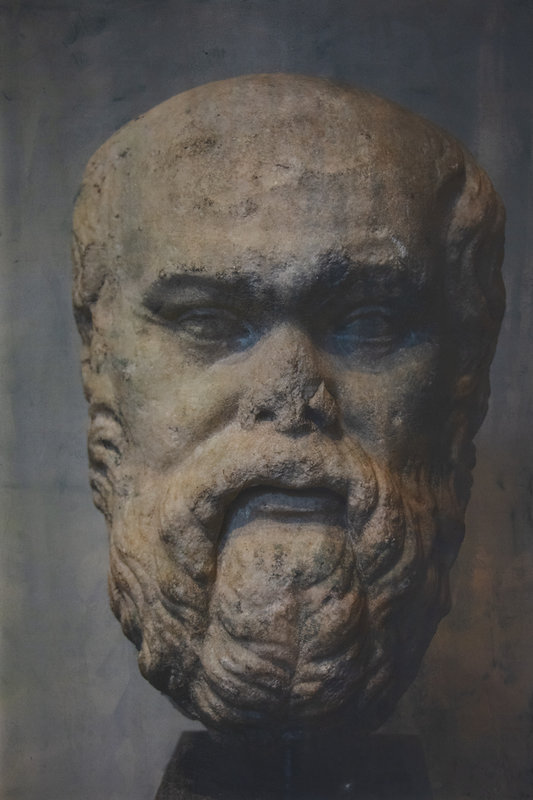 James Welling, Socrate, 2020. Huile et impression laser sur polyester.
GRAND-HORNU.- Four years after Metamorphosis, the retrospective exhibition which the S.M.A.K. devoted to James Welling's work by revisiting some twenty series of his photographs created since 1970, the MACS has now invited the American artist to present his current photographic work on architecture and ancient Greek and Roman statuary.

The exhibition's title, Cento, refers to the ancient practice of assembling fragments of various poetic or musical works. This latest series began in 2018 at the MET (Metropolitan Museum of Art) in New York, when James Welling photographed the bust of a Roman empress of Syrian origin, Julia Mamaea, which he then printed in a range of colours based on the early photographic printing method of collotype. Moved by the fluidity of the dyes imbuing the portrait and the statue's stone and returning colour to the face, James Welling realised that this faded, translucent rendering achieved a twofold step back in time: to the polychrome statues of Antiquity and to the black & white photolithography of the first albums that documented 19th century archaeological missions.
James Welling, Tête de déesse, 2019. Impression jet d'encre.
These multiple prints from a single negative of Julia Mamaea, a seminal, matricial image, then led to several visits to archaeological sites and museums, notably in Athens and Eleusis, as well as theoretical research into the colours used in Antiquity, in particular by Aristotle. The philosopher's observation of coloured objects in nature, notably of plants, finds a strange and distant echo in James Welling's photographic process, through his description of the phenomena of fixation, rinsing and transformation of tints, for example of green foliage.

Yet this archaic conception of colour which the photographs of Centolead us to poetically contemplate, not least owing to their place in the exhibition, facing a wall painting of a colour chart and the colours used by Aristotle, is only one destination of James Welling's time travel. Since 1998, Welling has turned to digital technologies and the colour palette of Photoshop, which offers the aesthetic advantage of "liberating colour" from the chains of the subject and its historical condition. "Intense colors and gold leaf emphasized textile, hair and skin," Welling explains in relation to Cento and its homage to Greek statuary. "Modern approximations of this polychrome are startling to viewers still accustomed to the colorless neoclassic ideals of beauty. But I was not interested in simply recreating the colors of the Ancient Greeks. Using digital technology, I applied highly unnatural colors to the sculptures. My hope is that these colors seep into the ancient stone and take on a life of their own."
- Denis Gielen, Curator of the exhibtion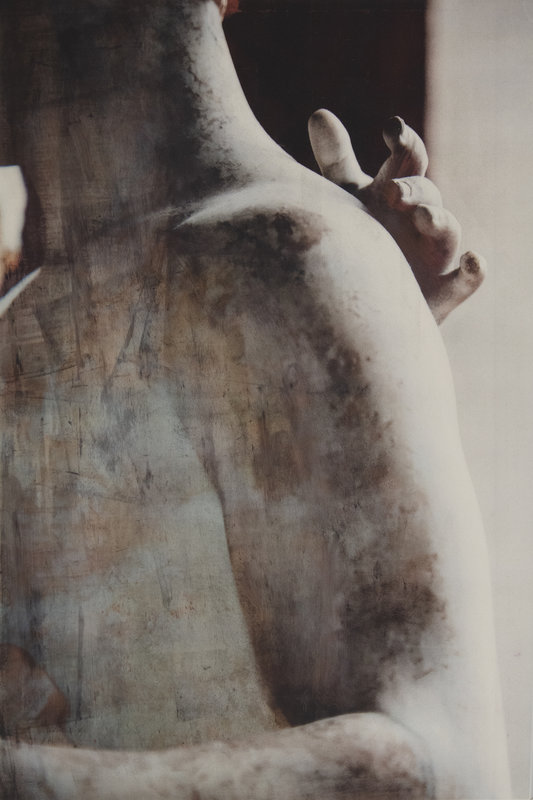 James Welling, Vénus et Mars, 2019. Huile et impression laser sur polyester.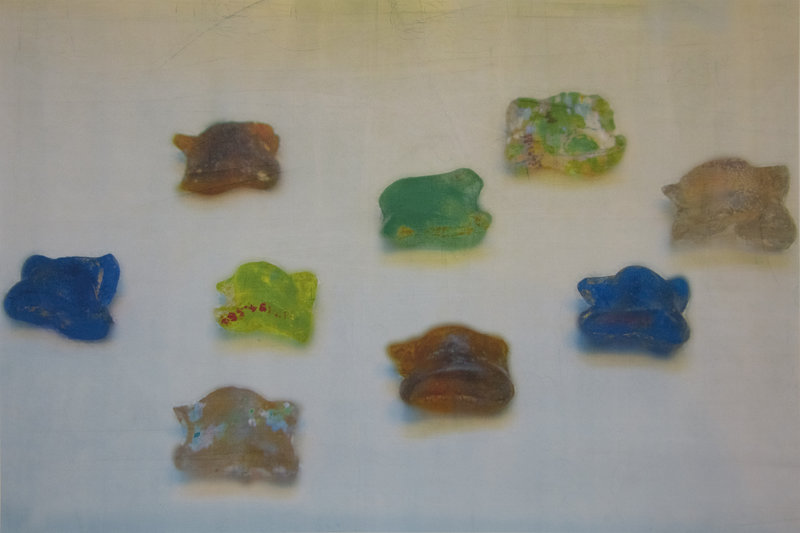 James Welling, Astragaloi de verre (Osselets), 2020. Huile et impression laser sur polyester.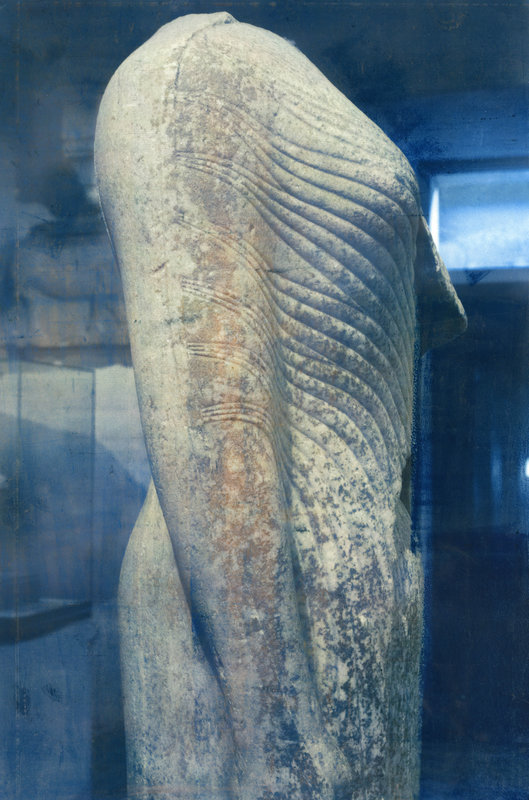 James Welling, Kore from the Cheramyes Group, 2020.