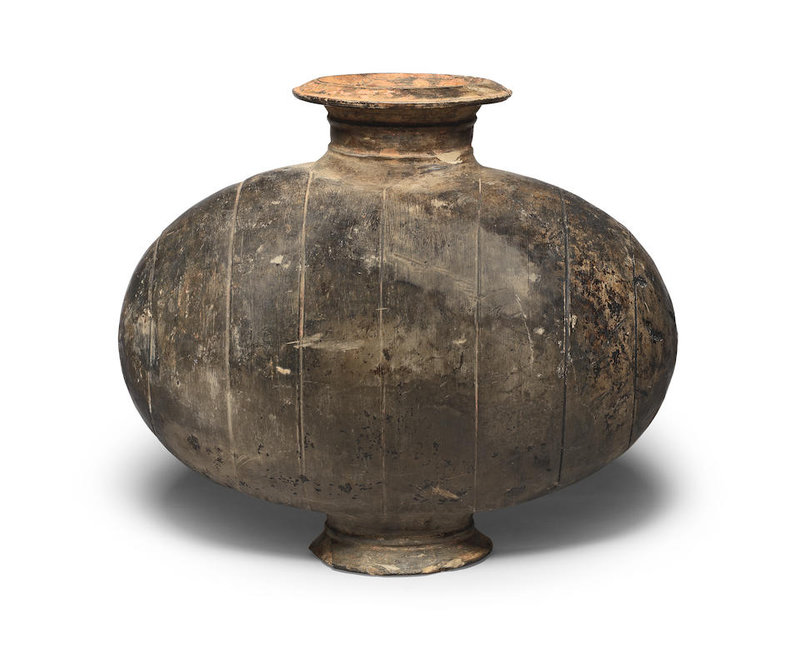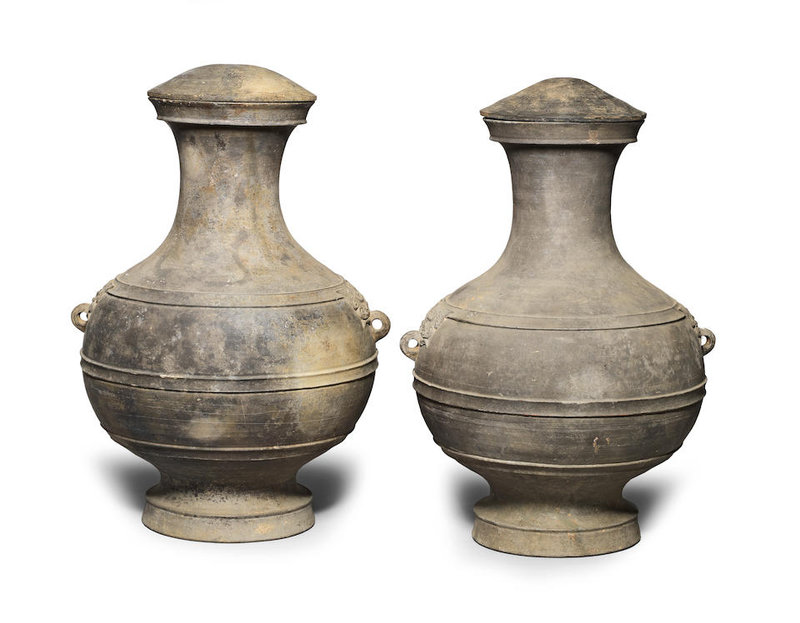 Lot 441. A pair of large grey pottery vases and covers, hu, and a pottery cocoon jar, Han Dynasty. Sold for £ 4,462 (€ 5,199). © Bonhams
The grey vases each rising from a high, stepped foot to a large globular body and waisted neck with flaring rim, each applied with a pair of taotie-mask ring handles on the shoulders, and with three channelled bands across the body, with domed covers, the tallest, 56cm (22in) high; the cocoon jar of compressed ovoid shape and incised with vertical string bands, 38cm (15in) wide.
Provenance: with a label dated 26 November 1993 (the cocoon jar)
Published, Illustrated and Exhibited: Roger Keverne Ltd., Summer Exhibition, London, 2003, no.30 (the pair of vases).
The result of Oxford Authentication Ltd. thermoluminescence test no.C102r73 dated 23 July 2002, is consistent with the dating of this lot. (one vase)
Note: See a related cocoon jar illustrated by Wu Xiaocong, Han Yangling Museum, Beijing, 2004, no.197. See also A.L.Juliano, Bronze, Clay and Stone: Chinese Art in the C.C.Wang Family Collection, Seattle, 1988, no.24. For a related painted jar and cover, see C.Noppe, Art Chinois, Néolithique Dynastie Song: Collection Umberto Draghi, Geneva, 1990, no.18.
Bonhams. Roger Keverne Ltd Moving On (Part II), London, New Bond Street, 7 Jun 2021