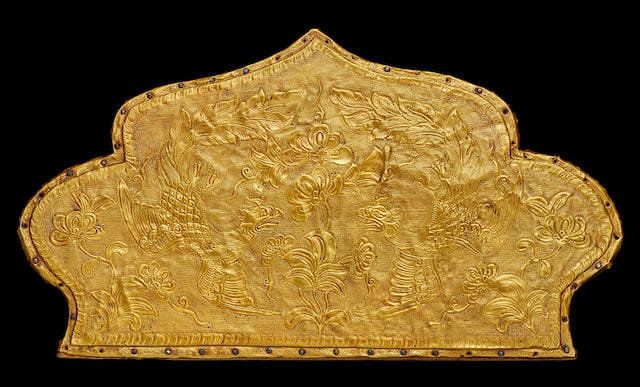 Lot 1. A rare gold repoussé 'phoenix' panel, Liao Dynasty; 32.5cm (12 3/4in) wide. Sold for HK$ 377,500 (€ 39,898). © Bonhams
The foliate panel decorated at one side in repoussé with two confronted phoenixes amidst floral sprays on a finely-ring-punched ground, all within a scroll border and ruyi band, the reverse of the panel pinned onto a later wood board.
Note: The form and the decorative motifs of this very rare gold panel seem to be closely related the gold and silver wares of the nomadic Khitan Empire. Compare a closely related silver and parcel gilt repoussé 'double-phoenix' pillow, excavated in 1986 from the tomb of a Princess of Chen and her husband in Tongliao, Inner Mongolia, illustrated in zhongguo jinyin boli falangqi quanji: Gold and Silver ware 2, Hebei, 2004, p.175, pl.316. The foliate-form and similar motifs are also seen on a group of gilt silver objects known as 'han yao' or waist ornaments excavated in the same area, one such example is illustrated in ibid., p.187, pl.338. See also a related example of a gilt silver repousse headdress, Liao dynasty, decorated with two dragons confronting a flaming pearl, in the Inner Mongolia Museum, illustrated in ibid., p.192, pl.347 showing a similar foliate-form border and a similar shape.
Bonhams. Fine Chinese Art. Introducing Beauty and Beyond: Women in Chinese Art, Hong Kong, 27 May 2021
.