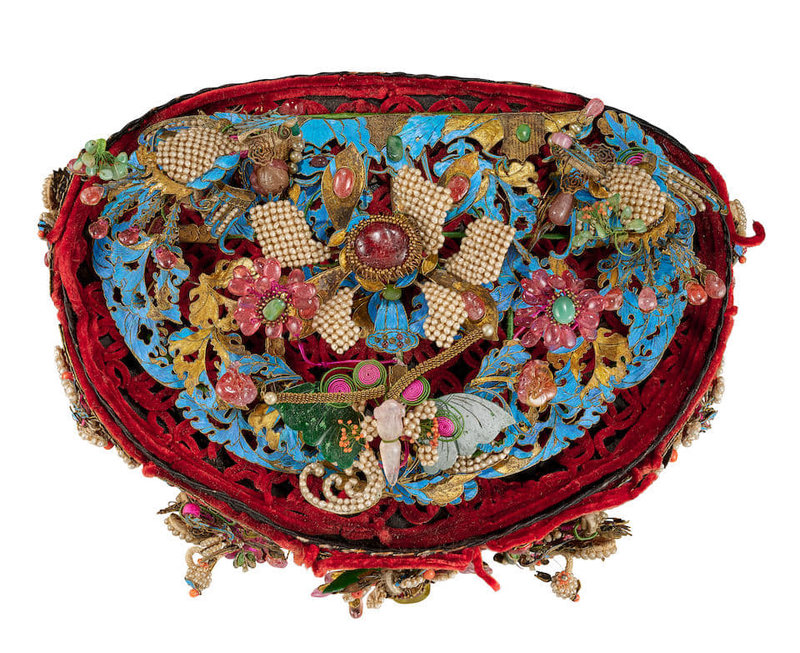 Lot 30. A kingfisher feather 'jewel'-encrusted headdress, dianzi, 19th century; 18cm (7 1/8in) high. Sold for HK$ 877,500 (€ 93,262). © Bonhams
The oval flat-crowned headdress with semi-circular section sweeping towards the forehead, the wire frame lined in black silk and elaborately applied with red ribbon wire with shaped gilt-silver filigree motifs covered with kingfisher feathers and embellished with jadeite, tourmaline, pearl, quartz, coral, and other semi-precious stones, some of the motifs including the cranes, flowers and butterflies spring-mounted, the forehead suspending beaded semi-precious stone pendants, box.
Note: An elaborately decorated headdress such as the present lot is known as dianzi, which is literally translated as a 'hat ring'. It referred to the kind of hat supported by a circular iron wire in its rim. The base of a dianzi is usually made of metal wires wrapped with black silk, such as the present lot.
Gemstones and pearls are fixed onto the hat base in different auspicious motifs. A dianzi is usually worn by noble women for special occasions. The "double-happiness" pendants suspended on the forehead of the lot suggest the headdress may had been used for weddings; see a kingfisher feather and pearl-inset 'double-happiness' dianzi in the National Palace Museum, Taipei, which was made for weddings, illustrated in su gu hua jin tan Gugong zhu bao, Taipei, 2012, p.41.
A kingfisher feather and pearl-inset 'double-happiness' dianzi. Image courtesy of National Palace Museum, Taipei.
See a
very
similar dianzi headdress with flowers and butterflies design, Qing dynasty, in the National Palace Museum, illustrated in A Garland of Treasures: Masterpieces of Precious Crafts in the Museum Collection, Taipei, 2014, p.68. Two further examples of headdress of this type are in the Palace Museum, Beijing, illustrated in Jewellery and Accessories of The Royal Consorts of Ching Dynasty, Hong Kong, 1992, nos.3 and 4. See another closely-related gemstone-inset 'phoenix' headdress decorated with gilt-copper filigrees and kingfisher feather, Guangxu, illustrated in The Complete Collection of Treasures of the Palace Museum: Treasures of Imperial Court, Hong Kong, 2004, no. 64; Compare also a related headdress, 19th century with similar arrangement of the motifs but wrapped in red silk in the Metropolitan Museum of Art (Acc. no. 1987.318a–g). A further related gilt metal and jewelled kingfisher 'butterflies and flowers' headdress, 19th century, was sold at Bonhams San Francisco, 19 June 2012, lot 6164.
Bonhams. Fine Chinese Art. Introducing Beauty and Beyond: Women in Chinese Art, Hong Kong, 27 May 2021.