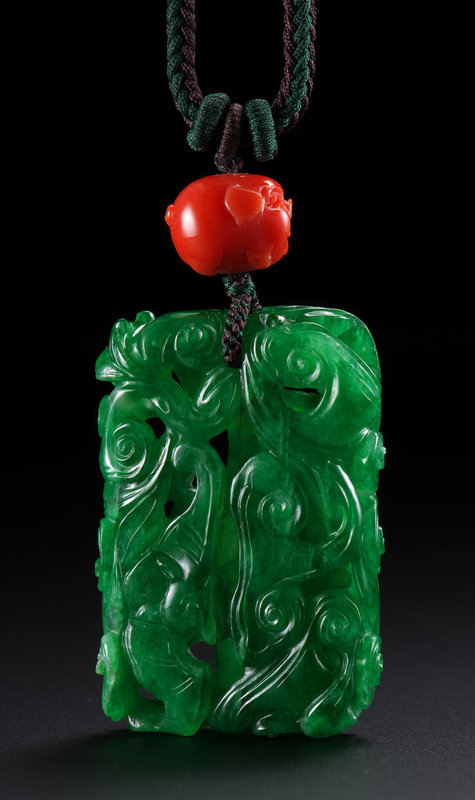 Lot 36. A fine small jadeite 'lingzhi and bat' rectangular pendant, 18th-19th century; 4.3cm (1 3/4in) long. Sold for HK$ 277,500 (€ 29,493). © Bonhams.
Intricately carved in openwork as a spray of lingzhi fungus within its curled leaf on the underside, the bottom with one outstretched bat with interlocked wings perched on a lingzhi, the smoothly-polished jadeite of even green tone, box.
Note: The lingzhi motif is commonly found in Chinese art. It is a pun for age (ling 齡). Because the fungus resembles the head of the wish-granting wand (ruyi 如意), it has come to represent a wish-granting symbol as well as a symbol of longevity. It is considered the food of Immortals. The fungus can be depicted either on its own or in combination with other objects to form auspicious terms. For instance, on the present lot it is paired with a spray of lingzhi which symbolises 'May you mind be clear when blessings arrive (fuzhi xinling 福至心靈). The fungus (lingzhi 靈芝) is a rebus for 'intelligence' (ling 靈) and 'arrive' (zhi至). The bat is a pun for 'blessings' (fu 福).
Bonhams. Fine Chinese Art. Introducing Beauty and Beyond: Women in Chinese Art, Hong Kong, 27 May 2021.