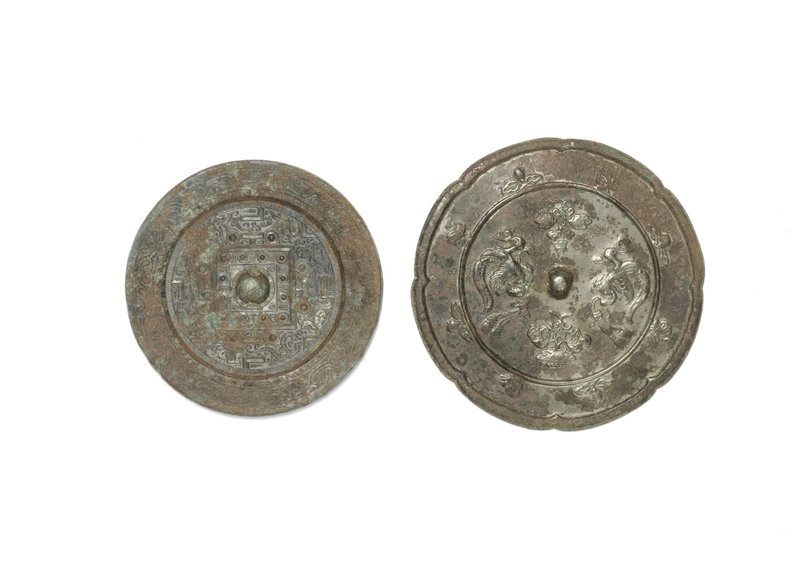 Lot 462. Two bronze mirrors. Estimate £800 - £1,200. Sold for £ 2,167 (€ 2,528). © Bonhams
Including a bronze 'TLV' mirror, Han dynasty, the raised central knob enclosed within a square of twelve raised bosses separated by characters representing the twelve branches below the TLV motifs, 14.1cm (5 1/2in) diam.; and a lobed bronze mirror, Tang dynasty, cast with a pair of phoenix and flowers, 16.5cm (6 1/2in) diam.
Published, Illustrated and Exhibited: Roger Keverne Ltd., Summer Exhibition, London, 2008, no.12 (mirror with phoenixes)
Roger Keverne Ltd., Winter Exhibition, London, 2011, no.4 (TLV mirror).
Note: Compare with a very similar archaic bronze 'TLV' mirror, Eastern Han dynasty, illustrated by J.Rawson & E.Bunker, Ancient Chinese and Ordos Bronzes, Hong Kong, 1990, p.253, no.171.
Bonhams. Roger Keverne Ltd Moving On (Part II), London, New Bond Street, 7 Jun 2021