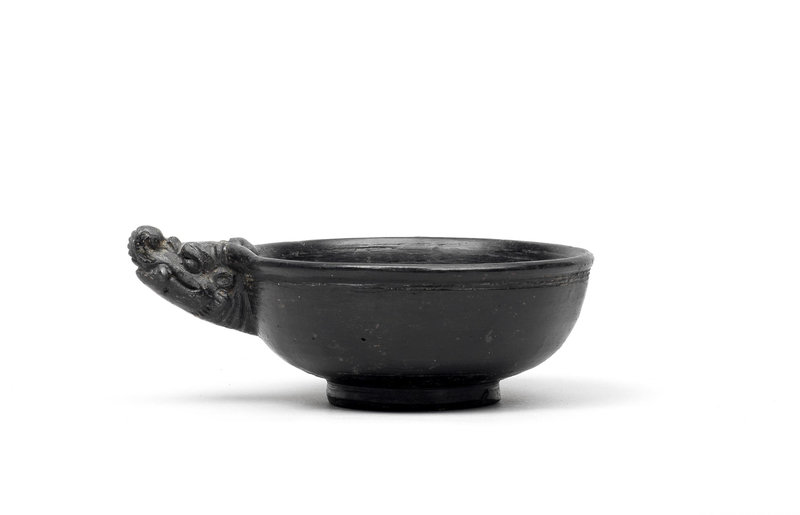 Lot 509. A rare black-glazed 'dragon' cup, Yuan dynasty (1271-1368); 8.5cm (3 2/8in) long. Est: £1,000 - £1,500. Sold for £ 4,845 (€ 5,647). © Bonhams
The shallow vessel finely potted with rounded sides raised on a gently-flared foot, rising to a slightly-flaring lipped mouth, the handle shaped as a dragon head, covered overall in black glaze.
Published, Illustrated and Exhibited: Roger Keverne Ltd., Summer Exhibition, London, 2010, no.26.
The result of Oxford Authentication Ltd. thermoluminescence test no.C109q36 dated 27 November 2009, is consistent with the dating of this lot
Note: The present lot is related to contemporaneous vessels in other materials. See for example, a gold cup, Song/Yuan dynasty, illustrated by B.Gyllensvard, Chinese Gold and Silver in the Carl Kempe Collection, Stockholm, 1964, pp.110-111, no.53A. A jade example, Song/Yuan dynasty, is illustrated in The Complete Collection of Treasures of the Palace Museum: Jadeware (II), Hong Kong, 1995, p.137, no.113.
Bonhams. Roger Keverne Ltd Moving On (Part II), London, New Bond Street, 7 Jun 2021