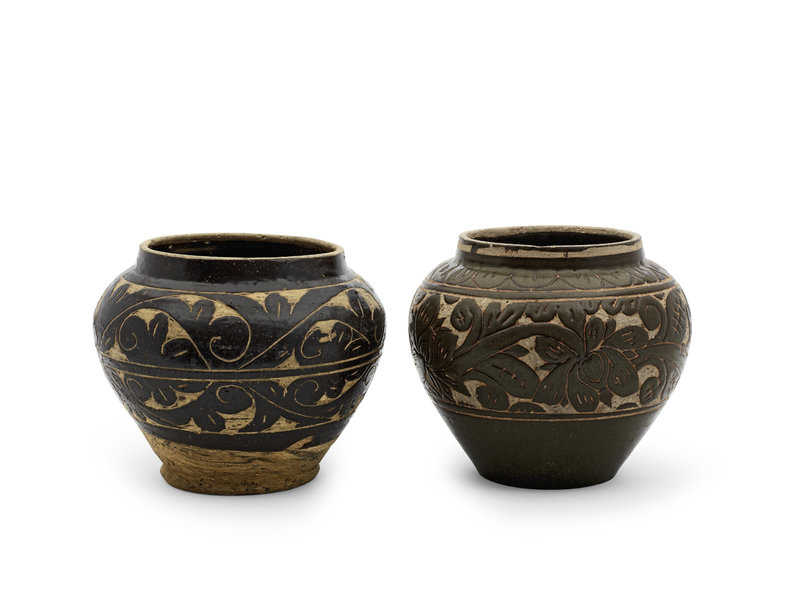 Lot 508. Two Cizhou-type brown-glazed carved jars, Yuan-Ming Dynasty (1271-1644); 24.5cm (9 5/8in) high. Est: £2,000 - £3,000. Sold for £ 4,080 (€ 4,750). © Bonhams
Both ovoid jars with slip and biscuit decoration of lotus and foliage, one with lappets on the shoulder and with slightly greenish glaze.
Provenance: Dr Arthur M. Sackler (1913-1987), New York, (acc.nos.3804A-B), acquired prior to 1978.
Christie's New York, 2 October 2009, lot 296 (part lot).
Published, Illustrated and Exhibited: Roger Keverne Ltd., Summer Exhibition, London, 2010, no.27 (jar with acc.no.3804B).
The result of Oxford Authentication Ltd. thermoluminescence test no.P109q47 dated 17 December 2009, is consistent with the dating of this lot. (left jar)
Note: A related carved brown-glazed jar, Xixia dynasty, is illustrated by Liu Liang Yu, A Survey of Chinese Ceramics, vol.3, Taipei, 1992, p.74. See also a jar, Yuan dynasty, in the Victoria and Albert Museum, London, illustrated by W.B.Honey, The Ceramic Art of China and Other Countries of the Far East, London, 1945, pl.64.
Bonhams. Roger Keverne Ltd Moving On (Part II), London, New Bond Street, 7 Jun 2021