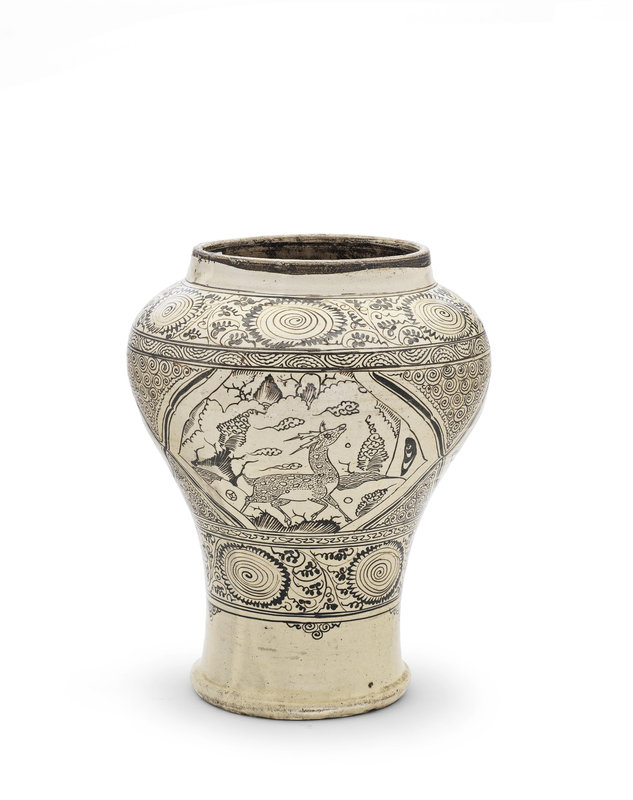 Lot 507. A Cizhou painted baluster vase, Ming dynasty (1368-1644); 27.5cm (10 7/8in) high. Est: £800 - £1,200. Sold for £ 3,570 (€ 4,156). © Bonhams
The tapering broad-shouldered body decorated in brownish-black on a cream slip with two lobed panels depicting respectively a deer and a crane, both creatures amidst wispy clouds and flowering branches, all between wavy-line borders at the shoulder, neck and foot, the rim and the interior under a brown glaze.
Provenance: Ton-ying & Co., Paris (label).
Note: Ton-ying & Co. was established in Paris in 1902 by Zhang Renjie (1877-1950), also known as Zheng Jingjiang, or 'Curio' Zhang, millionaire financier, Nationalist Government official and patron of both Sun Yat-sen and Chiang Kai-shek. He did much to help finance the Nationalist cause, together with C.T.Loo. In 1902, as attache on the staff of the Qing government in Paris, he established the Ton-ying Company, importing works of art and tea and silk. In 1928 he became governor of Zhejiang Province. In 1925 his friend Li Shizeng became Chairman of the newly created Palace Museum and in 1933 Zhang oversaw the removal of the greater part of the Imperial Collections to Shanghai. He left China in 1938 and after the outbreak of war in 1939, went from Europe to New York, where he died. His contacts and position in China made Ton-ying & Co. a conduit for high-quality pieces, which he supplied to Bluett's, Sparks and other dealers, while also dealing himself.

See a related example dated 1541, in the Herbert F. Johnson Museum of Art, Cornell University, illustrated by Yutaka Mino, Freedom of Clay and Brush through Seven Centuries in Northern China: Ts'u-chou Type Wares, 960–1600 A.D., Indianapolis, 1980, pl.84.
Bonhams. Roger Keverne Ltd Moving On (Part II), London, New Bond Street, 7 Jun 2021