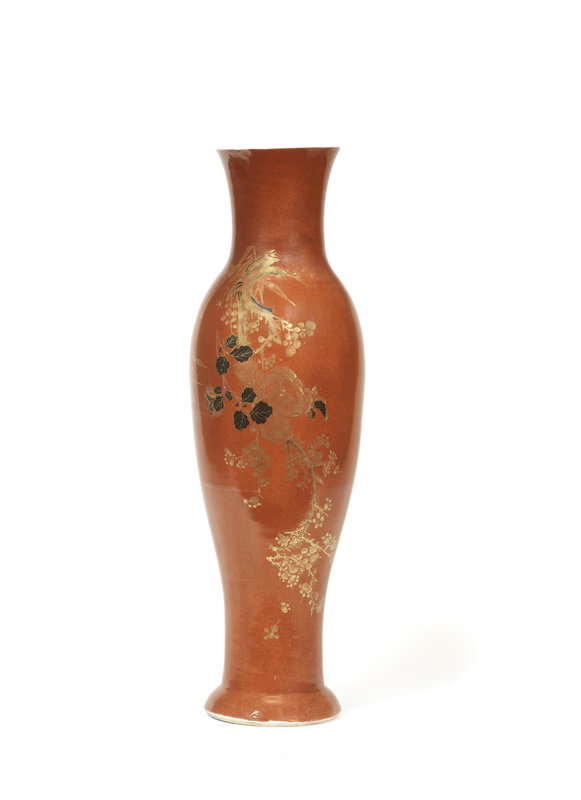 Lot 688. A rare coral-glazed gilt and lacquered slender baluster vase, Signed Yun An with a seal mark reading Linju, Yongzheng period (1723-1735); 43cm (17in) high. Estimate: 1 500 GBP - 2 000 GBP. Sold for £ 6,375 (€ 7,437). © Bonhams 2001-2021
Decorated in black lacquer and gilt with trailing branches of bamboo, flowering peony and blossoming prunus, the reverse inscribed with poetry.
Provenance: Ralph M.Chait Galleries, New York
Gerson and Judith Leiber, New York
Sotheby's New York, 20 March 2018, lot 463.
Note: Gerson Leiber (1922-2018) was an American modernist painter and Judith Leiber (1921-2018) was a renowned handbag designer. In 2008, they opened the Leiber Collection, a museum dedicated to their work.

Many works of the Yongzheng period, particularly lacquerware, exhibit strong Japanese influence, notably in their use of gold or black. See a related porcelain vase, Kangxi, illustrated in Chinesische Kunst, Berlin, 1929, no.841; and another related porcelain vase, Yongzheng, illustrated by R.Schmidt, Chinesische Keramik, Berlin, 1924, pl.125a.
Bonhams. Roger Keverne Ltd Moving On (Part II), London, New Bond Street, 7 June 2021