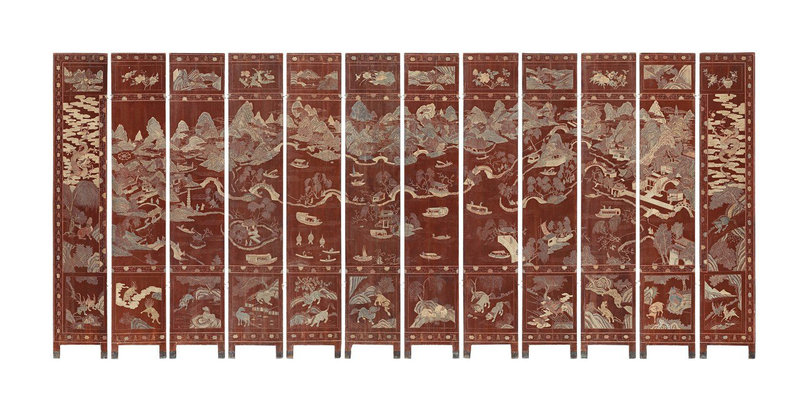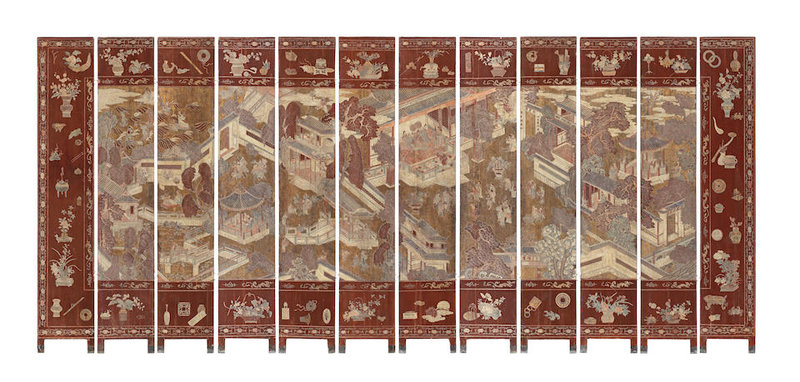 Lot 626. A rare twelve-leaf 'Coromandel' lacquer double-sided 'West Lake' screen, Kangxi period (1662-1722). Each leaf 263cm (103 1/2in) high x 47cm (18 1/2in) wide. Estimate: £8,000 - £12,000. Sold for £ 44,000 (€ 51,161). Courtesy Sotheby's.
Lavishly decorated with an idyllic view of the West Lake in Hangzhou with courtly ladies and gentlemen gathered in pavilions engaged in elegant pursuits amidst bridges and boats, surrounded by panels containing further landscapes, flowers and mythical animals, the reverse with a palatial scene of the Eight Immortals descending from the top left corner to pavilions containing seated court ladies and dignitaries, surrounded by panels enclosing the Hundred Antiques.
Published, Illustrated and Exhibited: Roger Keverne Ltd., Summer Exhibition, London, 2002, no.133.
Note: Hangzhou in Zhejiang Province is famous for its historic and cultural scenic spots dotted around its famous West Lake. With distinguished scholar-poets such as Bai Juyi 白居易 (772-846) and Su Dongpo 蘇東坡 (1037-1101) as former governors, West Lake became a major attraction for the literati who travelled there to write and paint their own impressions. Dong Bangda (1699-1769) painted 'forty views' of Hangzhou, giving the names of the topographical elements characteristic of the town and West Lake.

For related screens with depictions of the West Lake, see W.De Kesel and G.Dhont, Coromandel Lacquer Screens, Ghent, 2002, pp.71-75. See also another example illustrated in Kangxi Empereur de Chine 1662–1722: La Cité Interdite à Versailles, Paris, 2004, no.175; and another example illustrated in Exhibition of Mother-of-Pearl Inlay in Chinese Lacquer Art, Tokyo, 1979, no.81.

See a related nine-leaf screen depicting the West Lake, 18th century, which was sold at Christie's London, 11 July 2006, lot 79.
Bonhams. Roger Keverne Ltd Moving On (Part II), London, New Bond Street, 7 June 2021