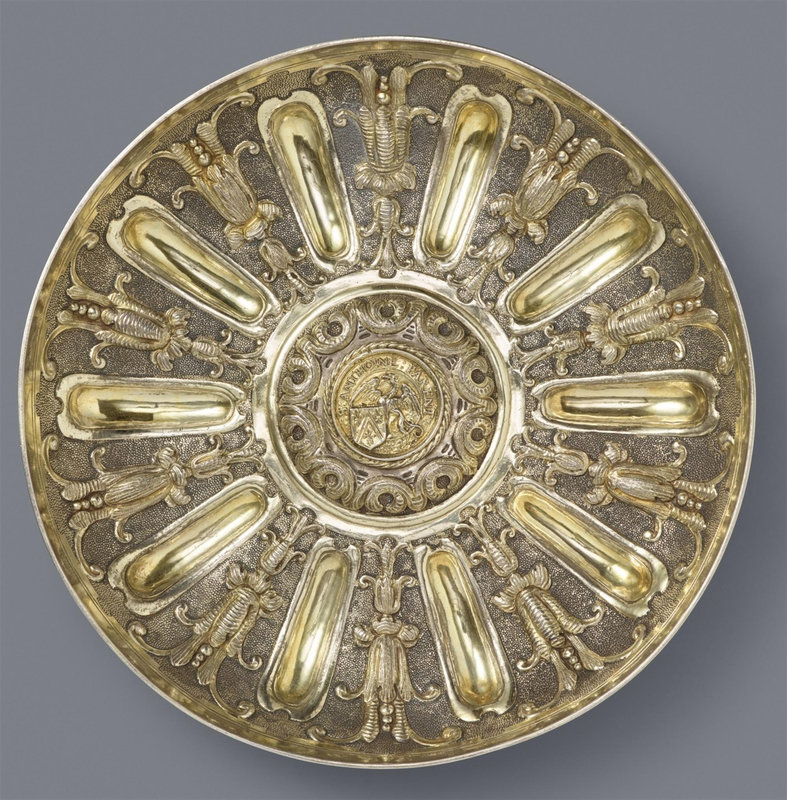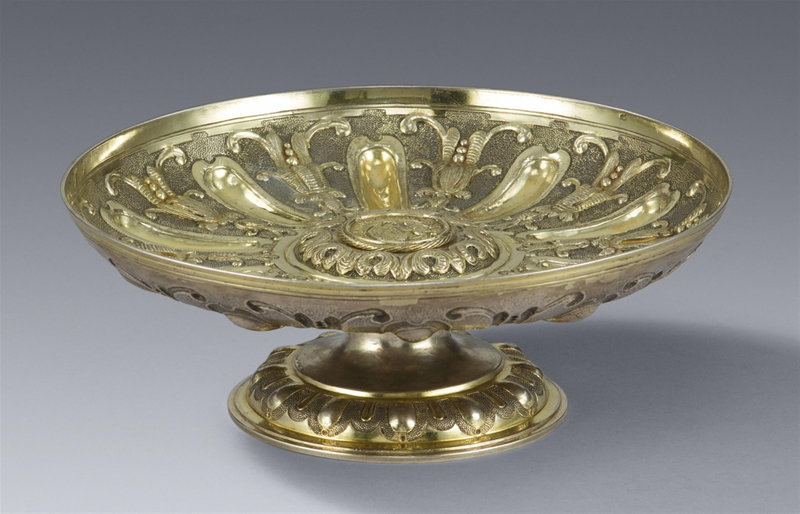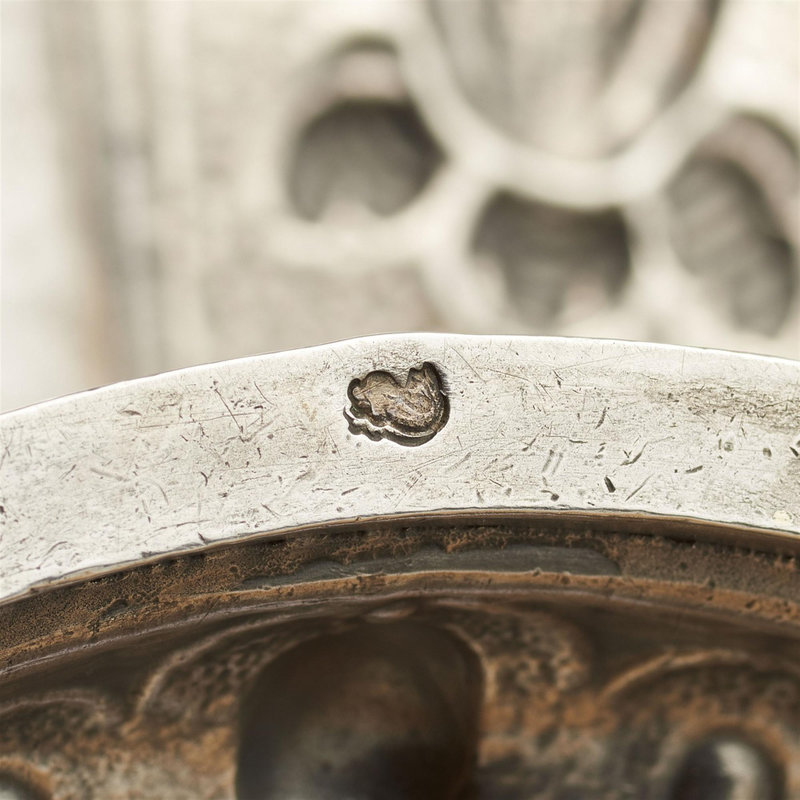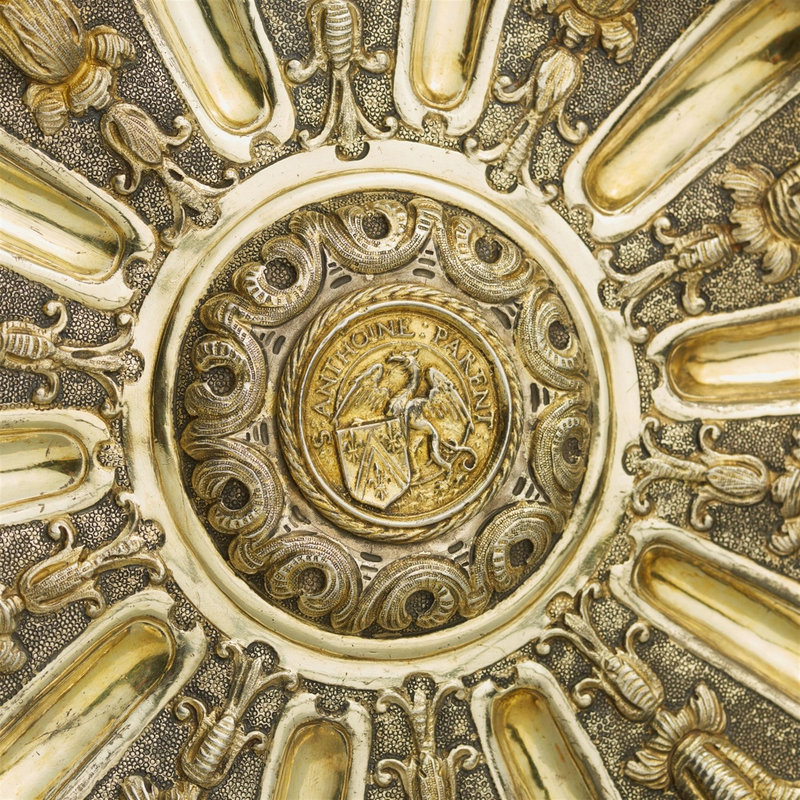 Lot 39. A silver gilt Renaissance tazza, Attributed to Augsburg, Tobias Kramer, first third 17th century. With later Dutch hallmarks. H 7.5, D 20.6, weight 368 g. Estimate: €18,000 - €20,000. Courtesy Kunsthaus Lempertz
Gadrooned gilded base with snakeskin engravings supporting a slender shaft. The interior of the bowl entirely gilded; the raised central node decorated with an impression of a coin with a dragon holding the Bourbon coat-of-arms inscribed "S:ANTHOINE: PARENT". The rim with radial concave gadrooned motifs alternating with raised foliate garlands on a stamped ground.
Literature: Cf. a stembowl by the silversmith Tobias Kramer, Augsburg, 1620-25, in the Museum August Kestner Hannover, inv. no. 1910.7.
Cf. another tazza by Tobias Kramer, Augsburg, circa 1597, in the British Museum, Mus. No. AF.3068.
Cf. cat. Welt im Umbruch. Augsburg zwischen Renaissance und Barock vol. II: Rathaus, Augsburg 1980, no. 715.
Cf. Seling, Die Augsburger Gold- und Silberschmiede 1529 - 1868 Meister Marken Werke, Munich 2007, no. 1277.
Cf. the stembowl made by Adriaen van Swieten of Leiden in the Rijksmuseum, Amsterdam, inv. no. BK-NM-12135.
Cf. Frederiks, Dutch Silver, vol. I, Den Haag 1952, no. 26.
Cf. Catalogus van Goud en Zilverwerken. Benevens Zilveren, Loden en Bronzen Plaquetten, Rijksmuseum Amsterdam 1952, no. 51.
Cf. B. Dubbe, De drinkschaal, in: Antiek, 1975/76, no. 10, p. 1002, illus. 27.
Cf. den Blaauwen (ed.), Nederlands zilver, Den Haag 1979, no. 2, for the dish from Zierikzee made in 1580 on a tall baluster form shaft and no. 9 for the dish made in Amsterdam 1603, also with a vase shaped shaft.
Note: Due to its later Dutch hallmarks, this splendidly decorated bowl was previously attributed to the Netherlands, and was presumed to have been made in Leiden, due to a similar object in the collection of the Rijksmuseum, Amsterdam. However, in the collection of the August Kestner Museum in Hannover there is a second, almost identical object, with only the central coat-of-arms varied, with the marks of Tobias Kramer, from 1620 - 1625. Another tazza in the collection of the British Museum, with the enamelled coat of arms of Martin Scholl, the town clerk in Biel, also bears Kramer's marks in addition to several English and Continental control marks. In the catalogue of the 1980 exhibition, the marks were again discussed, as the bowl in England is dated 1597. In Tobias Kramer's case, Seling suggests a date of birth of around 1582, which would make the object a very early work. His master's examination did not occur until around 1613.
Seling found two more stembowls/credenzas by the master: one in the treasury of the cathedral of Wawel in Krakow (inv. no. 6044) and another in the Kremlin Museum in Moscow (inv. no. 11658). Tobias Kramer died in around 1634, but nevertheless left an important œuvre, which includes, among other things, a gilded clock in the shape of an elephant, which is today housed in the Kunsthistorisches Museum Vienna, and presumably also the present bowl.
Kunsthaus Lempertz KG. From Antiquity to Art Nouveau - The Bernard De Leye Collection, Köln, 15 July 2021