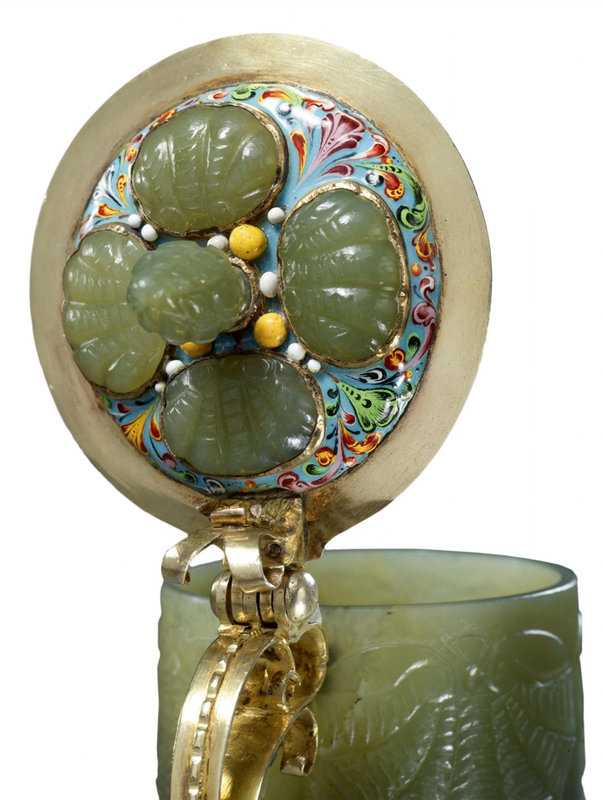 Lot 65. A courtly carved jade tankard, Augsburg, circa 1660 – 1670. Jade carving attributed to Johann Daniel Mayer; H 13.3 cm, diameter 9.2 cm, weight 467.70 g. Estimate: €70,000 - €80,000. Courtesy Kunsthaus Lempertz
The two-part cylindrical body made from translucent mossy green jade carved with bands of four large repeating scallop shell motifs and scrollwork cartouches. The base made from black and green flecked serpentine. With vermeil mountings, hinged lid and moulded curved double handle. The slightly domed lid decorated with polychrome enamel scrolls on turquoise ground with turquoise counter enamel on the reverse. The centre symmetrically decorated with yellow and white enamel spheres and set with four carved jade shells and a large jade pine cone finial.
Exhibited: "Vers Désir", TREMA Musée des Arts ancien du Namurois, October 2020.
Literature: For the tankard in Stuttgart see Landesmuseum Württemberg (ed.), Die Kunstkammer der Herzöge von Württemberg, vol. 2, Ulm 2017, cat. no. 172, 176. Cf. Laue, Schatzkunst für die Kunstkammern Europas, Munich 2017, p. 92-93, p. 193-194, cat. no. 4 for a Baroque jade tankard with a carved rhombus pattern made by Johann Daniel Mayer with comparable enamel mountings. Cf. also Bascou et. al., Royal treasures from the Louvre, Louis XIV to Marie Antoinette, 2012, p. 5859, no. 23/24 for two Baroque dishes carved from precious gems in the Louvre attributed to Johann Daniel Mayer, the mountings of which are also enriched with Augsburg enamel décor. Cf. Alcouffe, Les gemmes de la couronne, Paris 2001, p. 353-356.
Note: The Landesmuseum Württemberg in Stuttgart houses a total of ten works securely attributed to the Augsburg gem cutter Johann Daniel Mayer. The works are known to have been acquired by Duke Eberhard III of Württemberg (r. 1633-1674) for the Ducal Kunstkammer between 1662 and 1671. Two of them, vermeil-mounted lidded tankards made of carved heliotrope and chalcedony, are directly comparable to this piece (Landesmuseum Württemberg, Kunstkammer inv. no. KK grün 7; KK grün 58). Both works are of a similarly large size and are executed using stones carved in stylized baroque bas-relief. Moreover, the mounting of the chalcedony tankard with the characteristic double band handle is very similar to the present work. The heliotrope tankard, documented in the Duke's inventory as early as 1662, also features almost identical, bold enamel decoration. It was long assumed that these polychrome enamel ornaments were made in Nuremberg, and they were attributed to the enameller Johannes Heel (1637 - 1709). However, since the ducal archives contain documentation stating that the decoration was carried out by an employee in Mayer's workshop, it is now possible to attribute it securely to Augsburg.