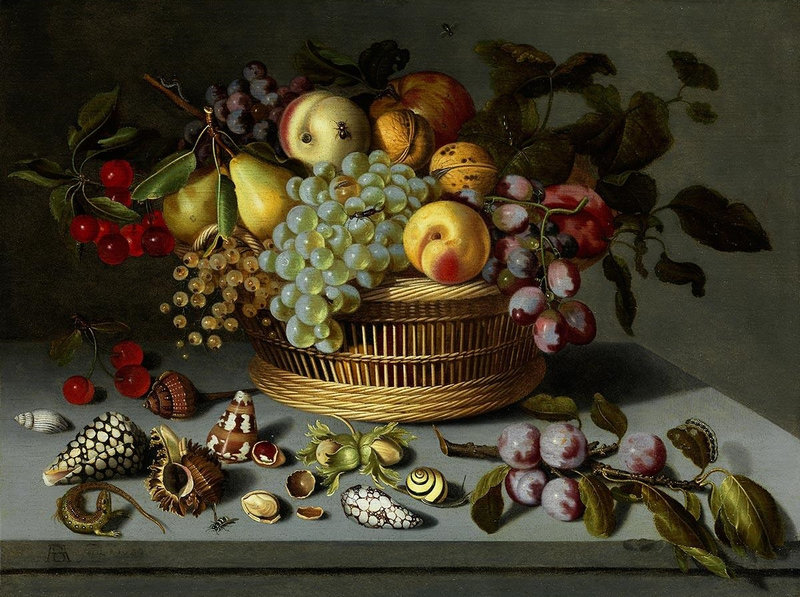 Lot 311. Ambrosius Bosschaert the Elder (1609-1645), Fruit still life with shells and insects. Oil on wood, 37.5 x 49.5 cm. Monogrammed "AB" in ligature lower left and dated "fecit 163 (0)". Estimate: € 200,000 - € 300,000. Lot sold: € 220,000. Courtesy Hampel
On a stone slab a brightly lit straw basket, bulging with grapes, cherries, pears, plums and peaches. In front of the basket partially overlapping mussels, snail shells and insects along with hazelnuts. The hitherto unpublished still life is a characteristic work from the maturity phase of Bosschaert the Younger, the eldest son of Ambrosius Bosschaert the Elder. (1573-1621). The painter was probably trained by his uncle, Balthasar van der Ast (1593 / 94-1657) and only acquired his own style around 1626, after which mainly still lifes with flowers were created. Still lifes with fruit like this one are rarer.
Provenance: Private collection, Germany.
Private collection, Switzerland.
Note: As Bol records in "The Bosschaert Dynasty", 32 works are known by Ambrosius the Younger (LJ Bol, The Bosschaert Dynasty, Leigh-on -Sea 1960, pp. 44 - 48), of which the earliest painting is dated " 1616 "and the last is dated" 1643 ".
Comparative examples: A comparable composition dated "1631" with the same monogram was sold at Christie's, London on November 12, 1992 with lot 67.
Hampel. Fine Art Auctions, Munich, 3 December 2020