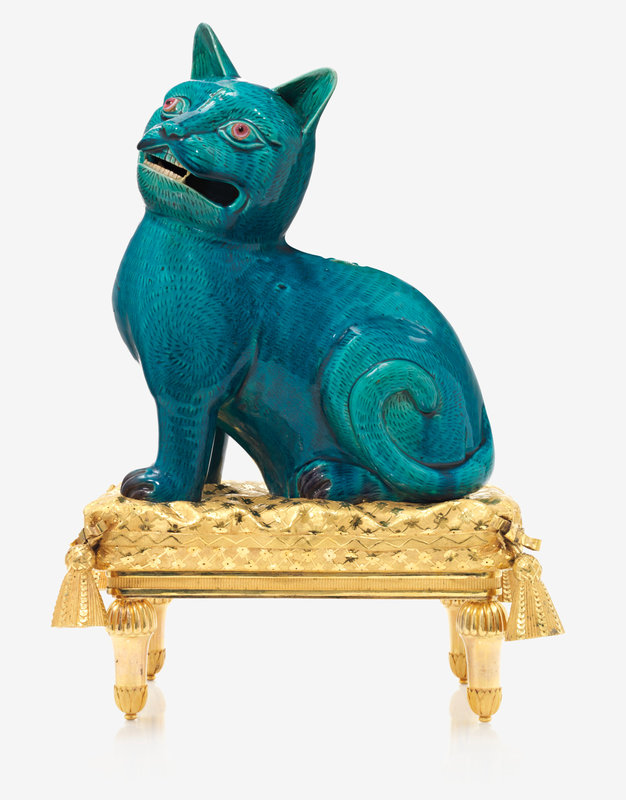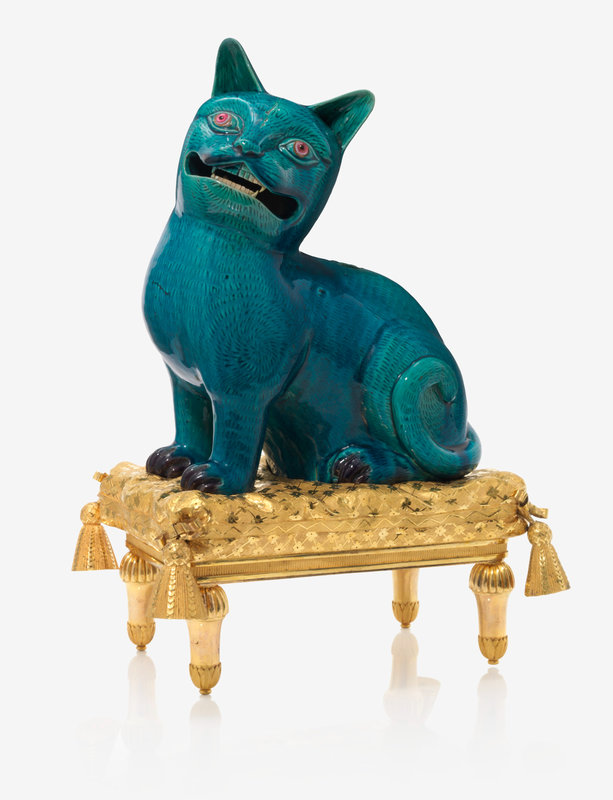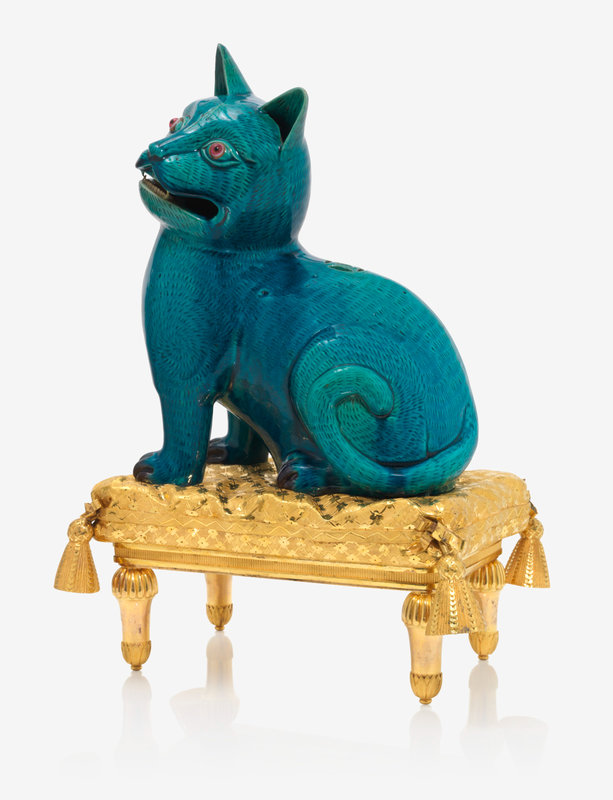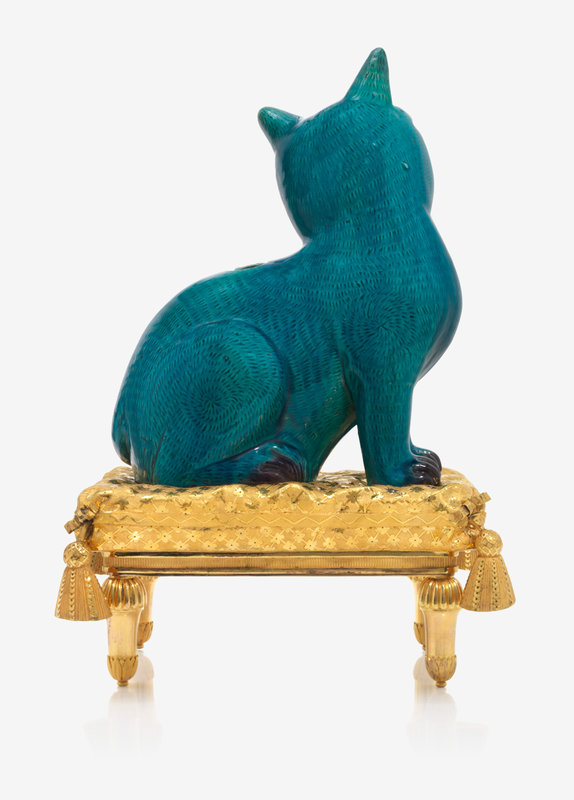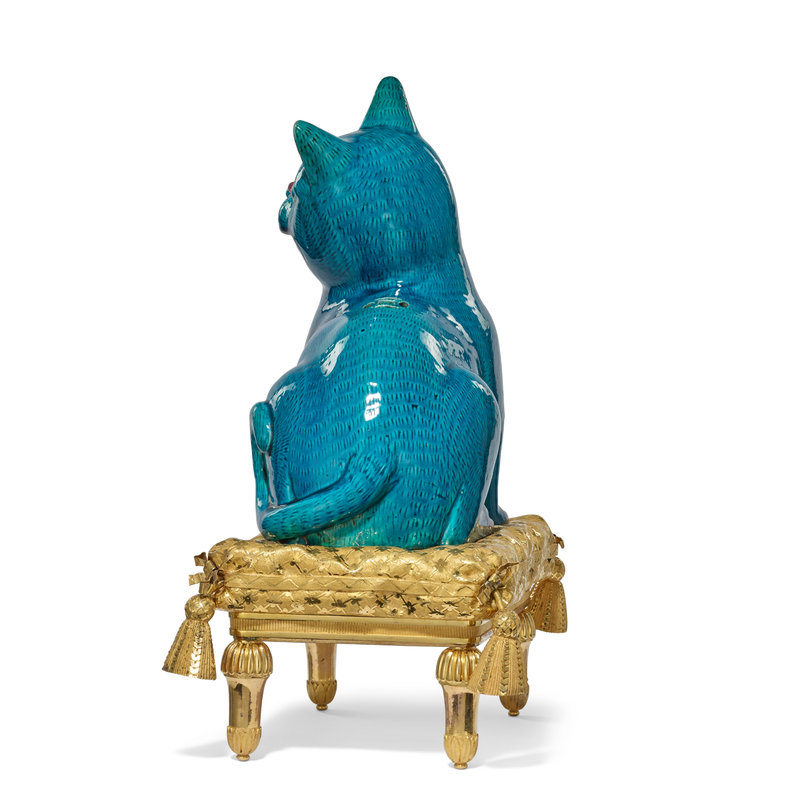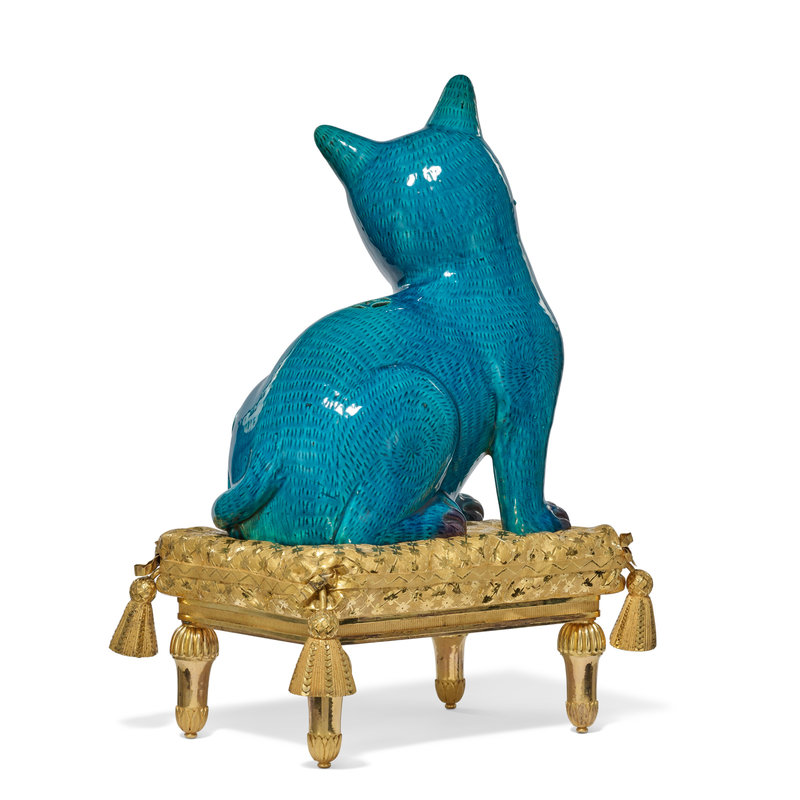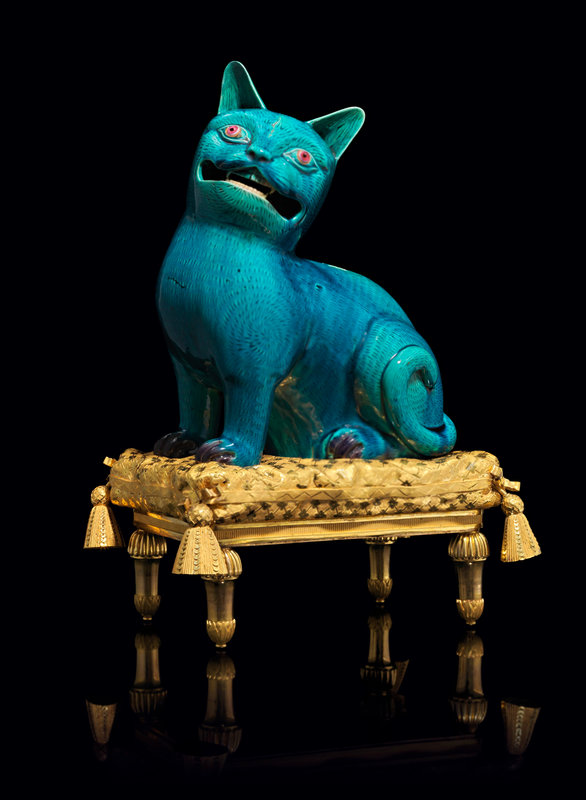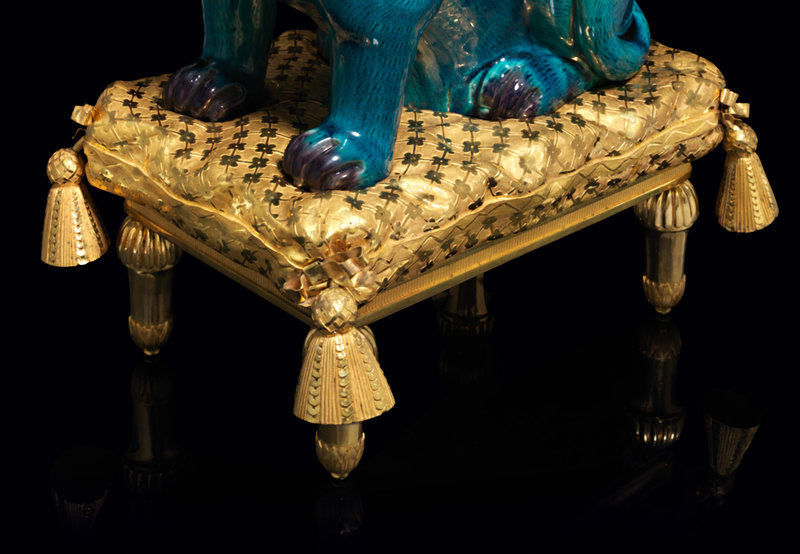 A Louis XV Ormolu-mounted Chinese Turquoise-Glazed Porcelain Cat, The Porcelain Qianlong (1736-1795), The mounts second half 18th century; 17 1/8 in. (43.5 cm.) high; 12 ¼ in. (31 cm.) wide; 8 ½ in. (21.5 cm.) deep. Price on request. © Christie's Images Ltd 2021
Provenance: Probably supplied by Lazare-Duvaux (1703-1758),
marchand-mercier
, Paris, circa 1750-1755 to
Jeanne-Antoinette Poisson, marquise de Pompadour, duchesse de Menars (1721-1764), in her
Cabinet des Muses
, Hôtel d'Évreux, Faubourg Saint-Honoré, Paris
Thence by descent to her brother Abel-François Poisson de Vandières, marquis de Marigny (1727-1781), from 15 April 1764.
His sale, Paris, Hôtel d'Evreux, 19 November 1764 - 26 juillet 1765.
Pierre Louis Paul Randon de Boisset (1708-1776), in his
Petit Cabinet
, Hôtel Cressart, no. 18 place Vendôme, Paris.
His sale, Paris, 27 February 1777, lot 628.
Louise-Jeanne de Durfort de Duras, duchesse de Mazarin (1735-1781), in her
Cabinet Chinois
, Hôtel de Mazarin, quai Malaquais, Paris.
Her sale, Paris, 10 December 1781, lot 100.
Jean-Baptiste-Pierre Lebrun (1748-1813), Paris.
Private European Collection.
Literature: C. Huchet de Quénetain & G. Séret, 'Reflections on a Chinese porcelain cat, seated on bronze cushion, once in the collections of Madame de Pompadour', Colnaghi Studies Journal, no. 4, March 2019, pp. 97-112 (illustrated).
S. Mouquin, Les Arts décoratifs en Europe, Paris, 2020 (illustrated).
Note
: This extraordinary Chinese porcelain cat in transparent turquoise blue with violet glaze and aubergine paws- seated on a finely chased gilt-bronze cushion- is an important rediscovery, having been recently identified in the collection of the collection of the celebrated Madame de Pompadour (1721-1764), mistress of the French King Louis XV.
This work presents valuable evidence of the relationship and artistic exchanges between Asia and Europe, revealing the close collaboration between art dealers and craftsmen working in gilt-bronze. It also exemplifies a type of highly desirable object sought by some of the most discerning collectors of the time. Undoubtedly created by Lazare Duvaux, the most famous
marchand-mercier
(luxury goods dealer) in this period, this work represents a prime example of the fashion in Paris
in the 18th century for rare Asian wares imported to France and subsequently enriched with precious gilt-bronze mounts. Furthermore, the piece is of great historical importance as it is likely to have belonged to one of the most influential tastemakers and collectors of the time, Madame de Pompadour, and reappeared in various highly important 18th century collections demonstrating how these collectors were not only desirous of great works of art, but also valued pieces with a prestigious provenance.
A CAT OF EXCEPTIONAL PEDIGREE
The well-documented history of the object begins on the 15th of April 1764 when the piece appear is inventoried in the Parisian house of Madame de Pompadour as a 'cat of antique violet porcelain on a base of gilt bronze valued at two hundred livres'. It was listed in the salon des Muses of the hôtel d'Evreux which is now the Palais de l'Elysée, official home of the French presidents. As one of the great collectors of her time, Madame de Pompadour had on display more than three thousand porcelain pieces in her various residences. Nearly three hundred of these were from the Far East, and the finest were furnished with extraordinary gilded-bronze mounts made by Duplessis.
Upon her ascent as royal favourite, Madame de Pompadour became, as early as 25 April 1750, a regular client of the
marchand-mercier
Lazare Duvaux, from whom she bought nearly 150 works of Chinese porcelain. On 18 August 1751, she purchased for instance a piece reuniting several blue porcelain vases and figures incuding two cats described as "a porcelain decorative piece, in uniform celestial blue, consisting of two cats, and three dragon bottles garnished with gold-gilded bronze, specially commissioned, 1,480
(livres)
." She also owned "a big cat on a bronze stand gilded with ormolu, estimated at 96
l(ivres)
" listed among the contents of the Château de Saint Ouen at the time of Pompadour's death.
Pompadour's particular passion for Asian and European porcelains led her to play a crucial role in the establishment of the Royal Manufactory of Porcelain in Vincennes, which moved to Sèvres in 1756, and was placed under the patronage of King Louis XV and his mistress. It is interesting to notice that the first royal table service produced by Vincennes, delivered to Versailles between 1753 and 1755, was named "
Service Bleu Céleste
" referring directly to the turquoise blue ground colour found on Chinese porcelains (
Céleste
evoking the Celestiale Empire of China) that Madame de Pompadour was collecting in the 1750s.
When Madame de Pompadour died, her brother and heir, the Marquis de Marigny (1727-1781), was uninterested in his sister's collection of porcelain. At the sale of her goods, the cat presented here joined the collection of another great patron, Pierre-Paul-Louis Randon de Boisset (1708-1776). The work is described in 1776 in an inventory of de Boisset's goods: "In the small cabinet after the salon [...] Item No. 308. A seated cat of antique porcelain in celestial blue placed on an embroidered cushion and acorns in chiselled copper and gilded with ormolu valued at five hundred
livres
cy 500." The precise correlation between this description and the present object is further corroborated by the description of the same object in the collector's sale which took place the fallowing year on the 27th of February 1777: '
A sturdy cat, of strong uniform colour, finely realized hairs, in a seated position, the raised head with eyes of enamel; it is placed on a rich cushion with embroidered pattern finished with four tassels in gilded bronze: height 13 inches
(about 35.18 cm)
by 9
(about 24.36 cm)
from side to side. This piece is, of its kind, one of the desirable items of this Cabinet, by virtue of the very good quality of the porcelain & the expressive character of the animal, it is perhaps unique in this lot: it was acquired at the sale of Madame the Marquise de Pompadour
.'
At the sale of Randon de Boisset's collection, Madame de Pompadour's cat sold for 1,250
livres
to Jean-Baptiste- Pierre Le Brun (1748-1813), merchant and husband of the painter Élizabeth Louise Vigée-Lebrun (1755- 1842), the favourite portraitist of Marie Antoinette.
An annotated catalogue of the sale indicates that Le Brun was bidding on behalf of Louise-Jeanne de Durfort de Duras, Duchesse de Mazarin (1735-1781).The subsequent inventory of the Duchesse's Parisian town house records: "In the Chinese cabinet next to the aforementioned Library… (under number) 220. A cat of antique Japanese [sic] porcelain in celestial blue valued at six hundred
livres
cy 600."Following her death, an initial auction of the Duchesse's property took place on 10 December 1781, and the cat reappears in this sale catalogue: "A Cat (celestial blue porcelain of ancient China) with enamel eyes, placed on a pillow with four tassels of gilded bronze, Height 12 inches (about 32.48 cm), Width 12 inches (about 32.48 cm). On this occasion the cat sold for 1,500
livres
, once again to Le Brun.
AN EXCEPTIONAL CREATION OF A PARISIAN
MARCHAND-MERCIER
This superb object presents a unique testimony of the creativity of Parisian
marchand-merciers
like Lazare Duvaux (ca. 1703-1758), who catered to the world's most distinguish and discerning collectors. One of the most lucrative aspects of their activity was to enrich Asian (as well as European) porcelains with gilt-bronze, or ormolu, creating a type of object which became highly fashionable in Paris. Fitted with gilt-bronze mounts, exotic porcelain pieces were adapted to a European aesthetic. Sometimes this led to porcelains being removed from their original context and literally transformed: for example, two bowls became a
pot-pourri,
or a lidded jar became a vase. Asian porcelains were sometimes even intermixed with Meissen or Vincennes porcelains to create spectacular new objects, such as extravagant clocks. The
marchands-mercierss
were generally responsible for commissioning the gilt-bronze mounts, which needed to be custom made. The craftsmen who worked in the service of these dealers, such as Jean-Claude Chambellan, known as Duplessis (1695-1774), relied on ingenuity and virtuosity to produce the most sought-after objects. For the most important and unusual pieces the
marchands-merciers
themselves were often directly involved in the final design of the piece.
Lazare Duvaux was the most famous
marchand-mercier,
maintaining his position at the height of Parisian fashion by supplying the most exclusive clientele at the French court. His
Livre-Journal
(account-book), beginning in September 1748, provides valuable information on the production of several objects similar to Madame de Pompadour's cat.
On 6 May 1750, it records "a purple porcelain cat on a mount gilded with ground gold (600
livres
)."11 On 10 December 1754, "A purple cat (25
louis
)" is invoiced to the Count de Luc, Jean-Baptiste-Hubert de Ventimiglia (1720-1777), widower of Pauline-Félicité de Mailly de Nesles (1712-1741), the former mistress of Louis XV.
Descriptions of important contemporary collections also document the popularity such objects. For example, in 1766, was described in the cabinet of Mr. Blondel de Gagny, place Louis le Grand (now place Vendôme) was described 'Two cats & four
Crables [sic]
of ancient porcelain in celestial blue." Objects from Blondel de Gagny's collection were auctioned for the benefit of his grandchildren in 1776 and 1777. The 1776 sale included:
"
Two peacocks, two carpes (sic), a cat (of porcelain of celestial blue) & three stands of violet broche marble," all of which sold for 20
livres
and 10
sols
;15 and crucially
"
Two crouching cats of beautiful porcelain in celestial blue, on gilded bronze feet," which sold for 499
livres
and 19
sols
.16
Augustin's son, Barthélémy-Augustin Blondel d'Azincourt (1719-1794) was also a loyal customer of Duvaux, with a taste for Chinese porcelain.17 On 21 November 1753, Duvaux supplied him with "Two Cats of celestial blue with bases gilded with ormolu."
These cats, which each cost 300
livres
, were probably smaller than those previously acquired by the Count du Luc , given the considerably higher price of the latter. In fact, Lazare Duvaux sold several other cats with mounts to Blondel d'Azincourt. On 6 June 1754 his account book records "A stand with gadroons and mouldings in copper gilded with ormolu for a purple porcelain cat," sold to the collector for 36
livres
.22 On 26 December 1755, Blondel purchased "An ancient cat from China on a golden mount gilded with ormolu" for 144
livres
, evidently without polychrome detail, but at a price proportional to its size. The 1783 sale of Blondel's property also included "Two crouching cats, spotted and shaded with brown on a white background, on an oval stand with gadroon feet in gilded bronze," a description that evokes a crouching white cat with black spots preserved in the British Museum.
Further examples of Duvaux's dealings in similar items contribute to our understanding of the relative value of the object under consideration here. For instance, on 20 February 1753, Duvaux made an important sale to the famous collector, Jean de Jullienne (1686-1766), a wealthy cloth merchant who was the director of the Gobelins dyers' shop.27 Duvaux's
Livre-Journal
notes supplying Jullienne with "A stand with gadroons and mouldings, gilded with ormolu, for a blue cat; supplied with two enamel eyes & accompaniments (48
livres
)"; these accessories were evidently intended to decorate a porcelain object already in the collector's possession. Interestingly, the present cat has also added enamelled eyes demonstrating the piece must have been enriched and supplied by Duvaux.
Christie's. Expanding Horizons: From European Decorative to Contemporary Arts