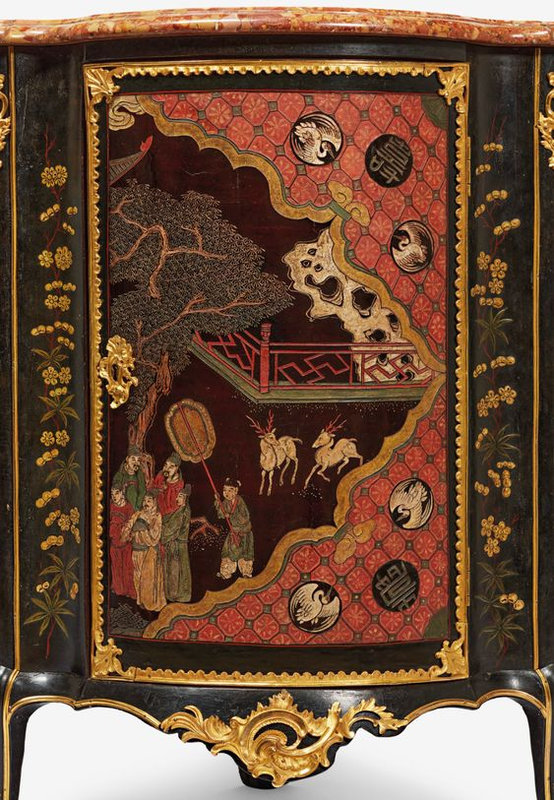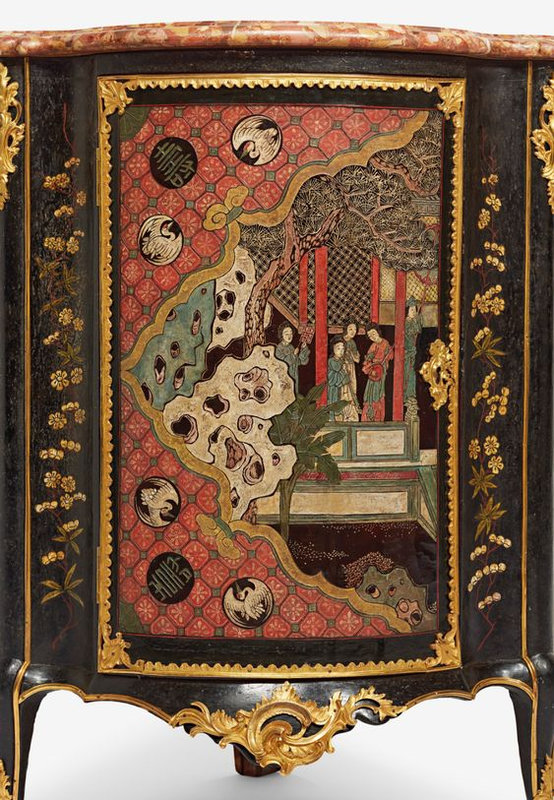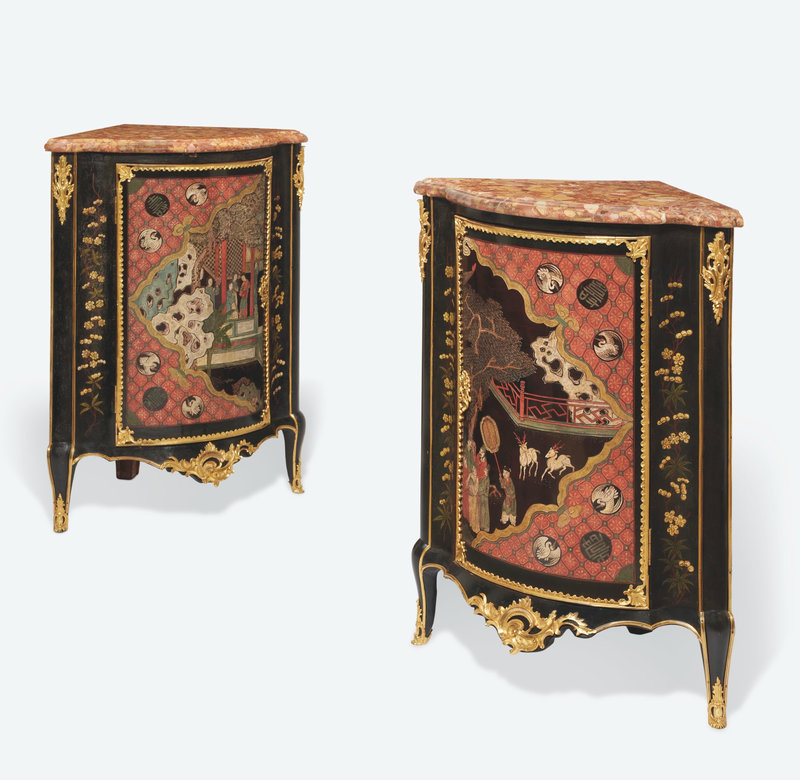 A pair of Louis XV ormolu-mounted Chinese Coromandel lacquer and vernis Martin encoignures (corner cabinets) by Adrien Delorme, circa 1748-49. ; 37 in. (95 cm.) high; 29 in. (73 cm.) wide; 20 in. (52 cm.) deep. Price on request. © Christie's Images Ltd 2021
Each with shaped moulded breche d'Alep marble top above a curved door decorated with a triangular cartouche depicting a courtly scene in a palace garden, surrounded by a floral trellis pattern and framed by a lappeted motif, the angles headed by foliate clasps, on short cabriole legs and pierced foliate sabots, the reverse of the door inlaid with tulipwood and bois satine and with central rosette motif, one stamped 'DELORME', the mounts stamped with the 'C' couronné poinçon (tax mark).
Note
:
Adrien Delorme, master in 1748.
The
'C' couronné poinçon
was a tax mark employed on any alloy containing copper between March 1745 and February 1749.
Precious and colourful oriental lacquer, both Chinese and Japanese and generally dating from the 17th Century, was re-employed to decorate some of the finest items of French furniture in the 18th Century. The earliest known pieces, in Louis XV or Rococo style, date from the 1730s and were made for the Elector of Bavaria (1730-'33) and Queen Marie Leszczynska (1737); the fashion subsequently became more wide-spread in Royal circles and the elite for the remainder of the Century. The most noteworthy collector was Queen Marie-Antoinette, whose passion for precious lacquer and lacquer-mounted furniture continued into the 1780s, when some of the most precious examples were made by her favoured cabinet-maker Jean-Henri Riesener. The Revolution brought an end to Royal and aristocratic commissions in France and lacquer-mounted items of furniture executed after 1790 are rare. The present corner cabinets, known as '
encoignures,
were made by Adrien Faizelot Delorme (1722-1791), who became a master in 1748. They are embellished with sections of Coromandel lacquer, notably two triangular sections from a lozenge-shaped cartouche, possibly originally featuring on the lid of a coffer. Apart from the courtly scenes, the pink trellis ground is inset with cartouches depicting cranes, symbolising longevity. Some of the gilt-bronze mounts are stamped with the
C Couronne poincon,
a tax mark employed from 1745 to 1749. Additionally, Delorme applied his own maker's stamp – which he rightfully was only able to do after becoming master in 1748 – and this enables us to date the execution of these pieces to the first year of his career, 1748-'49.