International Academic Director Asian Art
The pieces included in this second sale of items from the collection of Robert H. Blumenfield, like those from the first sale, have been selected for their aesthetic qualities, their rarity, and the insight they provide into the world of the Chinese literati. The materials from which they are made, the skills required to fashion them, and the traditions informing their shapes and decoration vary widely. What binds these works of art together is the pleasure and inspiration they provided to the scholar who owned them - be he an emperor or a retired official. The majority of the pieces in this sale are linked in some way to the siyi - 'the four accomplishments' or 'four cultured arts', which were qin, qi, hua, and shu - playing the qin - a kind of Chinese zither, playing weiqi chess, painting, and calligraphy. As early as the Tang dynasty, Zhang Yanyuan (AD c. 815- c. 877) in his Fashu Yaolu (Compendium of Calligraphy) specifically identified these four arts, and no gentleman could truly be considered a scholar if he was not accomplished in each of them. The concentration on these four arts can be seen not only in items made to be used, or inspired by, while performing them, but in their influence on the forms and decoration of the other pieces with which the literatus might surround himself. On the one hand the current collection includes a yumu painting table (lot 1326),
Lot 1326. A yumu painting table, hua'an, 17th-18th century; 31¾ in. (80.8 cm.) high, 64 in. (162.6 cm.) wide, 26½ in. (67.3 cm.) deep. Estimate USD 25,000 - USD 35,000. Price realised USD 35,000. © Christie's Images Ltd 2012
With attractively grained single-panel top set within the wide beaded frame, above plain, beaded aprons and reticulated cloud-form spandrels, the whole raised on thick, beaded legs of quatrelobe section joined by pairs of stretchers, with remnants of black lacquer.
Provenance: Cola Ma, Hong Kong.
a huanghuali folding games tray, with a weiqi chess board on one side and a xiangqi chess board on the other, complete with chess counters (lot 1307),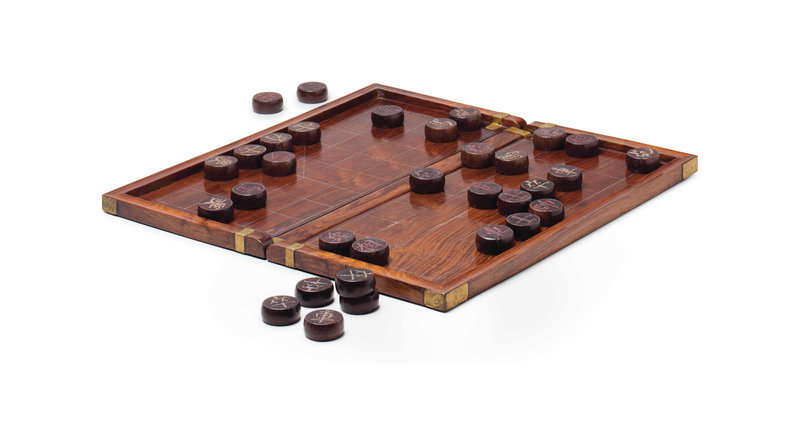 Lot 1307. A baitong-inlaid huanghuali folding game tray, 17th-18th century; 19¼ in. (49 cm.) square (33 cm). Estimate USD 20,000 - USD 30,000. Price realised USD 40,000. © Christie's Images Ltd 2012
Formed by two rectangular boards set within the raised frame, hinged at the center allowing it to fold, inlaid on one side in baitong as a weiqi board and on the other as a xianqi board, the edges fitted with huangtong hardware; together with a set of thirty-two hardwood xianqi pieces.
Provenance: Hei Hung Lu, Hong Kong, 1989.
Note: A similar folding huanghuali game tray with double-sided design is illustrated by Colin MacKenzie and Irving Finkel eds., Asian Games: The Art of Contest, New York, 2004.
and a pair of huanghuali jars for chess counters (lot 1306), which would actually be used for painting and playing weiqi chess, respectively.
Lot 1306. A pair of huanghuali weiqi boxes and covers, 17th-18th century; 5¾ in. (14.6 cm.) diam. Estimate USD 18,000 - USD 25,000. Price realised USD 32,500. © Christie's Images Ltd 2012
Each of squat form with rounded sides, the hat-form covers with dimpled centers; together with black and white stone game pieces.
Provenance: Hei Hung Lu, Hong Kong.
Note: Two other similar pairs of weiqi jars are published. One in huanghuali, dated to the late 17th or early 18th century, is illustrated by S. Handler in Austere Luminosity of Chinese Classical Furniture, University of California, 2001, p. 200, no. 12.18; and another pair carved from zitan in the collection of the Palace Museum, Beijing was included in the exhibition catalogue Qing Legacies - the Sumptuous Art of Imperial Packaging, Macau Museum of Art, 2000, p. 194, no. 94.
On the other hand there is a lovely, and very rare, mid-late 17th century model of a qin made in fine Dehua porcelain (lot 1308), which would probably not have been played, but provides a clear referen to the appreciation of qin music by the literati.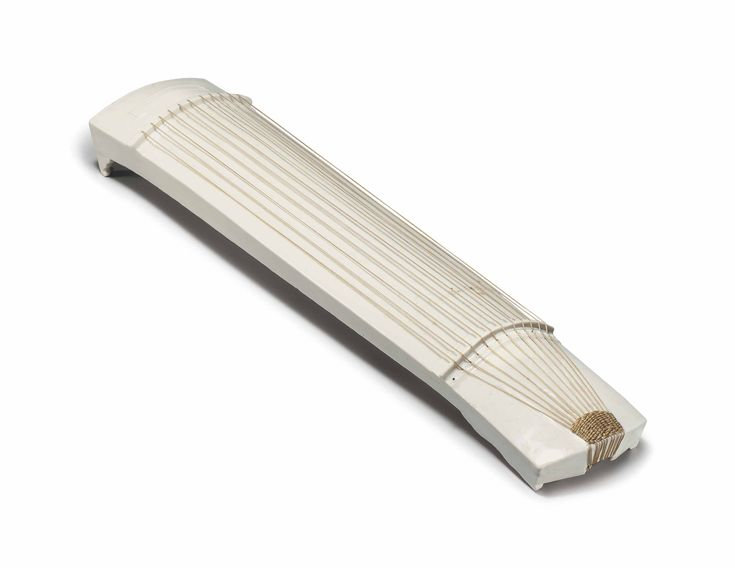 Lot 1308. A very rare Blanc-de-Chine model of a qin, mid-late 17th century; 21 3/8 in. (54.3 cm.) long, wood stand. Estimate USD 60,000 - USD 80,000. Price realised USD 74,500. © Christie's Images Ltd 2012
Modeled in imitation of a qin raised on scrolled supports, the convex top with a rectangular panel at one end and a molded tripartite motif at the neck end, each end pierced with thirteen tiny holes set behind a narrow bridge for the stretching of the strings, all but the center of the underside covered with a glaze of creamy tone.
Provenance: Ralph M. Chait Galleries, New York.
Mrs. Edward G. Robinson; Christie's, New York, 6 June 1985, lot 412.
Literature: Robert H. Blumenfield, Blanc de Chine - The Great Porcelain of Dehua, Berkeley/Toronto, 2002, p. 32 (C).
John Ayers, Blanc de Chine - Divine Images in Porcelain, China Institute Gallery, 2002, p. 71, no. 22.
Exhibited: Los Angeles County Museum of Art.
Note: This blanc-de-chine model of a qin may be unique, and was most likely for a scholar's desk as a representation of 'playing the qin,' one of the four accomplishments of a scholar. Because of its small size, and the fact that it does not have a sounding board, it is unlikely that it was ever meant to be played, unlike blanc-de-chine flutes which were also made during the 17th century. Two of these, vertical flutes (xiao) imitating bamboo flutes, from the collection of Professor Cheng Te-k'un, which are said to be tuned to the pitch of d', the fundamental used during the Ming dynasty, are illustrated by P.J. Donnelly, Blanc de Chine, New York/Washington, 1969, pl. 68A and p. 126. Another from the Koger Collection in the John and Mable Ringling Museum of Art, is illustrated by J. Ayers, Blanc de Chine - Divine Images in Porcelain, China Institute Gallery, New York, 2002, p. 72, no. 23. And another in the collection of the Palace Museum, Beijing, is illustrated in Zhongguo wenwu jinghua daquan - taoci juan, Hong Kong, 1993, p. 408, no. 818.
An interesting 18th century porcelain brush pot in the current sale has a design which is painted as if in ink with small areas of pale iron red, but has its decoration reserved against a dense black ground (lot 1273). This type of decoration is rarely seen on porcelain and it is probable that the inspiration came from painted ivory as well as from ink painting. The scene on this brush pot depicts groups of scholars listening to one of their number playing a five-stringed qin, and watching while two others play a game of xiangqi (often called Chinese chess). The wenfang sibao or 'four treasures of the scholar's studio' were traditionally regarded as brush, ink stick, paper, and ink stone. It is perhaps surprising today to think of paper as a 'treasure', but amongst the literati fine paper was greatly appreciated and it was also very expensive.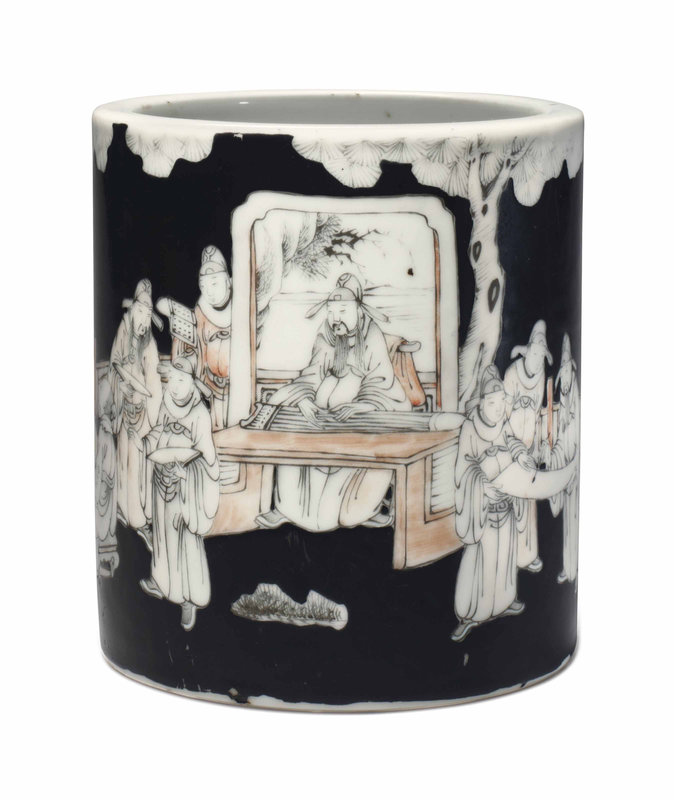 Lot 1273. An unusual grisaille and iron-red-decorated black-ground brush pot, 18th century; 5 5/8 in. (14.4 cm.) high, box. Estimate USD 15,000 - USD 18,000. Price realised USD 18,750. © Christie's Images Ltd 2012
Decorated in a painterly style in black line and pale iron red with a continuous scene of a gathering of the Eighteen Scholars of the Tang dynasty below the branches of a pine tree, all reserved on a rich black ground.
Provenance: Acquired in Hong Kong, 1990.
Note: The decoration most likely represents the gathering of eighteen erudite scholars who were specifically chosen by Emperor Taizong to promote interests of culture and literature. The scene could also represent a tribute to the successful passing of the state examinations, or congratulations on a promotion.
The style of the decoration, with the scene reserved on a black ground, may relate to ivory brush pots that are similarly decorated, such as the 18th century example from the collection of Dr. Che Ip, illustrated in the exhibition catalogue, Chinese Ivories from the Shang to the Qing, Oriental Ceramic Society and The British Museum, London, 24 May - 19 August 1984, p. 154, no. 182.
The inscription on an amber-glazed brush pot in the current sale (lot 1270) provides a suggestion of the value of calligraphy paper. The brush pot bears relief decoration depicting the famous Eastern Jin calligrapher Wang Xizhi (AD c. 303-c. 361) accompanied by an attendant and some geese. Wang Xizhi is believed to have taken inspiration from the graceful necks of geese and applied it to his calligraphy. The writer of the inscription on the brush pot notes that he was himself inspired to take up calligraphy by Wang Xizhi, but feels that he should 'plant a thousand plantain trees' so that he can use them instead of wasting precious paper. A seal mark on this brush pot also reflects the literati's deliberate emphasis on being gentlemen amateurs and the avoidance of anything that suggested professionalism. The seal reads ya wan or 'elegant plaything'. Amongst the 'four treasures' some of the most cherished were ink stones, and ink palettes, particularly those made of Duan stone from Guangdong province and Songhua stone from Jilin province.
Lot 1270. A rare blue and white arabic-inscribed brush rest, Zhengde six-character mark in underglaze blue within a double square and of the period (1506-1521); 7¾ in. (19.7 cm.) long. Estimate USD 70,000 - USD 90,000. Price realised USD 278,500. © Christie's Images Ltd 2012
Cf. my post: A rare blue and white arabic-inscribed brush rest, Zhengde mark and period (1506-1521)
The current collection includes an exceptional imperial Qianlong ink palette and box, which combines both of these much admired stones (lot 1274). In the upper part of the Songhua stone ink palette a dragon is shown rising from the waves. This is a reference to the belief that the dragon rises from hibernation amongst the waves at the Spring equinox in order to bring rain to water the crops and ensure a good harvest. It is also a reference to the power of the emperor, whose symbol was a dragon, who was seen as providing the link between earth and heaven, and who was responsible for the welfare of the empire, including the bountiful harvests. The Duan stone box has an exquisitely carved cover using the natural colours of the stone to depict two rabbits with chrysanthemums, ornamental rock and bamboo. The two rabbits provide an allusion to the white rabbit which was believed to live on the moon and to grind the elixir of immortality with a pestle and mortar. It was thus associated with long life. Rocks too are symbols of longevity. The bamboo was included in the decorative scheme as a compliment to the emperor, as it would have been to any scholar, since it represents moral uprightness. The word for the joints of the bamboo in Chinese are the same as the word for integrity, and bamboo is known for bending in the wind, but not breaking. In the same way the morally upright scholar may bend with the wind of adversity but will never allow his principles to be compromised.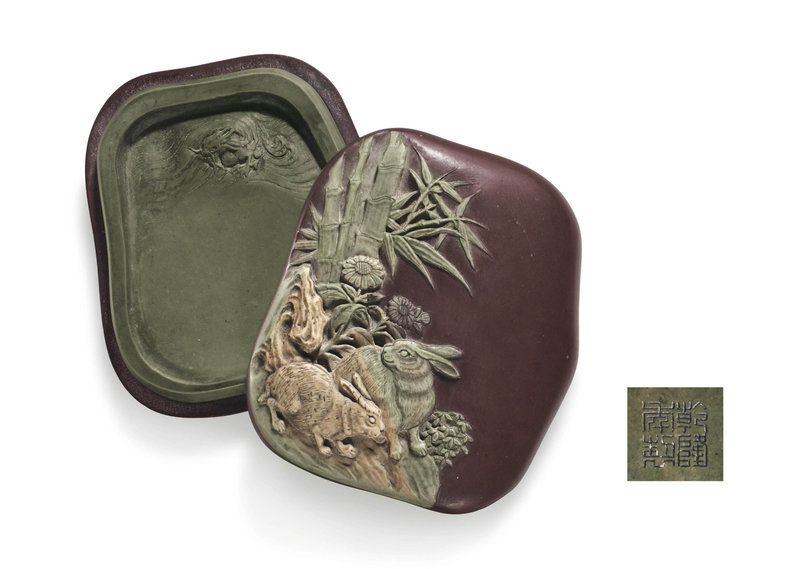 Lot 1274. An Extremely Rare Imperial Small Songhua Ink Palette, Box and Cover, Qianlong period, ink palette with Qianlong carved four-character seal mark and of the period (1736-1795). Ink palette 2½ in. (6.4 cm.) long, box 2 7/8 in. (7.2 cm.) long. Estimate: USD 300,000-USD 500,000. Price realised USD 362,500. © Christie's Images Ltd 2012.
Cf. my post: The Robert H. Blumenfield collection to be offered @ Christie's Asian Art Week in New York
Another exceptional inkstone, in the shape of a fan and with a zitan box and imperial Qianlong inscription (lot 1280), is not only exquisitely carved but provides an indication of the literary traditions that were behind the decoration of many items made for the scholar elite in the Ming and Qing dynasties. The upper face of the inkstone depicts a mounted archer accompanied by two attendants. The mounted archer is aiming his arrow at a crane which flies high in the distance. A short inscription identifies the archer as Ming Huang, the Tang dynasty Emperor Xuanzong (AD 685-762). Ming Huang was believed to have gone hunting in Shayuan on the day of the double Ninth and to have shot a crane. Although pierced by the arrow the crane continued in its flight. Many years later, while visiting a Daoist monastery near Yizhou (present-day Chengdu in Sichuan province) Ming Huang saw his arrow and realised that he had in fact shot a Daoist immortal. This story is made more suitable for depiction on a scholar's object because it is believed to have inspired the work of one of China's most esteemed literary figures, Su Shi (AD 1037-1101). In his second Red Cliff ode Su Shi relates the story of his second visit to the cliff and of climbing alone to the top, being overcome by melancholy and returning to his friends in the boat beneath. While they were on the boat "... a lone crane appeared, cutting across the river from the east. Its wings looked like cart wheels, and it wore a black robe and a coat of white silk. With a long, grating cry, it swooped over our boat and went off to the west." (translation by Burton Watson in Su Tung-P'o - Selections from a Sung Dynasty Poet, New York and London, 1965, p. 92). Later that night when he was asleep, Su Shi dreamed of seeing a Daoist immortal in a feather robe who enquired of him: 'Did you enjoy your outing to the Red Cliff?' Su Shi asked him his name but the immortal did not answer, and Su realised that the crane he had seen the previous evening had in fact been the immortal. The underside of this inkstone is carved to resemble the folds of a fan and a poem has been incised using the 'folds' to determine the placement of the vertical lines of the calligraphy. This is appropriate since a fan, painted or with calligraphy, was a personal gift that could be exchanged between scholars. This tradition continued to the end of the imperial period, and the last Chinese Emperor Puyi (who reigned as the Xuantong Emperor from 1908-1912) presented his English tutor Reginald Johnston with a black fan, on one side of which the young emperor had painted a gold landscape, while on the other side he had inscribed in gold calligraphy. This fan is today preserved in the School of Oriental and African Studies, University of London. The current sale contains a significant number of items made for the literati at the celebrated Yixing kilns, located near the western side of Lake Tai in Jiangsu province.
The most well-known ceramics from the Yixing kilns are the zisha or 'purple sand' wares, which are deep purplish brown due to the high iron content of the clay (lot 1248).
The potters also used a range of other coloured clays, including zhusha or 'cinnabar sand' (lot 1241), which is orangey-red, and banshanlu ni or 'incense burner mud' (lot 1249), which is golden buff coloured. The colours are often combined to great effect, used for discrete parts of a single vessel. Additional colours were also produced by adding specific minerals to the clay. The clay is found in the mountains near Yixing, and its exceptional plasticity makes it an ideal material for precise modelling, although it is less suitable for throwing on a potter's wheel and most Yixing wares are hand-built. The majority of Yixing wares were unglazed and the skilled ceramic artists made full use of both the modelling capabilities of the clay and also the way in which the unglazed surface could, when carefully finished, take on a pleasingly silky appearance or appear completely matte. The products of the Yixing kilns were traditionally dominated by teapots and items for the scholar's table. Indeed the teapots were also much admired by the literati. Two features of Yixing wares are of particular interest. Firstly, the ceramics made at these kilns are among the very few in China on which the signature or impressed seal of the potter regularly appears. The only other kilns at which the potters or workshops regularly applied their names to their products were the Dehua kilns and certain of the Cizhou kilns. The second unusual feature of the Yixing kilns was their close relationship with the literati. The location of the Yixing kilns, just west of Lake Tai, in Jiangsu province, was no doubt significant in this relationship, since during the Ming dynasty the Jiangnan region, which was situated south of the lower reaches of the Yangtze River - taking in southern Jiangsu and Anhui provinces and northern Jiangxi and Zhejiang provinces - was not only known for its wealth but as a centre for elite culture. It is worth noting that the ornamental rocks most prized by the elite when designing their famous gardens were those from Lake Tai. In the Ming and Qing periods scholars sometimes worked closely with the Yixing potters. The famous late Ming painter Chen Hongshou (1598-1652), for example, is recorded as having designed teapots during the period when he was Magistrate of Liyang, and these vessels were then made by the most respected Yixing potters of the day. His teapots do not bear the name Chen Hongshou, but Chen Mansheng, or one of his studio names. A number of Yixing wares were made with large undecorated areas which could be inscribed by scholars.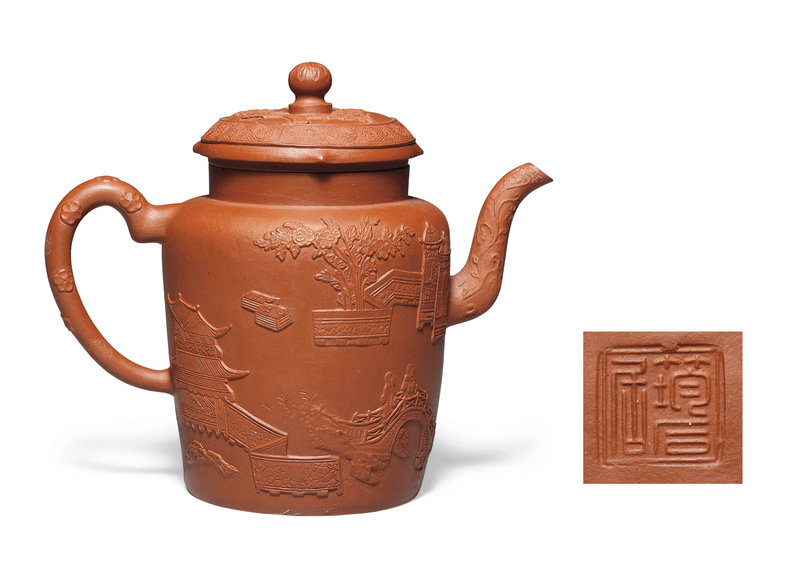 Lot 1241. A brownish-red Yixing teapot and cover, 18th century; 5¾ in. (14.6 cm.) high. Estimate: USD 50,000 - USD 70,000. Price realised USD 62,500. © Christie's Images Ltd 2012.
The tapering cylindrical body relief-decorated on two sides with the same scene of two figures crossing a bridge above a sampan, with a walled pavilion to one side and a flowering tree growing in a walled garden beside pavilions above, with florets on the handle and foliate scroll on the spout, with a three-character seal mark, Yunshiju, stamped in relief on the base, the domed cover with a pierced flower-bud finial surrounded by 'antiques' and flowering branches above a diaper band and four pointed projections at the rim.
Provenance: Gerard Hawthorn Ltd., London, 2000.
Note: The seal mark on the base, Yunshiju, may be a hall mark, possibly associated with Cao Yi, the younger brother of Cao Ying (1659-1712), a white bannerman and high-ranking official during the Kangxi period. A similar teapot is illustrated in The Art of the Yixing Potter, Flagstaff House Museum of Tea Wares, Hong Kong, 1990, p. 216, pl. 103, and another of this type, dated 17th/18th century, is illustrated in Oriental Works of Art, Gerard Hawthorn Ltd., London, June 2003, no. 7.
This was done when the clay was leather-hard, so that the inscription could then be carved into the body of the vessel before it was fired. A clear indication of the close links between the Yixing kilns and the literati can be seen on the rare brush pot decorated with a beautiful slip-painted landscape in the current sale (lot 1246). This brush pot bears the seal of Yang Jichu, who is noted in a Jiangsu gazetteer as having been active from the mid-17th to the early 18th centuries. The quality of the painting on this brush pot is so fine and the style so in keeping with that of literati painting on paper, that previous authors have suggested that: "There is the possibility that Yang Jichu was a scholar painter who took to decorating Yixing wares ..." (G. Tsang and H. Moss, Arts from the Scholar's Studio, Hong Kong, 1986, pp. 142-3, no. 112). As might be expected, Yixing wares made for the scholar's table reflect some of the major preoccupations of the Ming and Qing literati.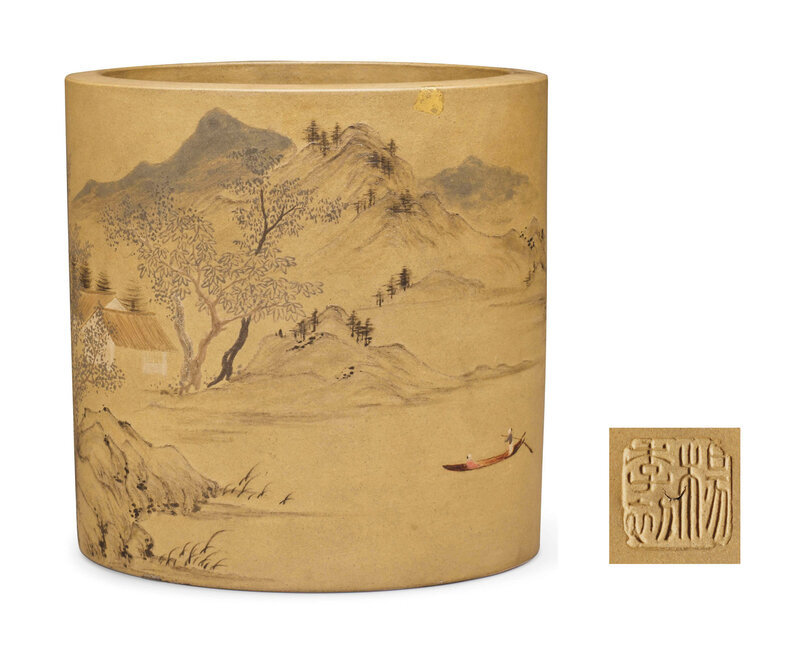 Lot 1246. A Very Rare Yixing Slip-Decorated Brush Pot, signed Yang Jichu, Qianlong period (1736-1795); 6 in. (15.2 cm.) high, 6 1/8 in. (15.5 cm.) diam. Estimate: USD 200,000 – USD 300,000. Price realised USD 362,500.© Christie's Images Ltd 2012.
Cf. my post: The Robert H. Blumenfield collection to be offered @ Christie's Asian Art Week in New York
Scholars were fascinated by the natural world, and the fact that Yixing clay had such good plasticity for modelling made it ideal for the depiction of fruits, flowers, wood and a host of other natural materials in clay. In the current sale there is a brush washer carved to look like a segment taken from the trunk of a pine tree (lot 1250) on which even an area where the bark is peeling from the trunk has been realistically recreated.
On the water vessel formed as a single lotus petal (lot 1249) the ceramic artist has succeeded in creating an impression of delicacy as well as the natural curves of the flower petal.
Lot 1249. An Extremely Rare Yixing Lotus Petal-Form Water Vessel Signed Chen Mingyuan; 5½ in. (14 cm.) long. Estimate: USD 200,000 - USD 300,000. Price realised USD 506,500 © Christie's Images Ltd 2012.
Cf. my post: The Robert H. Blumenfield collection to be offered @ Christie's Asian Art Week in New York
It is also interesting to speculate whether a moulded Yixing bowl in the current sale (lot 1242) was intended to imitate a moulded gourd bowl of the type so admired by the Kangxi Emperor - a pair of moulded gourd bowls in the collection of the Palace Museum, Beijing, is illustrated by Pierre Arizzoli-Clémentel in Kangxi Empereur de Chine 1662-1722 - La Cité interdite à Versailles, Paris, 2004, p. 152, no. 153.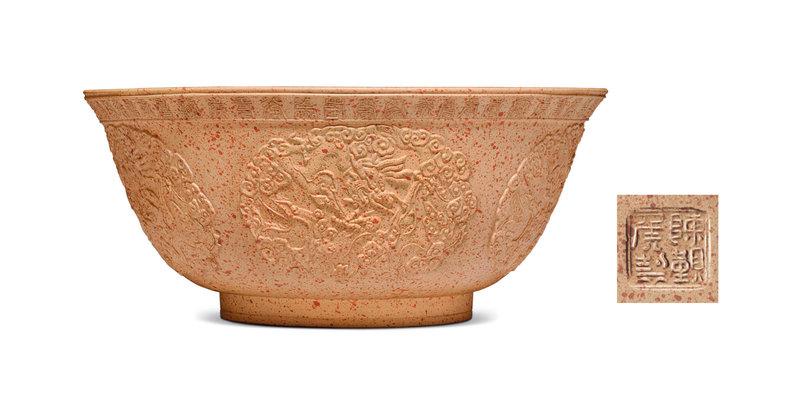 Lot 1242. A Yixing molded 'Dragon' bowl, signed Chen Jinghou, Qianlong period (1736-1795); 7¾ in. (19.7 cm.) diam. Estimate USD 30,000 - USD 50,000. Price Realized USD . © Christie's Images Ltd 2012
Cf. my post: A Yixing molded 'Dragon' bowl, signed Chen Jinghou, Qianlong period (1736-1795)
Archaism was also a recurring theme in the writings of Chinese scholars and a rare Yixing water vessel in the current sale (lot 1251) based upon the form of a bronze animal-form vessel from the Warring States period (475-221 BC) perfectly adapts the archaistic style to the ceramic medium. This latter vessel is signed by the potter Chen Zhongmei, and it is significant that he had previously worked at the Jingdezhen kilns in Jiangxi province. Thus additional skills from the Jingdezhen kilns were transferred to Yixing.
Lot 1251. A rare Yixing archaistic animal-form water vessel, signed Chen Zhongmei; 11 in. (28 cm.) long. Estimate USD 50,000 - USD 250,000. Price realised USD 182,500. © Christie's Images Ltd 2012
Cf. my post: A rare Yixing archaistic animal-form water vessel, signed Chen Zhongmei
The pervading interest in archaism is also seen in an exceptionally fine small crystal vase in the current sale, which is in the form of an ancient hu (lot 1215). This tiny vase bears a four-character Qianlong mark and was probably made for the emperor in one of the imperial ateliers. This is one of several small, but exquisitely carved, items from the Blumenfield collection, which reflect an enduring fascination with miniature works of art.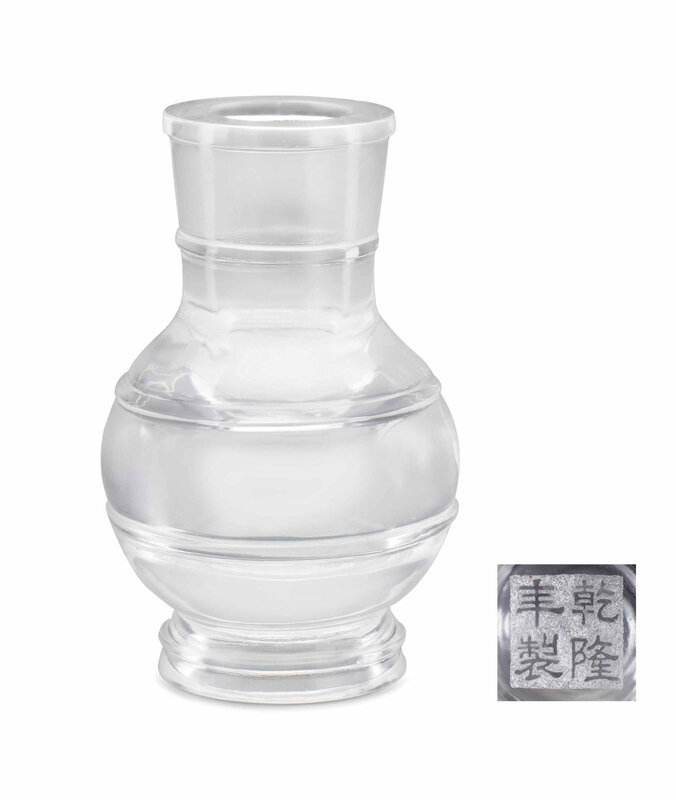 Lot 1215. A rare small rock crystal Hu-form vase, Qianlong four-character carved mark within a square and of the period (1736-1795); 3 3/8 in. (8.6 cm.) high, box. Estimate USD 70,000 - USD 90,000. Price realised USD 86,500. © Christie's Images Ltd 2012
Cf. my post: A rare small rock crystal Hu-form vase, Qianlong four-character carved mark within a square and of the period (1736-1795)
Another small piece in the current sale, which may also have come from the imperial workshops is a miniature ornamental rock made of particularly beautiful lapis lazuli which rests on a white jade stand (lot 1209). Items of this type were especially prized by the Qianlong Emperor whose passion for miniature objects led him to commission a range of specifically designed boxes in which he could keep his diminutive treasures. These are discussed by James C.Y. Watt in Possessing the Past - Treasures from the National Palace Museum, Taipei, New York and Taipei, 1996, pp. 549-553. It was not only the emperors who had a particular admiration for small works of art. This admiration appears to have been shared by many of the Chinese elite. The appreciation of small jades is well known, but a vast array of materials was used to create small items to delight connoisseurs.
Lot 1209. A rare imperial miniature lapis lazuli 'boulder' on a white jade stand, 18th century; 3 1/8 in. (8 cm.) long. Estimate USD 60,000 - USD 80,000. Price realised USD 110,500. © Christie's Images Ltd 2012
Cf. my post: A rare imperial miniature lapis lazuli 'boulder' on a white jade stand, 18th century
The current sale includes a small, exquisitely carved, and very rare, semi-opaque green glass peach-form box and cover containing a tourmaline ink palette (lot 1221). This bears a four-character seal mark indicating that it was a treasured 'plaything' of someone who styled himself Haoyuan.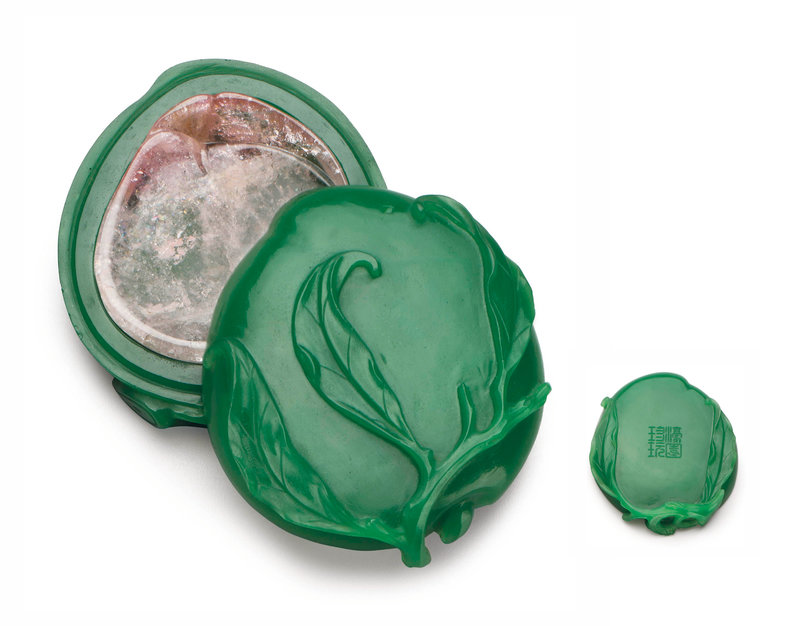 Lot 1221. A very rare semi-opaque green glass peach-form box and cover with tourmaline ink palette, 18th-19th century. Box 3 1/8 in. (7.9 cm.) across; palette 2 1/8 in. (5.4 cm.) across. Estimate USD 60,000 - USD 80,000. Price realised USD 200,500. © Christie's Images Ltd 2012
Cf. my post: A very rare semi-opaque green glass peach-form box and cover with tourmaline ink palette, 18th-19th century
A small blue chalcedony model of a sampan with fishermen (lot 1205) is another example of these miniature works of art, and, in this case, it is not only an interest in small-sized carvings but also the scholar's idyll of a tranquil life on the river that is reflected.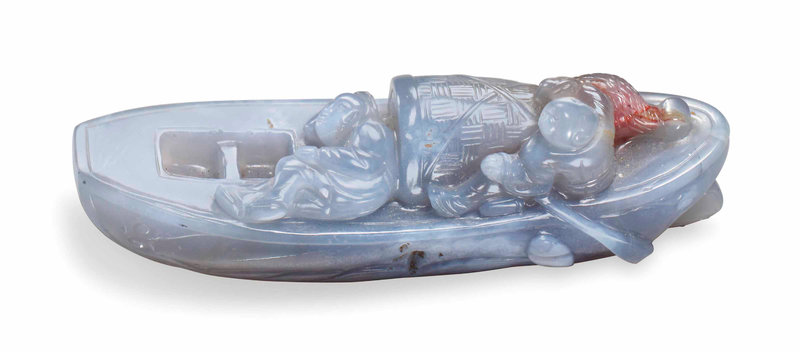 Lot 1205. A small blue chalcedony model of a sampan, 18th century; 3 in. (7.7 cm) long, wood stand. Estimate USD 30,000 - USD 50,000. Price realised USD 37,500. © Christie's Images Ltd 2012
Well carved with one man seated in the stern casting a fishing net with one hand and steering the boat with the other, while the other fisherman is asleep with his head resting on a sack in front of the canopy, with waves carved along the sides, a small splash of red in the pale blue-grey stone used to highlight the net.
Provenance: Gerard Hawthorn Ltd., London, 1999.
Exhibited: Oriental Works of Art, Gerard Hawthorn Ltd., London, 8 - 26 June 1999, no. 62.
Note: Fine miniature carvings of this type were the kind of treasured object that would have been tucked into the treasure boxes kept by the Qianlong Emperor, such as those illustrated by Wen C. Fong and James C.Y. Watt in Possessing the Past: Treasures from the National Palace Museum, Taipei, The Metropolitan Museum of Art, 1996, pp. 550-52.
Another of these delightful small carvings, in this case bearing the 'green' dragon of the east on one side and the 'white' tiger of the west on the other (lot 1224) is one of a number of remarkable pieces of amber that have been included in the current sale. Small decorative objects made of carved amber have been found in Chinese archaeological sites dating as early as the Shang dynasty (c. 1600-1100 BC). As a material Chinese amber is rare. Worldwide the majority of amber is found in river beds and by the ocean, but some is found in association with coal, and Chinese amber has been found in the coal mines of Fushun in Northern China. This amber is fossilised pine resin. Chinese amber is generally less dense than, for example, Baltic amber. It is lighter in weight and can range is colour from very rich dark brown to a pale gold. Amber was one of many rare and precious materials carved by skilled craftsmen in China, but in early times its use appears to have been restricted to the imperial family and members of the elite (discussed by Xu Xiaodong in 'Ancient Chinese Amber Arts: Shang to Yuan 1600 BC-1368 BC,' Gugong Bowuyuan yuankan (Palace Museum Journal), 2009, no. 6., pp. 112-131). This was undoubtedly due to its rarity and beauty, but also for the myths attached to it. In ancient Greece it was thought that amber was formed by the sun. This belief and its association with the Sun god Helios is reflected in the Greek name for amber, elektron.
Certainly when light passes through spectacular amber carvings, such as the rare figure of a Daoist immortal (lot 1279) in the current sale, the glow emanating from it would justify such a belief. In ancient China amber was associated with the tiger and with that animal's strength and courage. Associations of form, rather than material, provide the common theme behind a remarkable group of ruyi sceptres in the current sale. Although normally referred to as a sceptre in English, these ruyi had no formal official function, but were highly prized as gifts amongst the elite. In the Qing dynasty it was customary to present ruyi to emperors and empresses on occasions such as birthdays and weddings. The name ruyi suggests 'as you wish'. The head of these sceptres takes its form from the lingzhi fungus - also known as the fungus of immortality. The presentation of a ruyi therefore wishes the recipient long life and everything 'as you wish it'. As can be seen from the selection in the current sale, they were often exquisitely made in a wide range of valuable materials, including jade, gold, gilt-bronze, zitan wood, lacquer, and silver.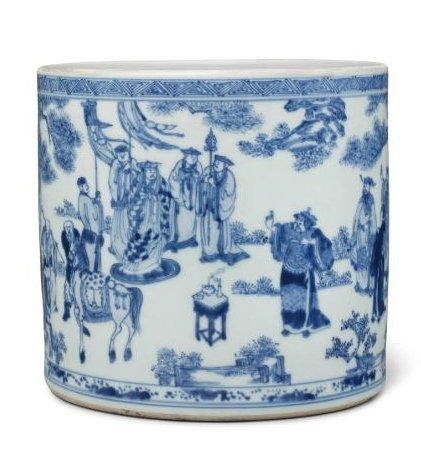 Lot 1279. An unusual large blue and white brush pot, Kangxi period (1662-1722); 6 7/8 in. (17.5 cm.) high. Estimate USD 40,000 - USD 60,000. Price realised USD 108,100. © Christie's Images Ltd 2012
The sides finely painted with an audience scene amidst pine trees between a Tibetan Lama, surrounded by his attendants and a group of Tibetan monks, and Chinese dignitaries accompanied by their attendants, the scene terminating in clouds on one side, all between decorative borders.
Note: This exceptionally well-painted brush pot is rare, not only for its large size, but for the choice of its decorative theme. Porcelain brush pots decorated in underglaze blue with scenes of figures in a landscape became very popular amongst the Chinese literati in the 17th century. Often the inspiration for the scenes was taken from woodblock-printed illustrated editions of plays and histories, or illustrations of famous poems. The current brush pot, however, is exceedingly rare in depicting a Tibetan Lama accompanied by monks apparently in an audience with a high Chinese official. The incense burning on the stand and the gesticulations of the official suggest that the meeting is not accidental and may be of considerable significance.

Tibetan, or Lamaist, Buddhism came to prominence in the Kangxi period under the auspices of the emperor himself. The Kangxi Emperor was only the second Manchu emperor to rule China after the Manchus 'crossed the Great Wall,' following the reign of his father, the Shunzhi Emperor. Since this dynasty was one in which China was ruled by foreigners, the Manchus, emperors had, on the one hand, to prove to their Chinese subjects that they held the Mandate of Heaven to rule; while, at the same time, dealing with China's frequently aggressive neighbors to the north and west. Most of the military challenges to the Manchus traditionally came from Inner Asia, with the Mongols being particularly troublesome. Much of the Manchus' success came from military supremacy, but, in the late 17th and 18th centuries, diplomacy was also employed to achieve the same ends. This was cemented by marriages between Manchus and the Mongol tribes - indeed the Kangxi Emperor's grandmother was a Mongol princess. The Manchus, like the Mongols, converted to Tibetan Buddhism. In 1642 the Mongol leader Gui Khan had made the Fifth Dalai Lama the secular as well as the religious ruler of Tibet. This power was expanded by the Fifth Dalai Lama and his influence became such that he could act as peace-maker between Mongol tribes and could even order the movements of Mongol armies outside Tibet. The Qing court's relationships with the Mongols and the Tibetan Dalai Lama were therefore intertwined.

Although it is often said that the Qing dynasty emperors patronized Tibetan Buddhism only for political reasons, this does not seem to have been the case with the Kangxi emperor. He was largely brought up by his grandmother, to whom he was devoted. As noted above, she was a Mongol princess, named Bumbutai, and an adherent of Tibetan Buddhism. It is probably due to her that the Kangxi emperor was the first Qing emperor to demonstrate a personal religious commitment to Lamaism. Bumbutai, who claimed descent from Genghis Khan, wielded considerable influence during the minority of her own son, the Shunzhi Emperor, and when the Kangxi emperor came to the throne, also as a minor, she received the title Grand Empress Dowager. Bumbutai guided the Kangxi Emperor, especially after his mother died in 1663, and retained a strong influence over him.

Such was the Kangxi Emperor's devotion to Lamaist Buddhism that during his reign a Sutra Recitation Office was set up and housed within the palace in the Zhongzhengdian (Hall of Central Uprightness). This office was the first to be solely devoted to Tibetan Buddhist affairs, and was part of the inner court's Department of Ceremonial, supervised by imperial princes. The Zhongzhengdian was to become the center of Tibetan Buddhist activities at court, and not only conducted the recitation of sutras but also supervised the casting of Buddhist images and religious ritual objects. Like succeeding Qing emperors, the Kangxi Emperor portrayed himself as a bodhisattva-ruler - a reincarnation of Manjusri (the Bodhisattva of Wisdom) - and it is therefore not so surprising to find a depiction of a meeting between a high Lama and a Chinese high official on a brush pot made for the literati during his reign
An exceptionally fine white jade ruyi in the current sale (lot 1234) includes a relief-carved bat emerging from the end of the sceptre - the bat providing a rebus for happiness. This ruyi also bears the auspicious Eight Buddhist Emblems, and to complete the propitious designs, a caparisoned elephant with a vase on its back suggests peaceful times. Elephants with vases on their backs were included in processions to celebrate the emperor's birthday during the Qing dynasty. The recipient of this ruyi therefore received not only a beautiful and valuable gift, but wishes for happiness, long life, and everything as he wished it during a time of peace.