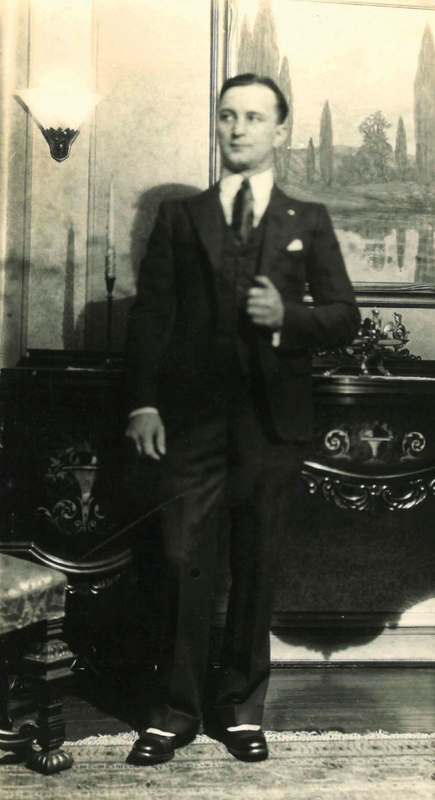 Stephen Junkunc, III, circa 1930.
Stephen Junkunc, III ranks amongst the most renowned collectors of Chinese ceramics and works of art, and is known for collecting a wide breadth of works of the highest standards of quality. At its height, his collection comprised over two-thousand examples of porcelain, jade, bronzes, Buddhist sculpture and paintings, and included two examples of the legendary Ru ware, of which only eighty-seven examples are known in the world. A superb Ru dish from the Junkunc Collection sold at Christie's in 1992 and achieved a world record for a Chinese ceramic. (Fig. 1) The dish now resides in an important Asian collection. Christie's has also been honored to have handled one of the outstanding paintings, a 13th-14th century landscape, Travelers in Autumn Mountains, in the style of the 11th century painter Guo Xi. (Fig. 2)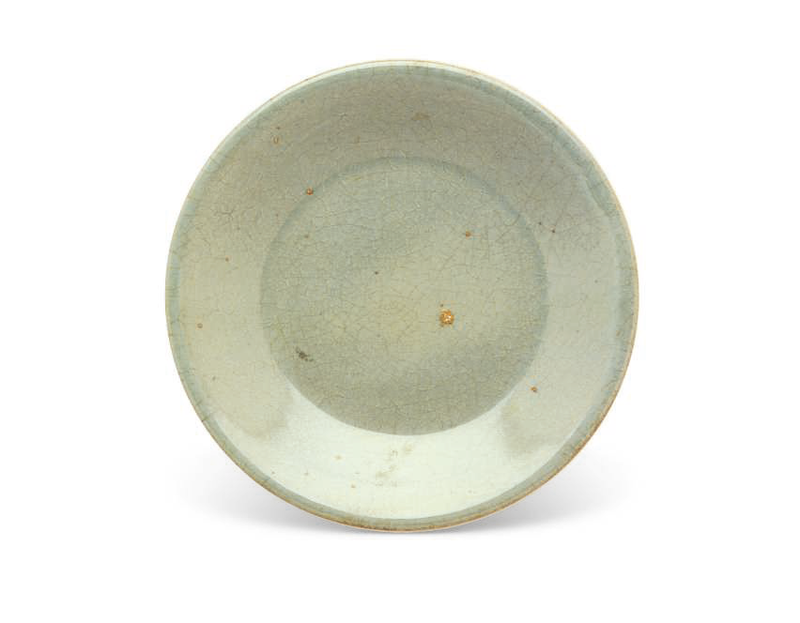 Fig. 1 A rare and important Ruyao dish, Northern Song dynasty (AD 960-1127). Christie's New York, 3 December 1992, lot 276.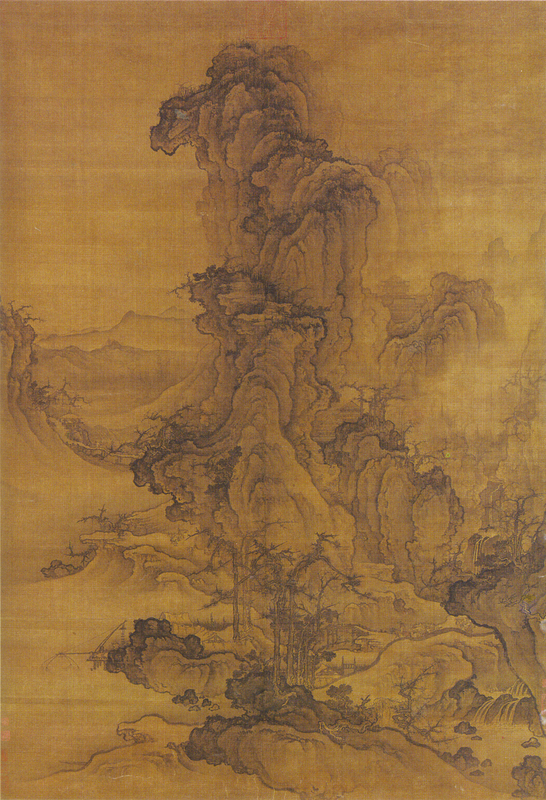 Fig. 2 Anonymous, Travelers In Autumn Mountains, In The Style Of Guo Xi (C. 1001-1090), (13th - 14th century). Christie's New York, 22 March 1999, lot 178.
Stephen Junkunc, III was born in Budapest, Hungary, and emigrated to the US as a young boy. His father, Stephen Junkunc, II was a tool-and-die maker who founded General Machinery & Manufacturing Company in 1918 on South Aberdeen Street in Chicago, focusing on the manufacture of knife-edge fuel nozzle heads. In 1933, the company moved to North Keeler Street, where it still exists today. With the outbreak of World War II, GMMCO endeavored to help in the war effort by manufacturing various aircraft parts, specializing in aircraft engine seals. Their devotion to quality and service led to commissions to manufacture critical parts for cuttingedge jet engines. After over one hundred years, GMMCO still remains a family business.
Stephen Junkunc, III began collecting in earnest in the 1940s, and his most ardent buying period was in the 1950s and 1960s. His collecting was always informed by diligent study — he kept libraries at both his home and his office and read voraciously, whether quickly over a short lunch break or at a more leisurely pace into the small hours of the morning.
When acquiring objects for his collection, he only dealt with the most renowned dealers of the mid-twentieth century, including Bluett & Sons, Sparks, Yamanaka & Co., Ltd., C.T. Loo & Cie, Tonying & Company and Hisazo Nagatani. The Chicago based gallery of Yamanaka & Co., Ltd., which had opened in 1928 played a particularly strong role in Junkunc's voracious passion for collecting. Nagatani (d. 1994), formerly the manager of Yamanaka in Chicago, was among the most influential to Stephen Junkunc, III, supplying works to the collection.
Junkunc kept his collection secure in a World War II bomb shelter in his home, and entering the rooms has been compared to the legend of Aladdin entering the cave—the visitor was immediately awed by the porcelain, jades, sculptures and other treasures on display. Such a variety of materials and wealth of artistry, in such unexpected surroundings, must indeed have been an extraordinary sight.
From his letters, it seems that Chinese ceramics were one of Junkunc's first passions in collecting, and he set a standard for quality and dogged determination that remained unflagging throughout his collecting career. He wrote to dealers such as W. Dickinson & Sons in 1935, requiring them to seek out monochromes from the Kangxi and Yongzheng periods. Nothing but the best would do: only "cabinet pieces" of "very fine quality" would suffice. A similar request for peachbloom and underglaze-red porcelains was penned to Bluett & Sons in 1936, and another to H.R. Norton a few months later for "nice pieces in monochromes… but not the clumsy types with poor color. *
From ceramics, Junkunc turned his attention to other categories such as Buddhist sculpture, and also to earlyChinese jade carvings, which presented an opportunity for more scholarly study. Junkunc's scholarly approach to Chinese art led him to forge friendships with preeminent scholars in the field, such as Alfred Salmony (1890-1958), a leading authority on Chinese jade and professor at the Institute of Fine Arts, New York University. Starting as early as 1950, Junkunc and Salmony discussed their shared passion for Chinese jades. Salmony had been planning an encyclopedic two-volume history entitled Chinese Jades of All Periods and selected pieces from Junkunc's collection to be featured in the publication. Junkunc, along with English collector Desmond Gure (1905-1970), contributed to the research. Salmony passed away before the publication could be completed, but letters between Desmond Gure and Junkunc reveal that Salmony entrusted Gure and Junkunc to complete his publication. The first volume was published posthumously and was entitled Chinese Jade Through the Wei Dynasty, and included a number of jade carvings in the present sale. Other important works from the Junkunc Collection included in Salmony's publication included an important Western Han dynasty jade beaker, which sold at Christie's New York in September 2006. Other masterpieces of Chinese jade in the Junkunc Collection included an imperial set of ten white jades and a rare white jade figure of Buddha, which sold at Christie's in March 2007 and March 2010, respectively.
With his breadth of collecting, exacting aesthetic standards and scholarly approach, Stephen Junkunc, III was a true connoisseur-collector. On his passion and commitment to collecting, Junkunc wrote: "it becomes a disease. But it's the one thing in the world that never pales or becomes static. It always holds the challenge of more to learn."
The legacy of Stephen Junkunc, III has been preserved through his generous donations to institutions throughout the United States. He frequently loaned works to the Art Institute of Chicago, and bequests from his collection can also be found in the Milwaukee Public Museum in Wisconsin and in the Lowe Art Museum at the University of Miami, Florida. His interest in Chinese art was continued by his son, Stephen Junkunc, IV, who has judiciously ensured that the next generation of connoisseurs and enthusiasts would have the opportunity to enjoy many items of his celebrated collection.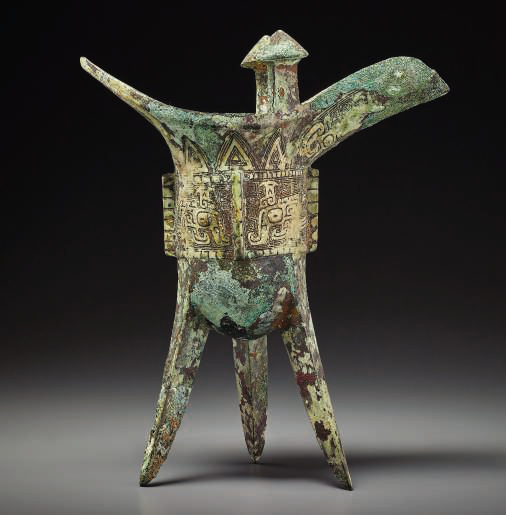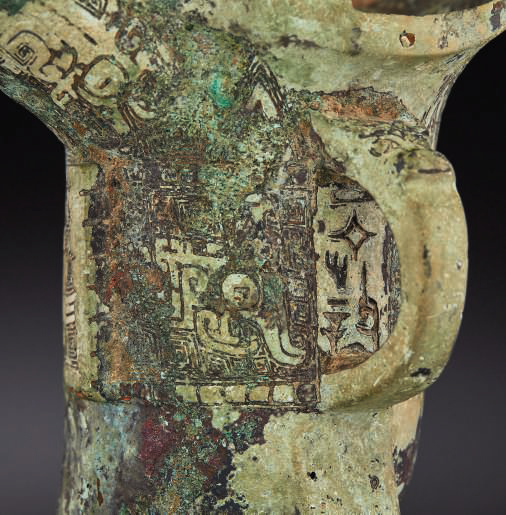 Lot 710. A rare bronze ritual tripod wine vessel, Jue, Late Shang dynasty, 12th-11th century BC; 8 in. (20.2 cm.) high. Estimate: USD 30,000 - USD 50,000. Price realised USD 47,500. © Christie's 2021
The deep, U-shaped body is raised on three blade-like legs and is decorated with two pairs of kui dragons on a leiwen ground, one pair centered on a narrow flange, the other on an inscription, X Fu Xin (X Father Xin), cast beneath the curved handle surmounted by a buffalo head.
Provenance: Stephen Junkunc, III (d.1978) Collection.
Note: It is very rare to find a Shang jue decorated with distinctly rendered kui dragons, such as those decorating the main band on the current jue. Typically, the kui dragons depicted on Shang jue have dissolved features, which allow them to more readily suggest taotie masks when two are shown confronted. Similar bottle-horn kui dragons can be seen on a pair of larger (21.6 cm.) jue from the tomb of Lady Fu Hao, Anyang, Henan province, illustrated in Zhongguo Qingtongqi Quanji - 3 - Shang, Beijing, 1997, nos. 3 and 4.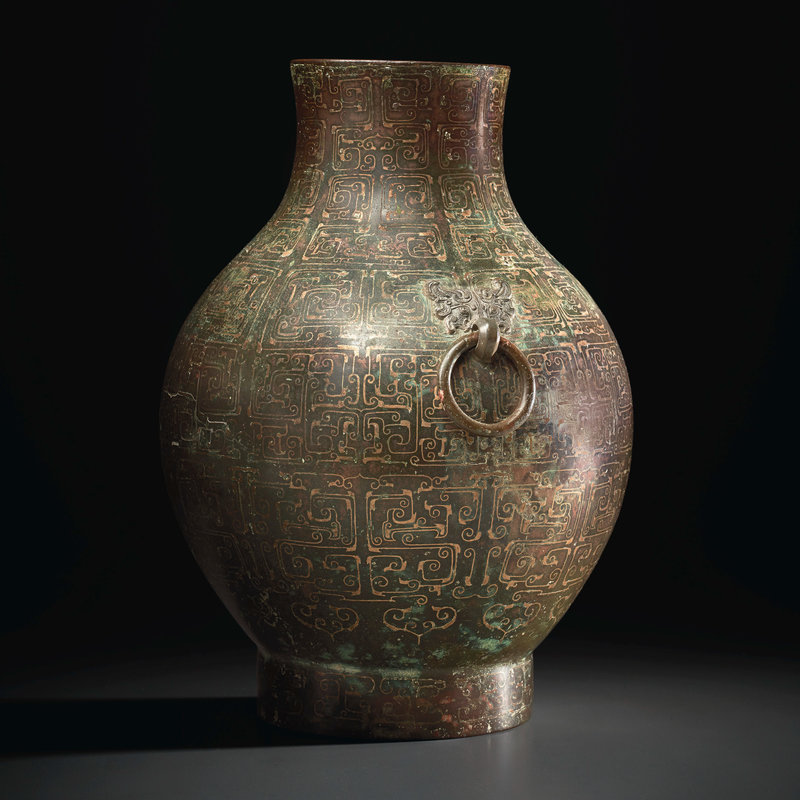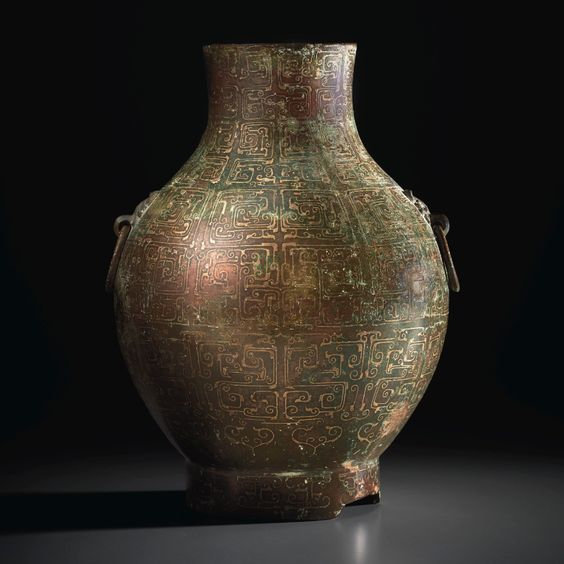 Lot 711. A very rare copper-inlaid bronze jar, Hu, Warring States period, 5th century BC; 13 in. (33 cm.) high. Estimate: USD 60,000 - USD 80,000. Price realised USD 525,000. © Christie's 2021
The vessel with bulbous body is inlaid in copper wire on the sides and the foot with bands of stylized dragon scroll, and applied on the shoulders with a pair of taotie mask handles suspending loose rings.
Provenance: Nagatani, Inc., Chicago, 1958.
Stephen Junkunc, III (d. 1978) Collection.
Note: The development of metal inlay in bronzes of the early Warring States period, circa 470-circa 370 BC, is discussed by Jenny So in Eastern Zhou Ritual Bronzes from the Arthur M. Sackler Collections, vol. III, New York, 1995, pp. 46-9. So illustrates two early fifteenth-century bronze pear-shaped hu with inlaid scroll patterns similar to those on the present example. The first, fig. 71, is a gold-inlaid example in the Cleveland Museum of Art with bands of dissolved dragon pattern, and the second, fig. 74, in the Royal Ontario Museum, Toronto, is inlaid with copper and turquoise with bands of abstract stepped patterns. Also illustrated, fig. 73, is a bronze cylindrical cup and cover of comparable date, in the Avery Brundage Collection, Asian Art Museum of San Francisco, which has lost most of its inlay, but what inlay (possibly copper) does remain in the bottom register illustrates how tightly packed metal strips were used to fill the broad depressions of the design. The same technique of using tightly packed metal strips, instead of thick sheets, to fill the large areas of cast design, was also utilized in the decoration of the current hu.
Like the current vessel, the hu in the Royal Ontario Museum is decorated just above the ring foot with a register of heart-shaped motifs. So illustrates, ibid., p. 48, fig. 75, a fragment of a clay model with similar design recovered from Houma Niucun, providing evidence that Houma was likely a manufacturing center of these inlaid bronzes.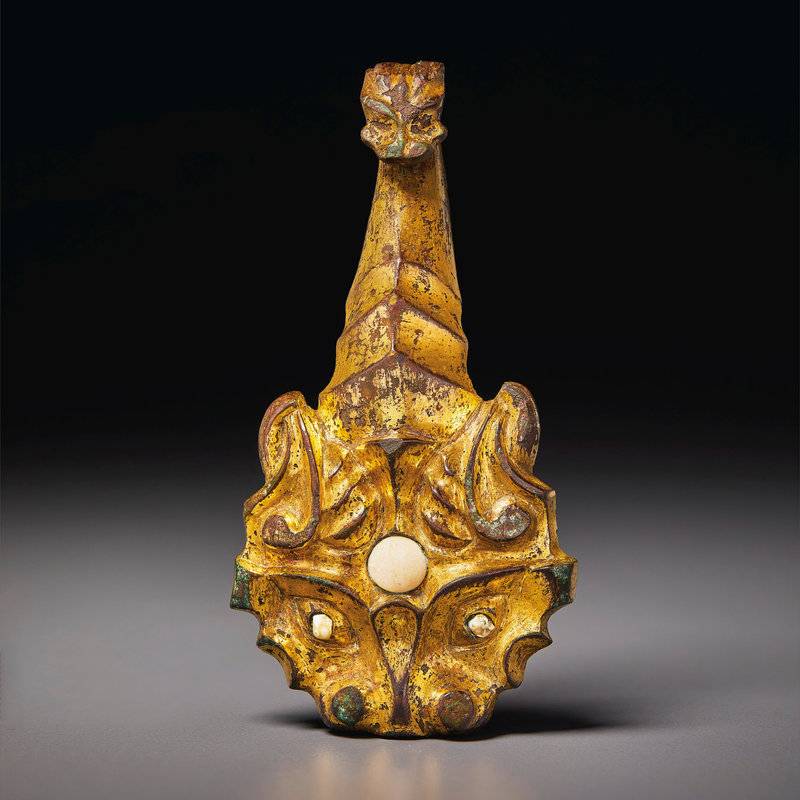 Lot 712. A hardstone and glass-inlaid gilt-bronze garment hook, Han dynasty (206 BC-AD 220); 4 in. (10.2 cm.) long, fitted cloth box. Estimate: USD 20,000 - USD 30,000. Unsold. © Christie's 2021
The garment hook is cast in the form of a mythical beast mask resembling a tiger, the eyes inlaid with glass and the forehead inset with a circular creamy white hardstone. The tapering hook rises from the top of its head and terminates in a chilong-form head. The underside has a circular button.
Provenance: Stephen Junkunc, III (d. 1978) Collection.
Exhibited: Exhibition of Belt Buckles, Chinese Art Society of America at China House, 1951 (according to label in box).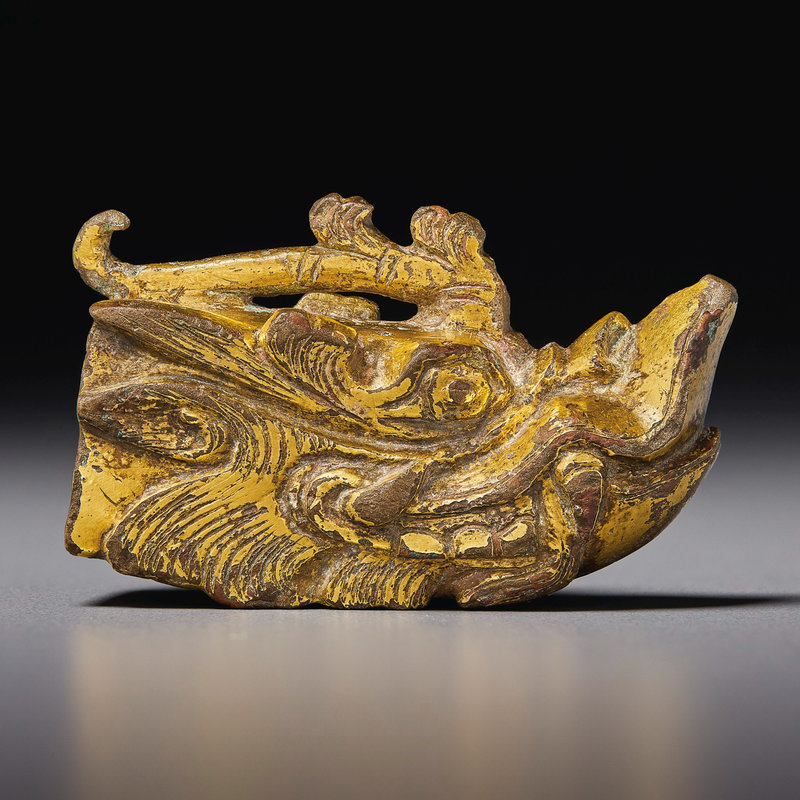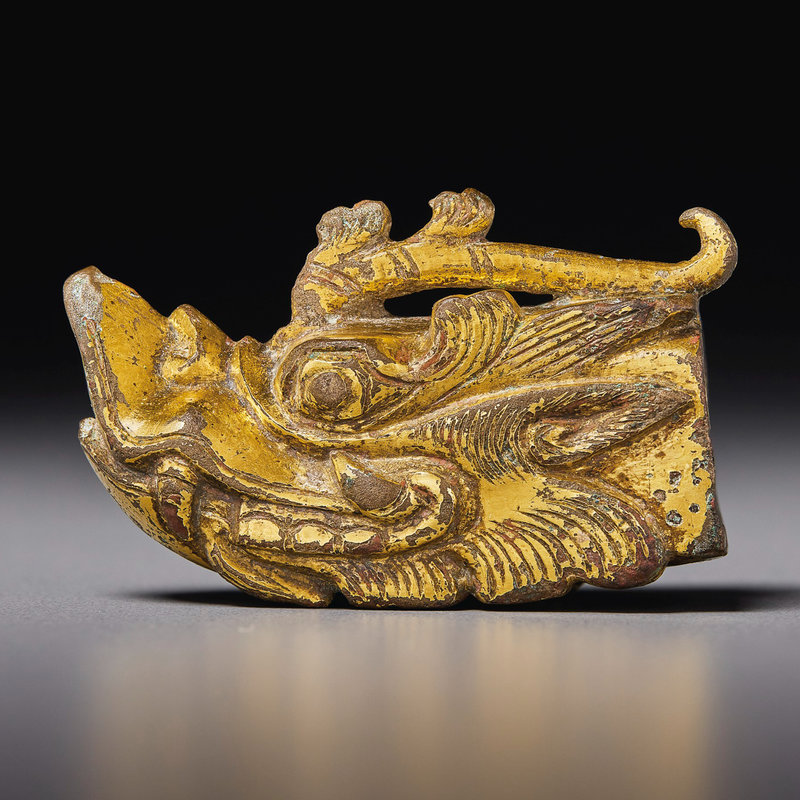 Lot 713. A very rare small gilt-bronze dragon head-form finial, Tang dynasty (AD 618-907); 2 ½ in. (6.3 cm.) long. Estimate: USD 70,000 - USD 90,000. Unsold. © Christie's 2021
The garment hook is cast in the form of a mythical beast mask resembling a tiger, the eyes inlaid with glass and the forehead inset with a circular creamy white hardstone. The tapering hook rises from the top of its head and terminates in a chilong-form head. The underside has a circular button.
Provenance: Stephen Junkunc, III (d. 1978) Collection.
Note: Dragon-head fittings such as the present example were thought to have adorned furniture, chariots, and boats, as evidenced by several examples of paintings and furniture adorned by gilt dragon-head fittings. A handscroll of the Classics of Piety by the Southern Song Emperor Gaozong (1127-1162), with illustrations attributed to Ma Hezhi (active 1130-1170), shows the emperor seated in a carriage fitted with dragon-head terminals. Gilt dragon-head fittings continued to remain popular decorative elements on imperial furnishings, as can be seen on Emperor Qianlong's folding armchair (see Sarah Handler, "The Elegant Vagabond: The Chinese Folding Armchair," Orientations, January 1992, p. 95, figs. 13-14).
There are a few recorded Tang-dynasty dragon head-form fittings in a variety of mediums which are stylistically similar to the present fitting. A very similarly depicted dragon head, but in jade, in the Xi'an Antiquities Protection and Archeological Institute, was excavated from Qujiang village in Xi'an, Shaanxi province, and was thought to have been a fitting from a royal boat. See Gilded Dragons: Buried Treasures from China's Golden Ages, British Museum, London, 1999, no. 54. The Qujiang jade dragon head is very similar to one also the collection of Stephen Junkunc, III, that was offered at Christie's New York, 13 September 2019, lot 830. Another stylistically similar jade dragon-head fitting (24.7 cm.) dated to the 9th-10th century, in the collection of Mr. and Mrs. Desmond Gure, is illustrated by Daisy Lion-Goldschmidt and Jean-Claude Moreau-Gobard, Chinese Art: Bronze, Jade, Sculpture, Ceramics, New York, 1960, pl. 82. For an example in pottery, see the Tang-dynasty architectural sancai-glazed dragon-head fitting illustrated in The Masterpieces of Yaozhou Ware, Museum of Oriental Ceramics, Osaka, 1997, no. 1. For an earlier gilt-bronze example dating to the Six Dynasties period (AD220-589), see the dragon-head fitting of larger size (13.4 cm.) sold at Sotheby's London, 12 December 1989, lot 116.
Christie's. Important Chinese Ceramics and Works of Art, New York, 23-24 september 2021