Bonhams sale of Chinese Ceramics, Works of Art and Paintings will offer an impressive array of 250 lots from several notable collections. Highlights include a magnificent and rare 'robin's-egg' glazed archaistic hu-shaped two-handled vase, Qianlong six-character, impressed seal mark and of the period (1736-1795) from the Estate of Robert P. Youngman (estimate: US$400,000-600,000); an impressive zitan luohan chuang (bed) late Qing/Republic Period (estimate: US$200,000-300,000); Mountain Gorge, a splendid modern painting by Li Huayi (1948-) from a West Coast collection (estimate: US$100,000-150,000); two archaic bronze ritual wine vessels (gu) Shang dynasty, 13th century BC (estimate: US$80,000-120,000); a cloisonné enamel and gilt bronze double-handled vase from The Asbjorn Lunde Foundation (estimate: US$60,000-80,000); and a varied group of primarily Ming and Qing lacquer and a lovely group of mother-of-pearl-inlaid Ryukyuan lacquer from the 17th-19th centuries from the Robert W. Moore Collection. His collection also offers Song, Yuan, Ming and Qing bronzes all cast in the archaic style of the Zhou and Han dynasties.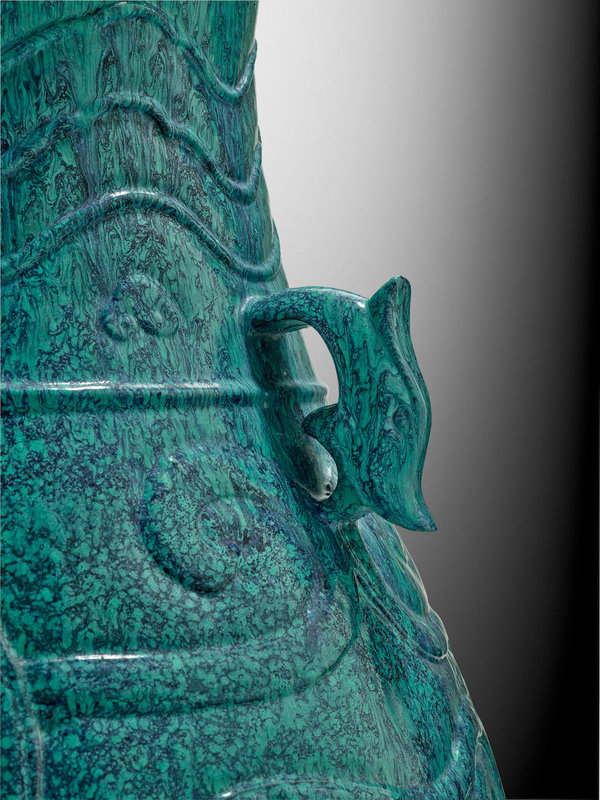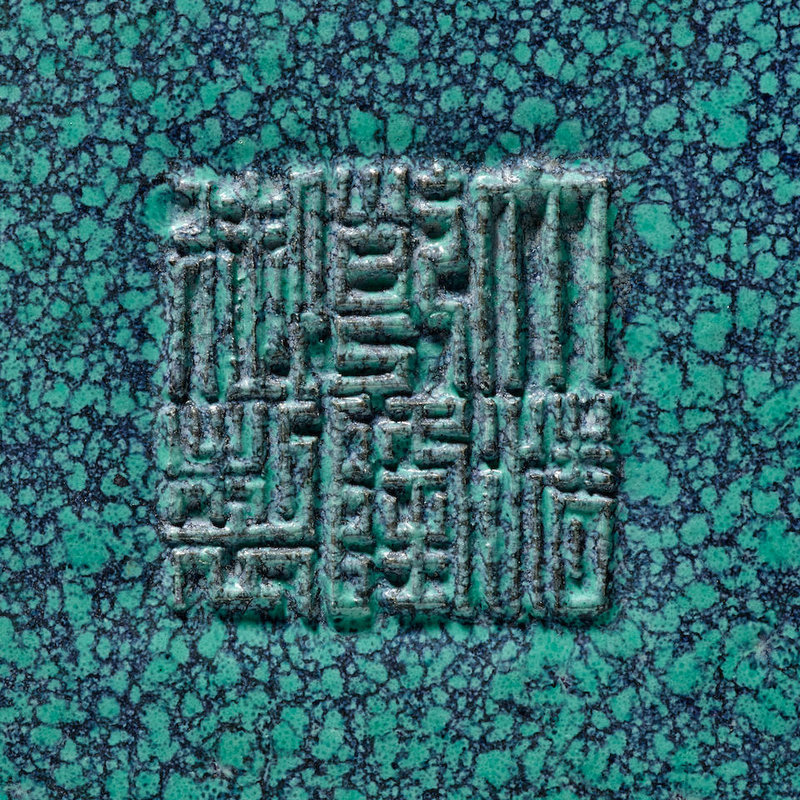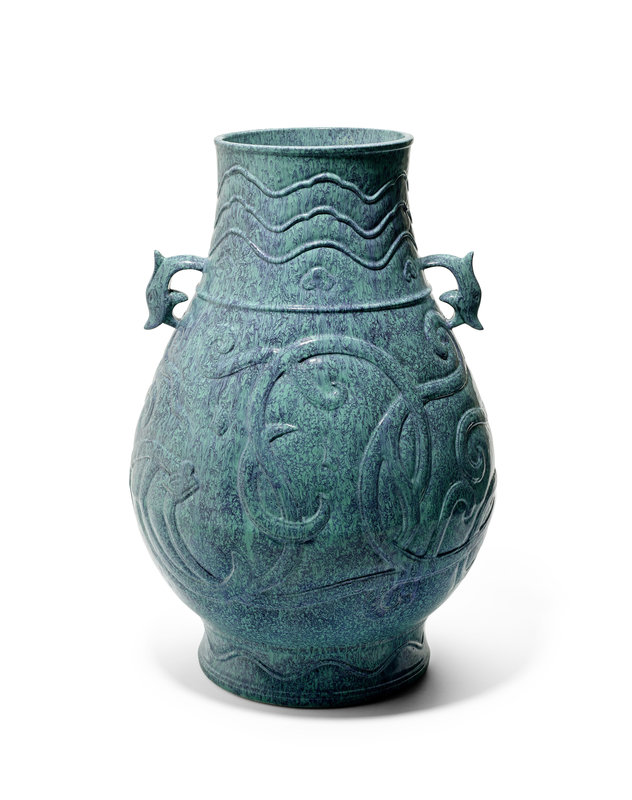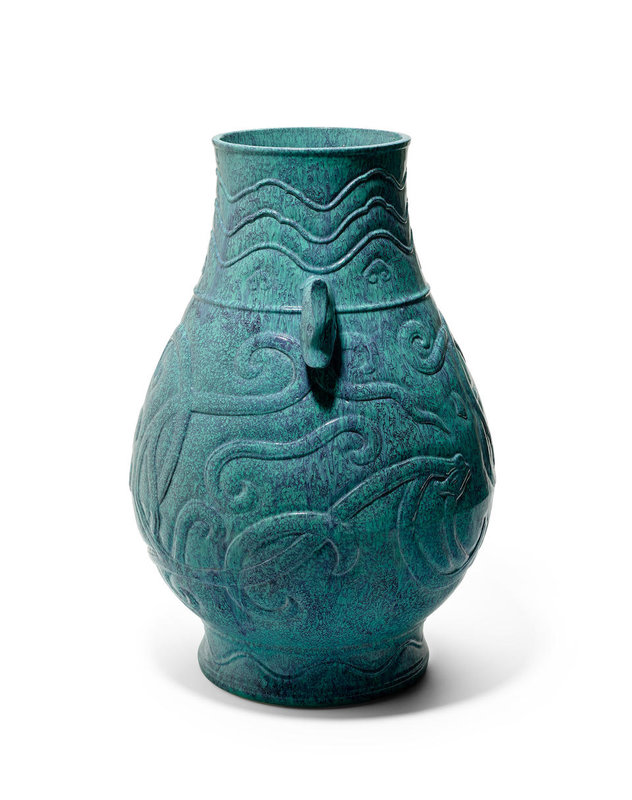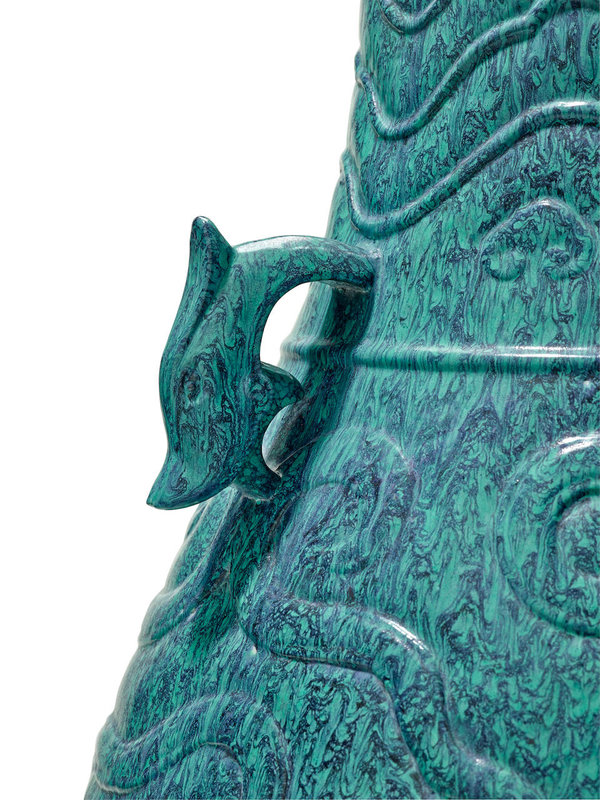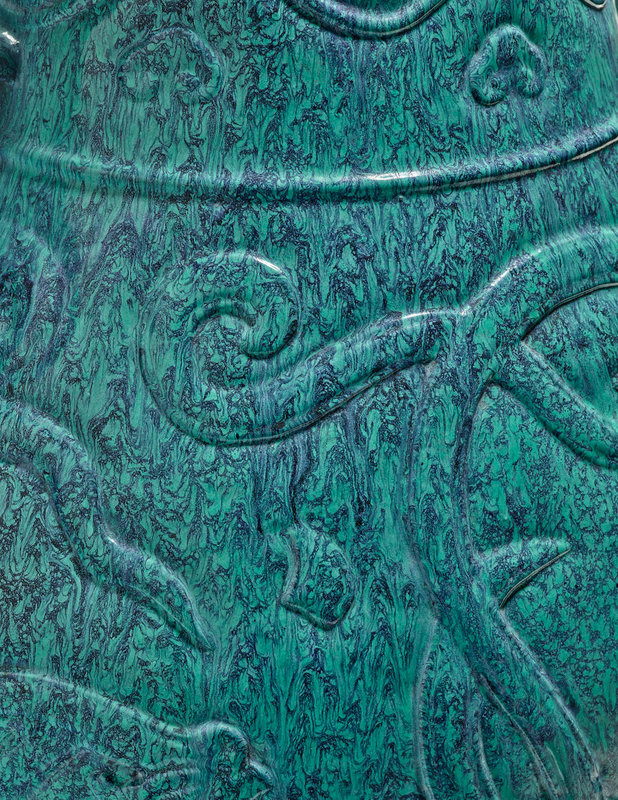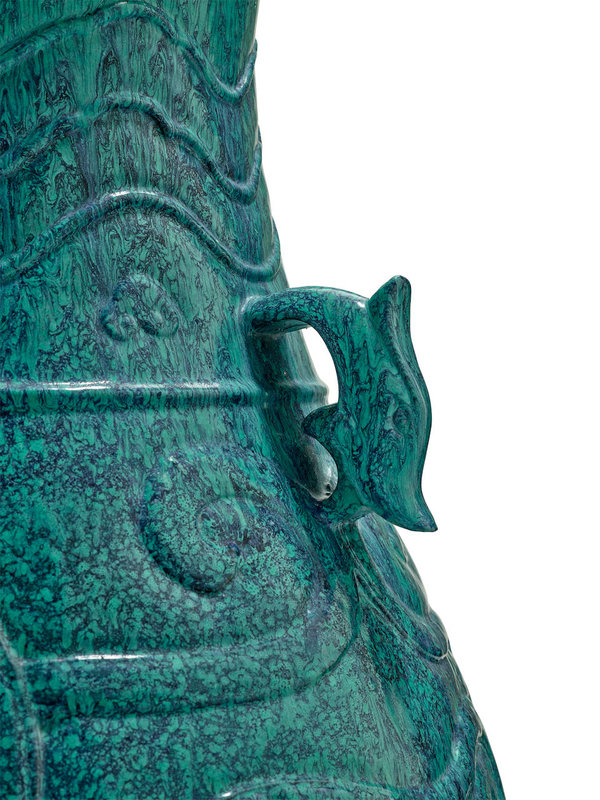 Lot 329. A magnificent and rare 'robin's-egg' glazed archaistic two-handled vase, hu, Qianlong impressed six-character seal mark and of the period (1736-1795); 20 1/8in (51.2cm) high. Estimate US$ 400,000 - 600,000 (€ 340,000 - 510,000). © Bonhams 2001-2021
The finely potted vessel molded in low-relief with sinuous stylized interlaced dragons and scrolls on the elongated rounded body below a single bow-string band at the mid-neck and three wavy bands on the waisted upper-neck above six small molded ruyi-heads, the shoulder is divided on either side by animal-headed handles, the short waisted foot with a single wavy band between single bow-string bands.
Property from the Estate of Robert P. Youngman.
Note: This magnificent and finely molded vase under a brilliant rich 'robin's-egg' glaze that covers the entire exterior surface and the upper-half of the interior, is modelled after a Late Western Zhou Dynasty bronze vessel, hu, of a type illustrated by Christian Deydier, Chinese Bronzes, Friborg, Switzerland, 1980, p. 225, no. 64. Whilst that hu is of a more slender profile than our ceramic vessel, the cast decoration on the body and the neck appears to be identical. See also, William Watson, Ancient Chinese Bronzes, London 1976, no's. 52 and 53 for two other examples.
This design on our hu is known from a small group of identically decorated Imperial Yongzheng and Qianlong-marked porcelain vessels of a smaller size (7 5/8in, 19.3cm) that are invariably glazed in a pale celadon-green glaze. For a Yongzheng-marked example in the Palace Museum, Beijing, see Kangxi, Yongzheng, Qianlong, Hong Kong, 1989, p. 276, no. 105. (See Fig. 1).
The use of a 'robin's-egg' glaze on this style of vessel, with coiling serpent dragon design, appears to be unique.
The other distinguishing feature of our vessel is the treatment of the handles. In all the published examples of the Imperial celadon-glazed hu that carry the same coiling serpent dragon design, the handles take a quite different dragon form, as can be seen in the Palace Museum example cited above. However, the identical handles on ours, can be found on a number of Imperial vessels, including a blue and white hu of near identical size in the Palace Museum Collection, illustrated in Blue and White Porcelain with Underglazed Red (III), The Complete Collection of Treasures of the Palace Museum, Hong Kong, 2010, p. 152, no. 138. (See fig. 2). They also appear on another identically-sized Imperial 'tea-dust' or 'Changguan' monochrome hu, illustrated in Monochrome Porcelain, The Complete Collection of Treasures of the Palace Museum, Hong Kong, 1999, p. 270, no. 247. Like ours, it has an impressed Qianlong six-character seal mark. Interestingly on both these vessels the design is not the coiling serpent dragon design found on ours, but rather a quartered strapwork design that also imitates a Western Zhou bronze vessel. This same strapwork design appears on third celadon-glazed hu, sold at Sotheby's, Hong Kong, 11/12 May 1983, lot 123, which has the same handles that appear on our vessel.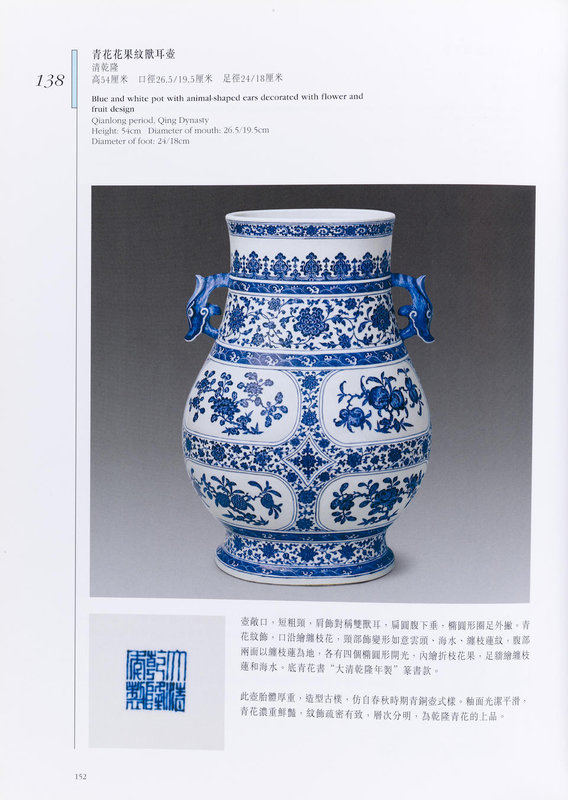 A smaller celadon-glazed example with the identical molded decoration of coiling serpents found on our vase and bearing a Qianlong seal mark from the Stephen Winkworth Collection is illustrated by Soame Jenyns, Later Chinese Porcelain, London, 1951, pl. C, no. 2, and later sold at Christie's, Hong Kong, The Imperial Sale, 27 May 2008, lot 1590. Another also from the Winkworth Collection was sold at Christie's, Hong Kong, 'Kangxi, Yongzheng, Qianlong - Imperial Wares from the Robert Chang Collection, 2 November 1999, lot 504.
For another Imperial porcelain vessel that follows an archaic bronze gu form, and that also uses 'robin's-egg' glaze in combination with gilt to imitate bronze patination, see Sotheby Parke Bernet, 21-22 May 1984, Hong Kong, lot 175.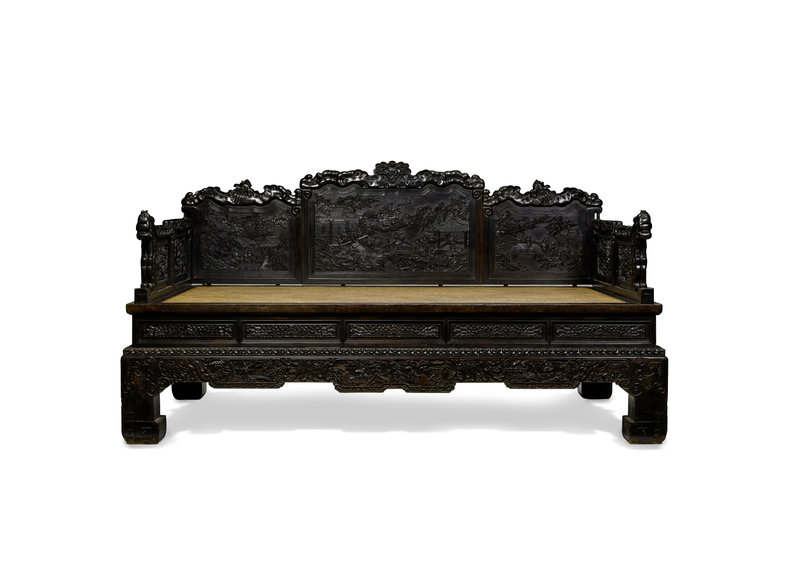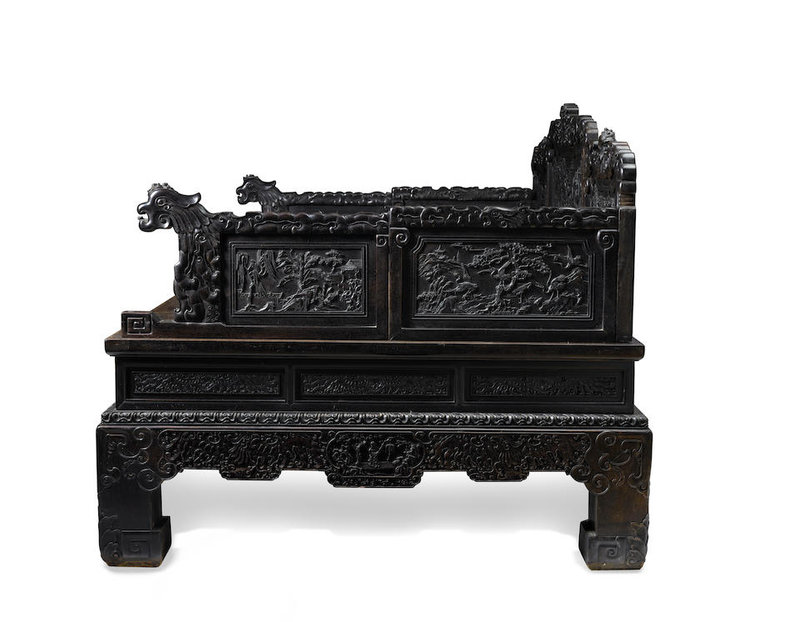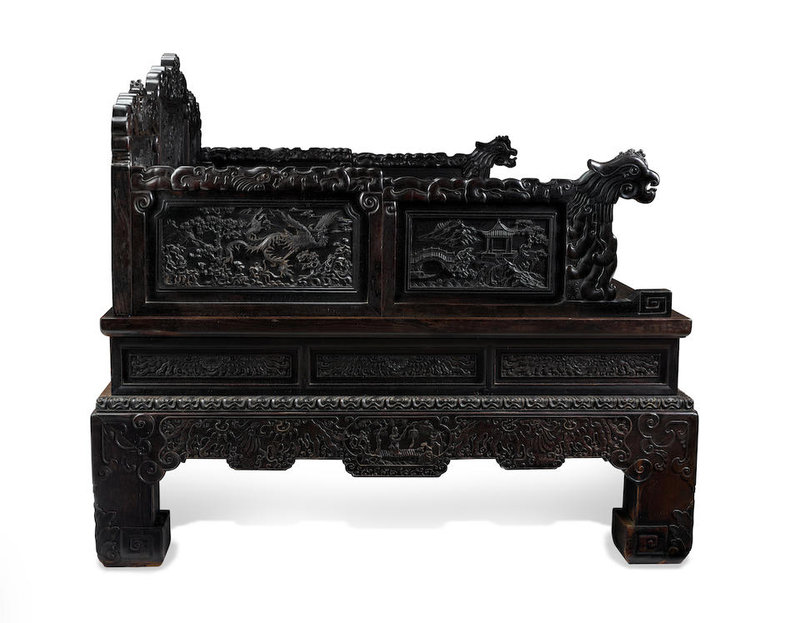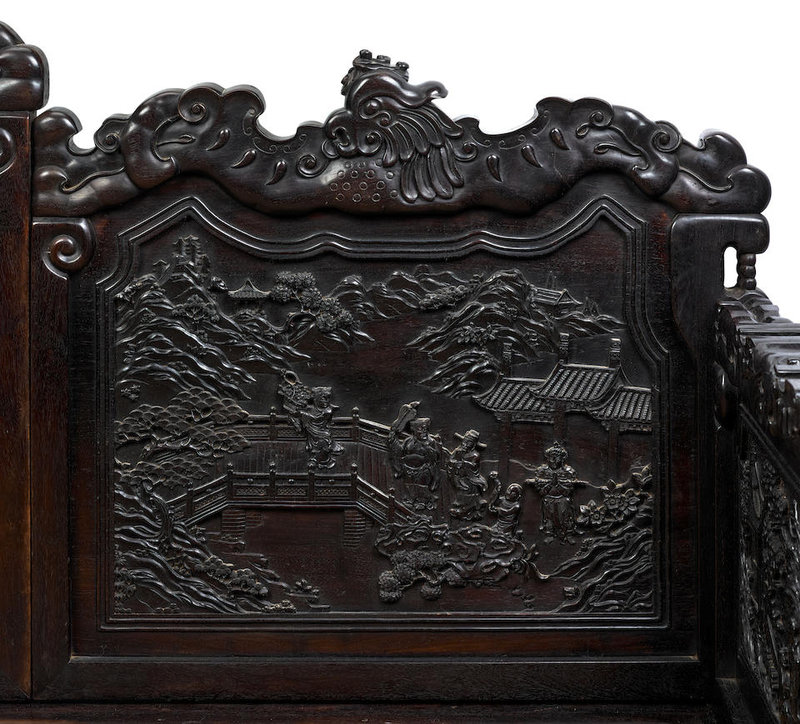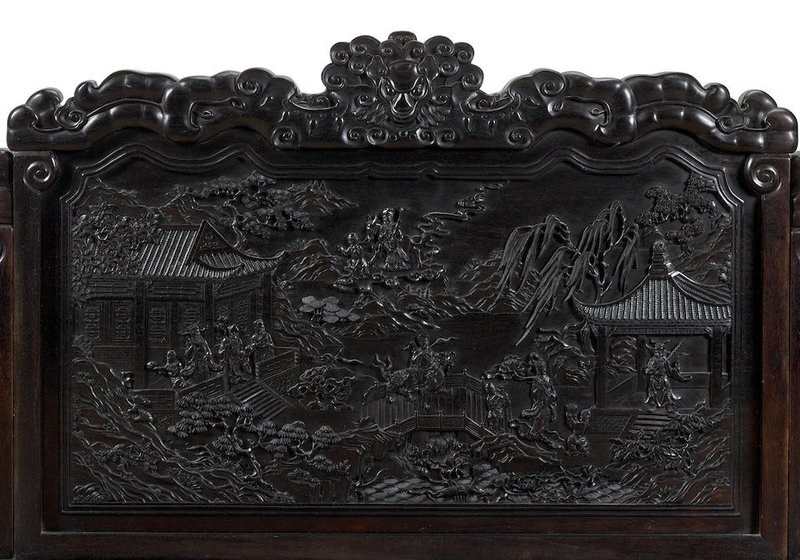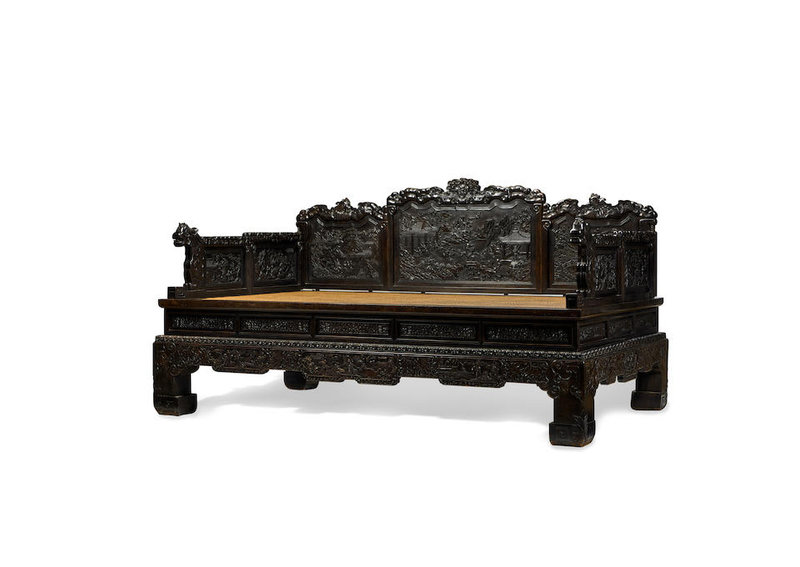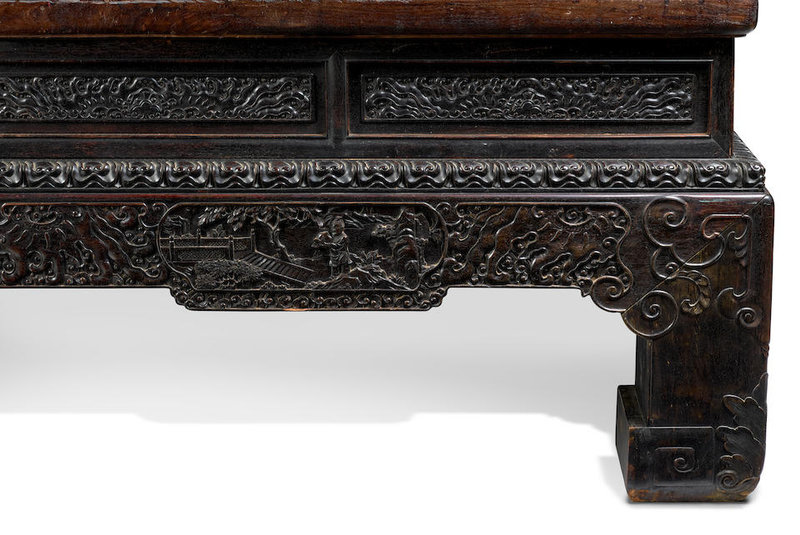 Lot 237. A rare zitan couch bed, luohan chuang, Late Qing-Republic period; 21 3/4in (55.3cm) high (platform); 84 1/2in (214.6cm) long; 52in (132.1cm) deep; 45 1/2in (115.6cm) height of back panel. Estimate US$ 200,000 - 300,000 (€ 170,000 - 250,000). © Bonhams 2001-2021
The rectangular caned seat frame of mitred, mortise and tenon construction above rectangular panels, each section carved with a mythical split-tailed lion over band of lotus petals set off by a shaped apron of carved attendants bearing gifts walking through a landscape waterway, each reserve flanked by elegant phoenixes or further lions, the apron half-lapped and tenoned to leaf-form brackets over heavy thick cabriole legs and hoof feet, the separate back and side panels tenoned into the seat frame and richly carved as entourages from the left and right paying homage to a central scene depicting a gathering of Immortals in a grand mansion in the Western Paradise surrounded by landscape waterway of pavilions, bridges, and distant hills shaded by willows, pines and heavenly clouds, the exterior of the side panels carved with auspicious cranes and phoenix birds and further landscape and architectural settings, the scenes framed at the top by elegant phoenix birds centered on an imposing mythical lion, and extending to phoenix head arm rests.
Provenance: Property of a West Coast Family, by descent.
Note: The couch bed form as a low platform (ta) without sides can be traced back to the Han dynasty, (206BCE to 207CE) as a single-person low seat. Sara Handler records in her important article, "Comfort and Joy: A Couch bed for Day and Night", published in the Journal of the Classical Chinese Furniture Society, Winter 1991, pp. 4-19, an early evolution of this form found in a screen excavated from the 484CE tomb of Sima Jinlong, showing a woman seated on a three-panel-backed platform, with the top rails of equal height. She further cites a couch recorded in the Yuan dynasty Shilin guangji with lower side railings, and Ming dynasty examples where multiple types exist, from plain, elegantly figured huanghuali back panels with rounded butterflied joints to elaborate and richly carved architectural masterpieces with elegant, doweled posts, ruyi-headed cut-out panels, and cabriole legs op.cit. p.10. She records the existence of elaborately carved vignettes on back and side panels in a circa 1700 album leaf illustration to the Jin Ping Mei housed in the Nelson Atkins Museum of Art, op.cit., p. 16, fig. 18. Sometime, perhaps early in the course of its history, the ta, a seated platform, gained its added function as a vehicle for both daily activities and nightly repose chuang.
See couch beds with richly carved panels in the Qing court collection, notably a zitan longwen chuang illustrated in Gugong Boyuancang wenwu zhenpin quanji, 54, Ming Qing jiaju (xia), no. 12, carved with elaborate kui dragons, a Qianlong hongmu luohan chuang carved with nine dragons, no. 7, and another zitan and nanmu chuang elaborately carved with landscape and figural panels, no. 9.
The current lot is a fine and rare example of this complex history – the back and side panels carved with scenes of immortals in verdant landscape settings, framed by phoenix and dragons emerging from thick, wondrous clouds. See a smaller zitan luohan chuang from the Lin Muhe Collection of closely related subject matter published Fenghua Zaijian. Ming Qing jiaju shoucang zhan. Splendor of Style: Classical Furniture from the Ming and Qing Dynasties. National Museum of History. June 26 to September 5, 1999, pp 110-111.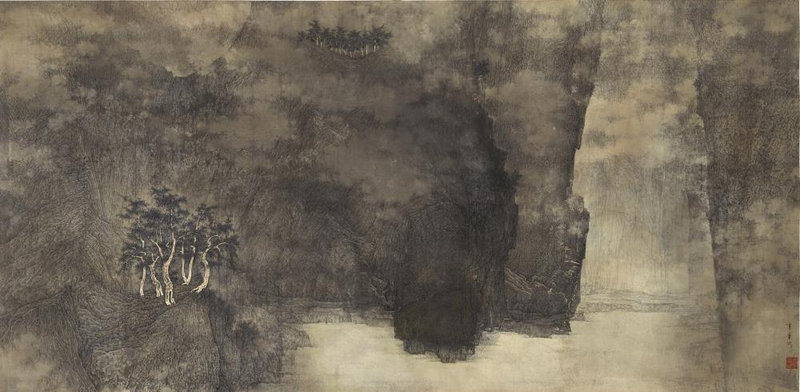 Lot 128. Li Huayi (born 1948), Mountain Gorge. Ink and color on paper, mounted, framed and glazed, signed by the artist Li Huayi, with an artist's seal Li Huayi; 25 3/4 x 52 3/4in (65.5 x 134cm). Estimate US$ 100,000 - 150,000 (€ 84,000 - 130,000). Unsold. © Bonhams 2001-2021
Provenance: Kaikodo, New York, purchased 4 November 2002.
Note: Over the centuries Chinese painters have returned to the foundations of the Chinese landscape painting tradition by reviving the landscape style of the Five Dynasties and Northern Song periods (907-1127) and the early masterpieces by artists Li Cheng (919-967) and Guo Xi (ca. 1060-1080). Drawn to the dramatic soaring mountains and atmospheric renderings of the natural world's order, successive waves of Chinese painters sought to capture the majestic spirit and sublime power of the monumental style.
In the Yuan Dynasty Sheng Mou (ca. 1310-1350) and Wang Meng (1308-1385) continued with the Li-Guo tradition, and in the 17th century, Dong Qichang (1555-1636) revived the Northern Song masters' methods in his forging of a "Great Synthesis" of the traditions of Chinese landscape painting. Dong Qichang wrote that the structural power of Li Cheng's landscapes was due to the artist's approach in building the mountains from the sides, as opposed to a more primitive, full frontal viewpoint:
雲山皆依側邊起勢,不用两邊合成
Cloudy mountains arise from the sides activating their kinetic momentum, its useless to just converge the two sides together
Artists of the Qing dynasty who followed the Orthodox lineage espoused by Dong Qichang would have had the ability to recall the Li-Guo monumental mode as a part of their broader artistic repertoire.
Li Huayi's Mountain Gorge (lot 128), was painted in the last decade of the 20th century, and in it the artist condenses more than a thousand years of tradition. Li Huayi became fascinated with the Northern Song Monumental style after viewing a Fan Kuan (active 990-1030) landscape in Beijing in 1978. Although most of Li Huayi's early artistic training was in Western-style drawing, he began re-interpreting the Li-Guo artistic idiom in 1992, after he had moved to the United States, and began studying art in San Francisco.
Li Huayi creates his monumental landscapes with meticulous brushwork endowing the scene with a combination of power and elegance. The precise strokes build the structure of precarious cliffs, and the closely drawn lines bring a rhythmic vitality to the painting. The daunting heights reach far beyond what the limits of the painting allow, and the mountains' true height is unknowable. The few scattered groups of trees are crisply detailed and highlighted in white, bringing a closeness and intimacy to the painting that contrasts with the grandeur of the vast, mist-shrouded cliffs.
The soaring mountains are foreboding, but, the artist's use of light endows the painting with depth. Near the center of the composition a dark mass of rock anchors the cliff, and receding into the deep distance, the painting lightens, and although the sky is not visible to us, it is evident that a brighter atmosphere is ahead. The atmospheric grandeur and varied brushstrokes are borrowed from the Li-Guo tradition, but the opaque coloring and the strong contrast of light and dark is more reminiscent of the paintings of Gong Xian (1618-1689).
Li Huayi paints landscapes that are drawn from centuries of artists who preceded him, yet his creations are unique and timeless in their mood. Classically inspired and grounded in traditional brush methods, his paintings are also unmistakably modern. His successful creations open a new avenue in the long tradition of Chinese ink landscape painting.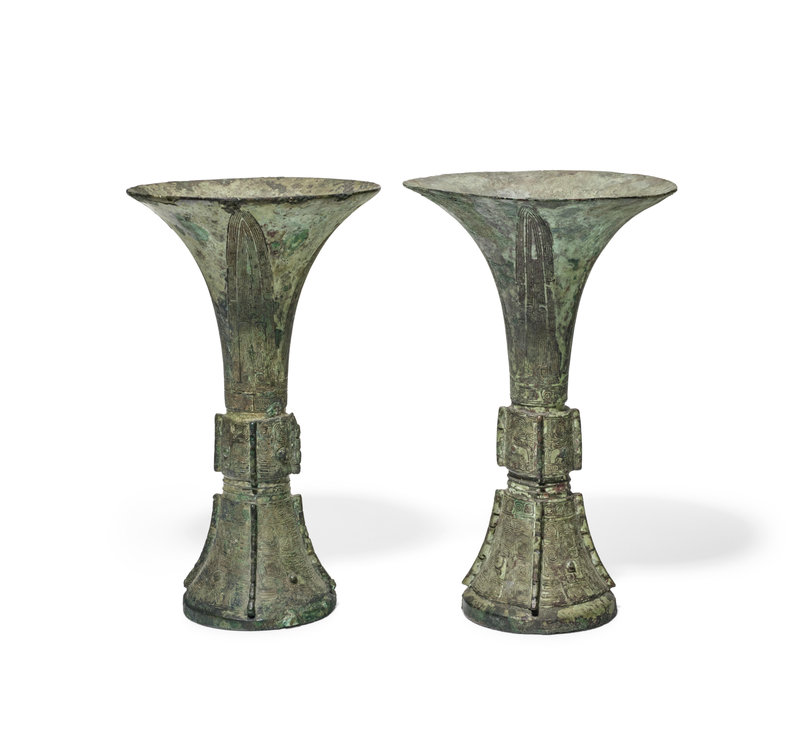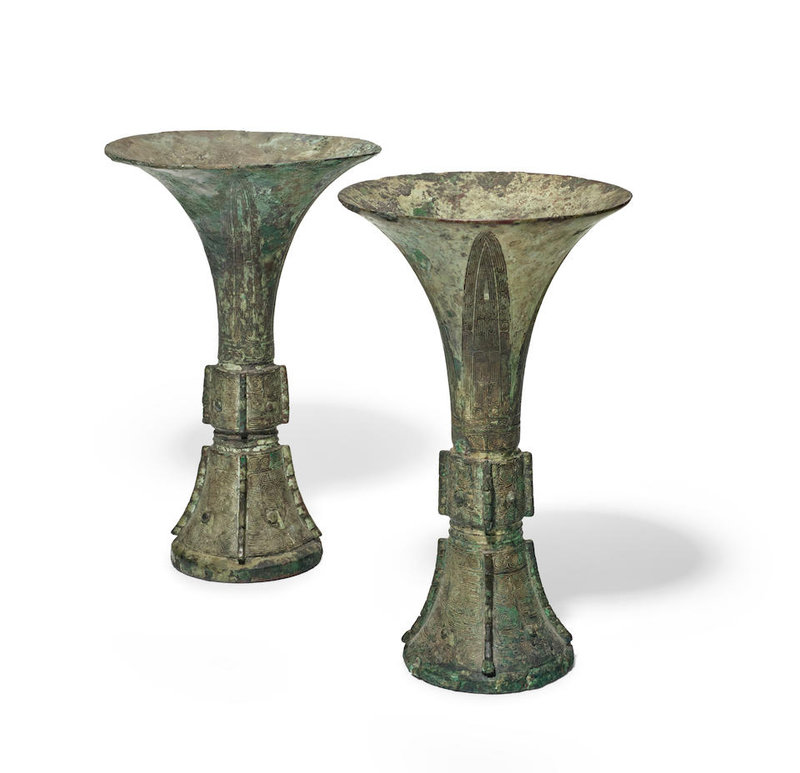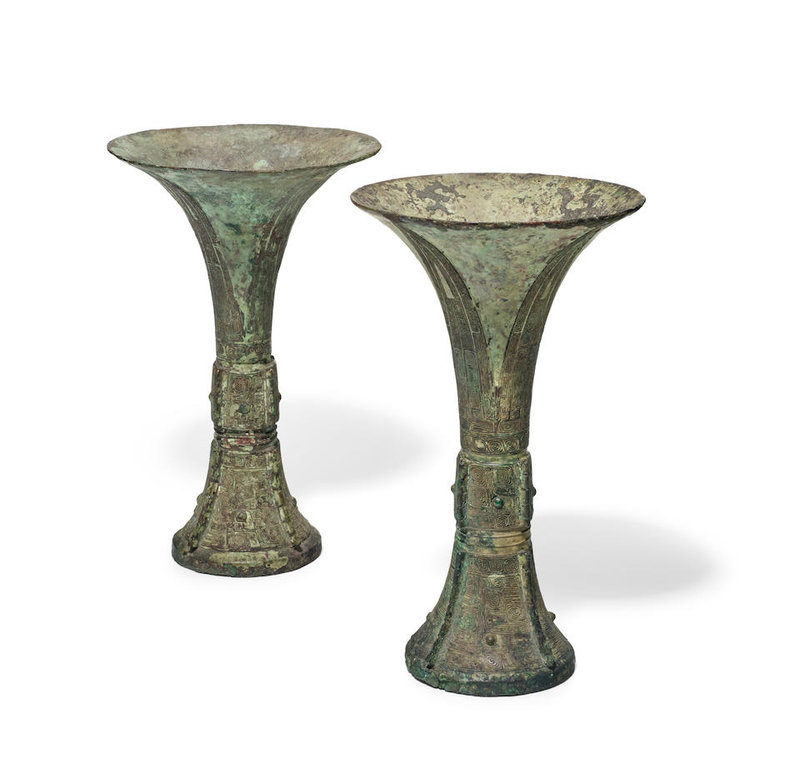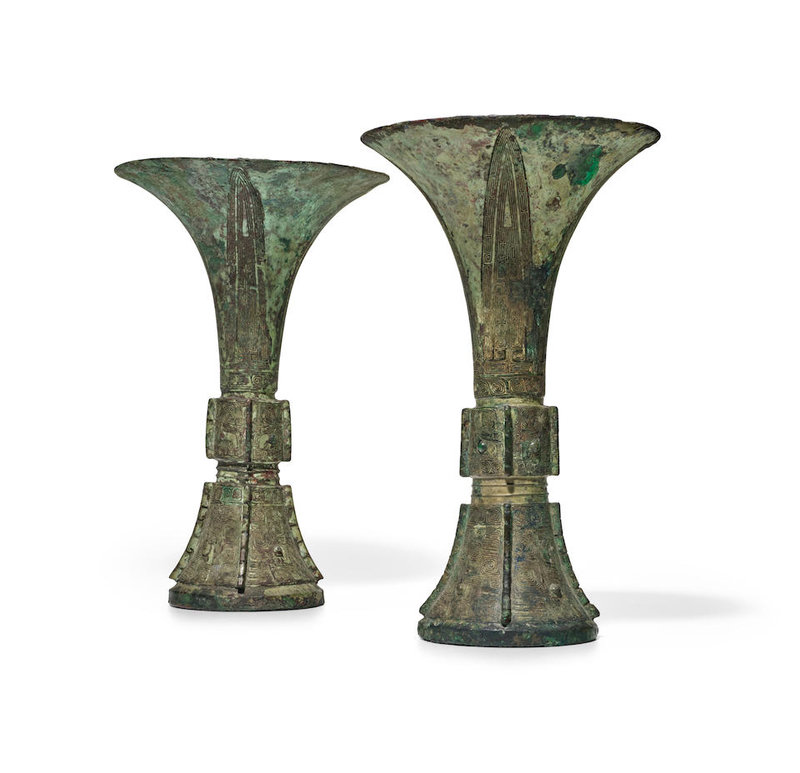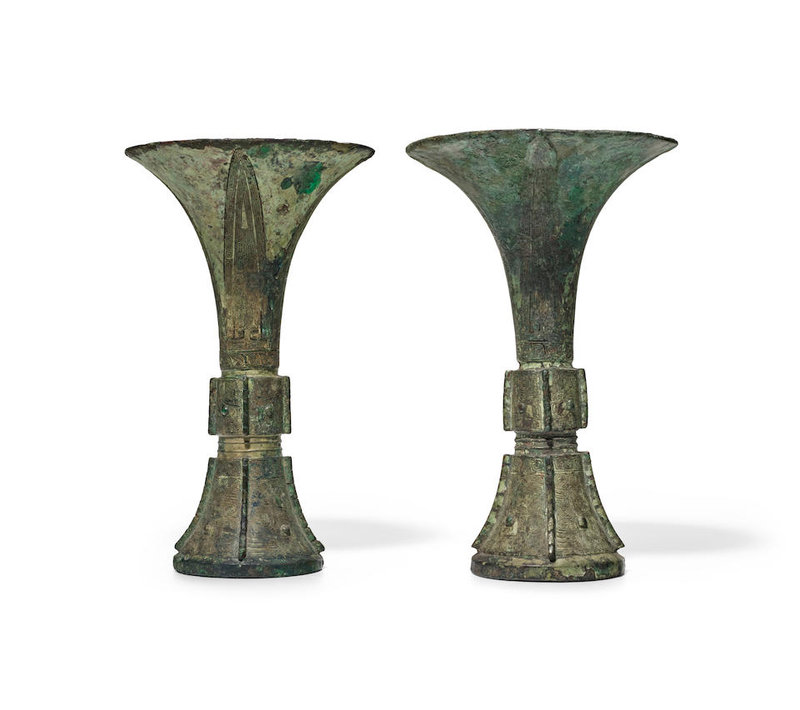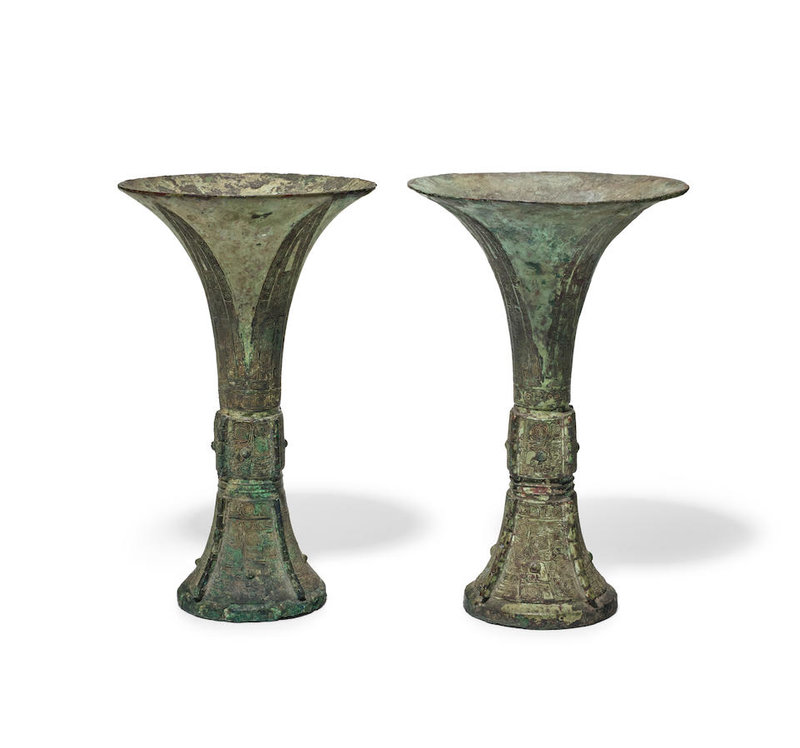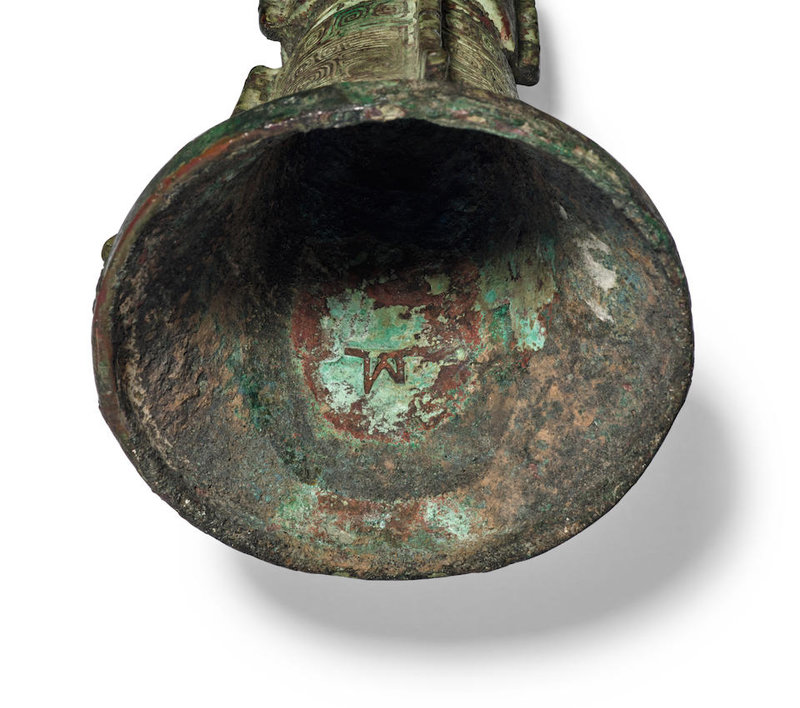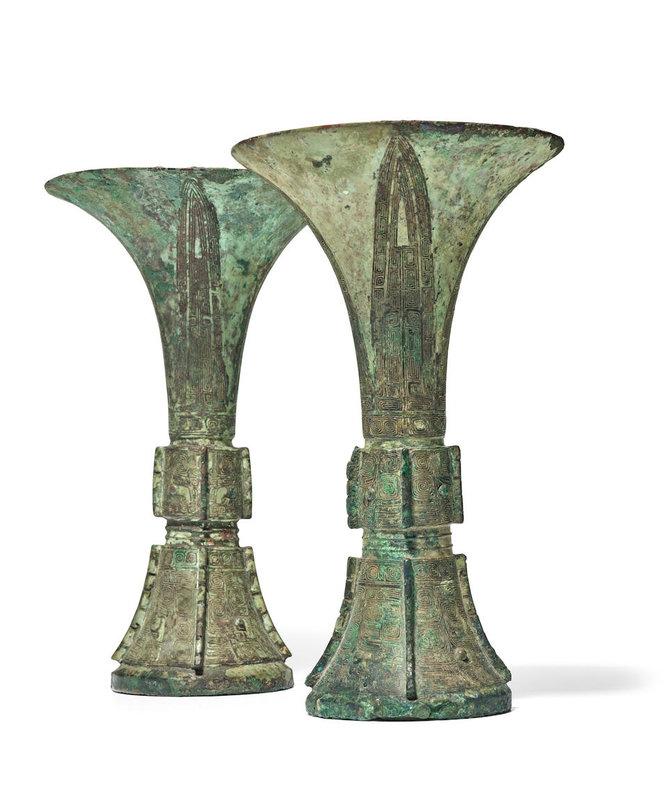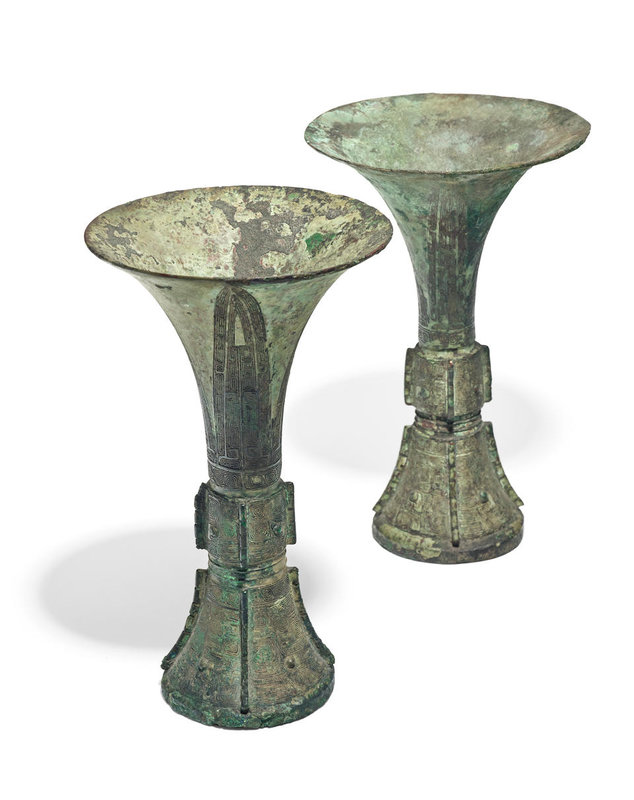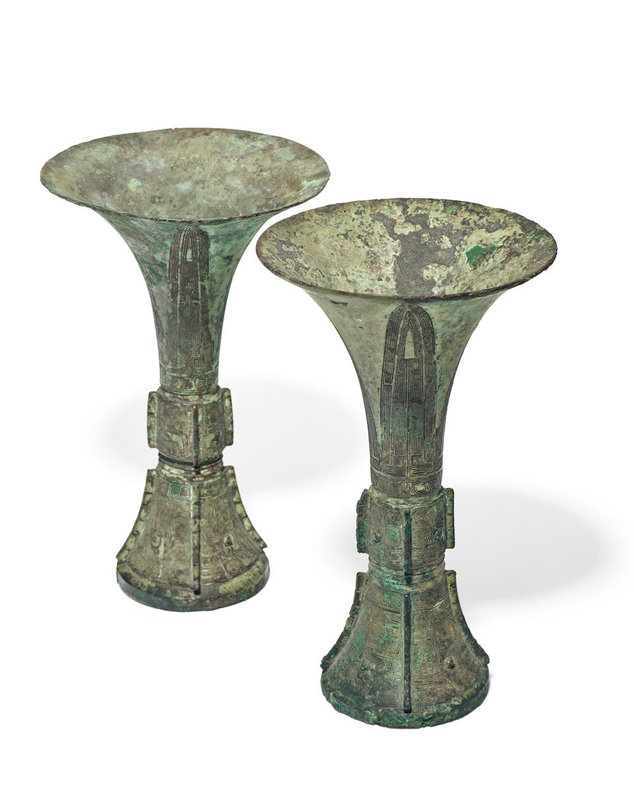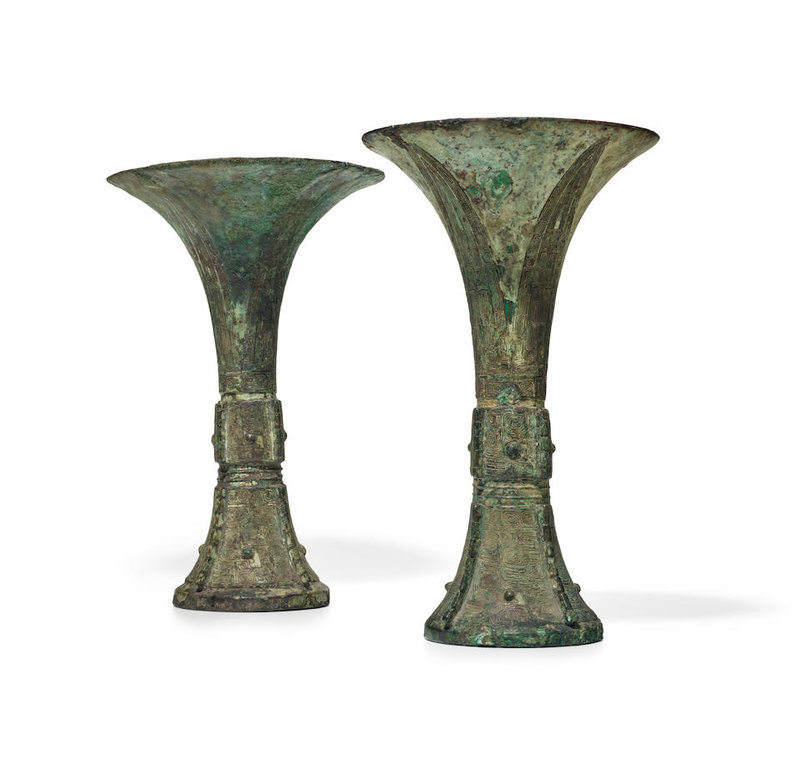 Lot 152. Two Archaic Bronze Ritual Wine Vessels, Gu, Shang dynasty, 13th century BCE; 10 3/4in (27.4cm) high; 6 3/8in (16.2cm) and 6 7/8in (17.5cm) diameter of mouth. Estimate US$ 80,000 - 120,000 (€ 68,000 - 100,000). Unsold. © Bonhams 2001-2021
Each tall, slender vessel with a flared trumpet mouth finely cast with four blades enclosing two rows of leiwen, the central section and flared foot similarly cast with elaborate taotie masks set off by four vertical notched flanges and separated by paired raised horizontal bands, the underside each with a single pictogram on the interior of each foot, the vessel covered in and out with malachite encrustations and burial earth.
Provenance: Sotheby's New York, March 19, 2007, Fine Chinese Ceramics and Works of Art, including Property from the Collection of the Albright Knox Gallery, Buffalo, New York, lot 530, published as Acquired from a Californian Collector, 1992.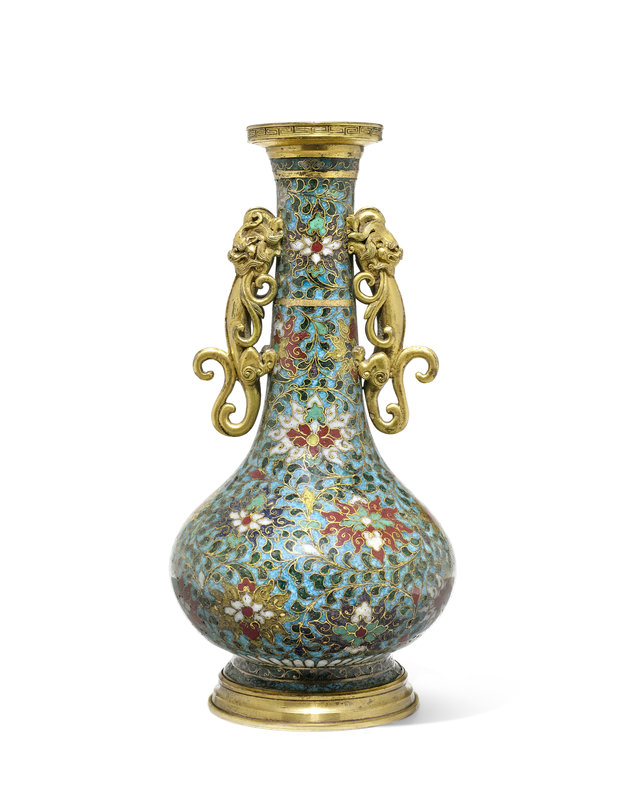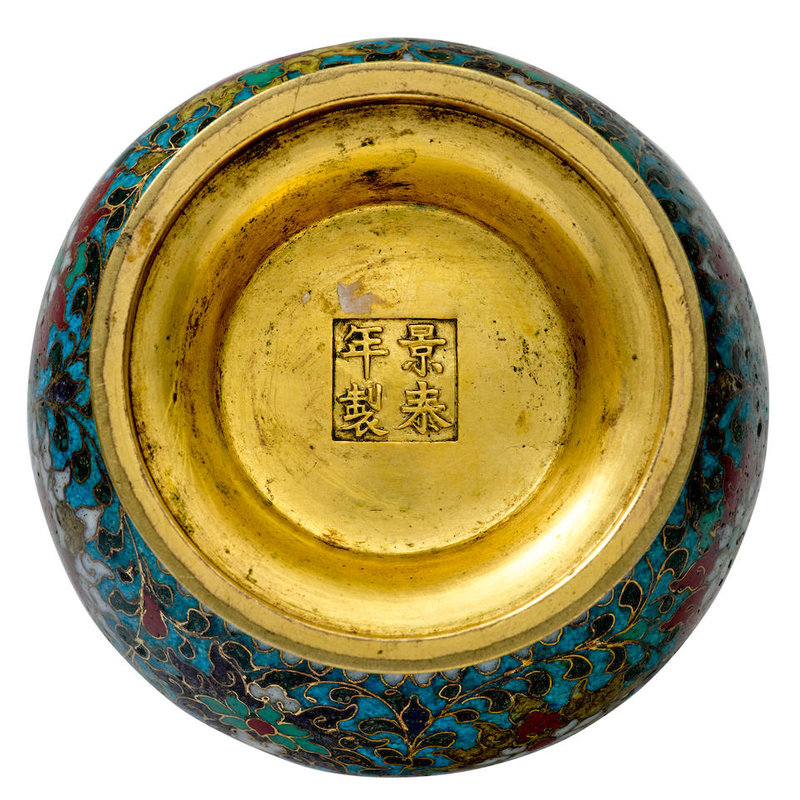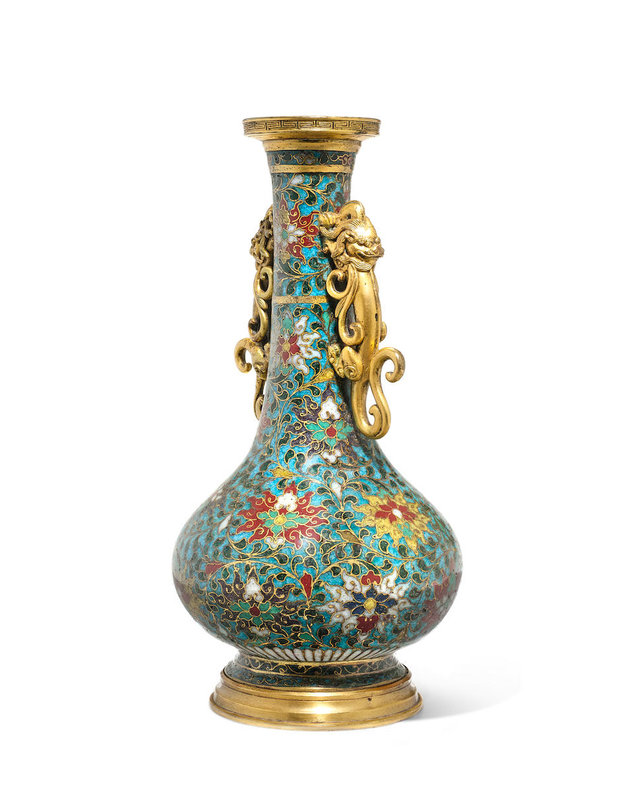 Lot 176. A cloisonné enamel and gilt bronze double-handled vase, Jingtai Mark, the vase 16th century, the mounts possibly 17th century; 10 3/4in (27.4cm) high; 6 3/8in (16.2cm) and 6 7/8in (17.5cm) diameter of mouth. Estimate US$ 50,000 - 80,000 (€ 42,000 - 68,000). © Bonhams 2001-2021
The cloisonné decorated with gently meandering formal lotus scrolls on a turquoise blue ground around the entire body and neck, the mouth mounted in gilt bronze with a shallow cup-shaped rim with a thin band of key-pattern, the neck of the vase mounted with two high-relief mythical beast handles with bi-furcated tails rising vertically, the foot with a stepped gilt-bronze circular foot.
Property of the Asbjorn Lunde Foundation.
Provenance: Roger Keverne Ltd., London.
Note: The closest comparison with our vase appears to be an example from the Palace Museum illustrated by Yang Boda (ed.) The Complete Collection of Chinese of Chinese Gold and Silver, Glass Enamelware, Vol. 5, (Zhongguo jinyin boli falangqi quanji - 5 - falangqi), Beijing, 2002, p. 4 (text) and p. 10 (illustrations), no. 10. It too has animal-form handles with similar bifurcated tails. The cloisonné decoration itself is also in wide registers between gilt-metal bowstring bands on the body, neck and foot. It is dated to the early Qing dynasty.
Another vessel with the addition of metal mounts illustrated in the same publication, p. 58, no. 68, bears very similar lotus decoration with dark green leaves borne on gilt scrolling dividing large lotus flower-heads.
See also Sir Harry Garner, Chinese and Japanese Cloisonné Enamels, London, 1962, p. 75, pl. 43, for a bottle vase with additional gilt handles dated to the second half 16th Century; and Helmut Brinker & Albert Lutz, Chinese Cloisonné: The Pierre Uldry Collection, New York, Asia Society Galleries, 1989, no. 108, for another pear-shaped vase with differing cloisonné decoration but similar gilt-bronze animal form handles, and neck and foot mounts, and also bearing a Jingtai mark to the base which is dated to the second half of the 16th century.
For a cloisonné vessel, zhadou, (5 ¼ inches high) dated to the 16th century and with two applied gilt-bronze dragon handles, see Bonhams, London, 11 May 2021, lot 156. A larger vase of slightly later date but with lotus decoration on a turquoise ground, was sold at Bonhams, London, 13 May 2021, lot 13. Unlike our example it does not have the addition of gilt bronze handles, foot rim and neck extension. A related cloisonné enamel vase of similar shape, dated to the second half 16th century is illustrated in Enamel Ware in the Ming and Ch'ing Dynasties, Taipei, 1999, no. 8.