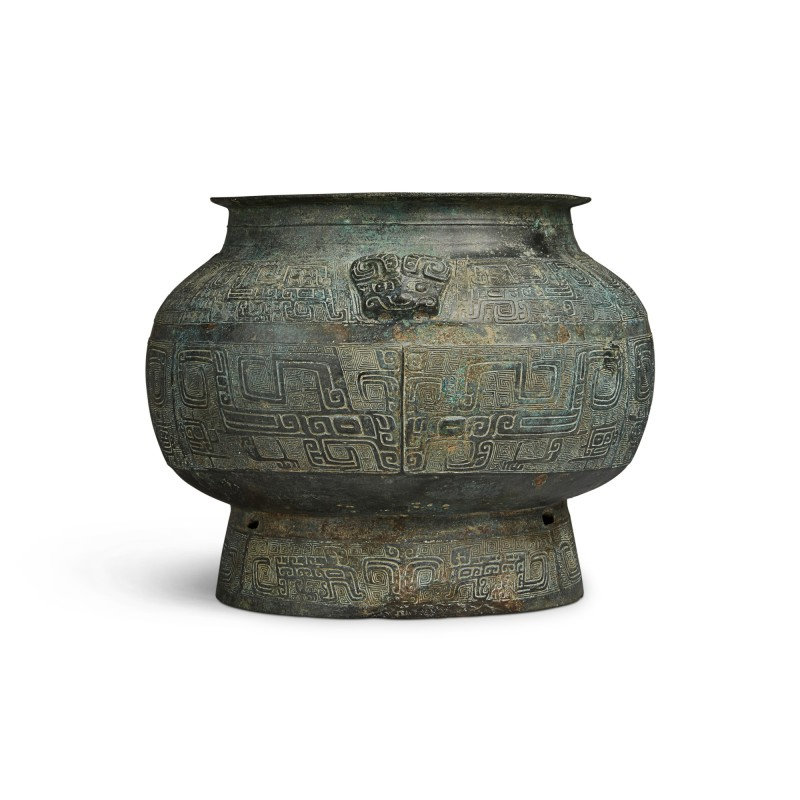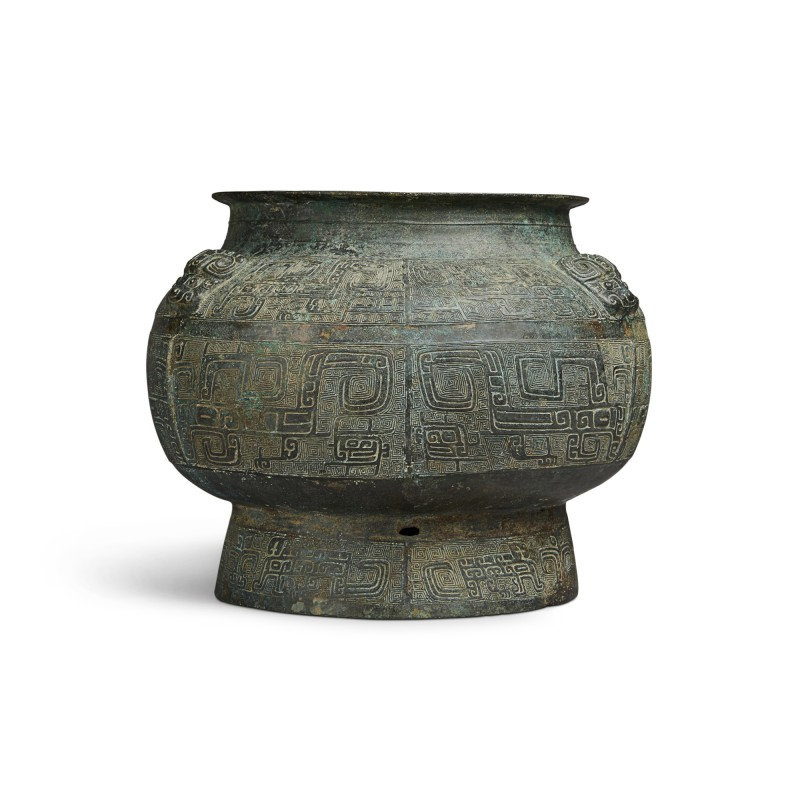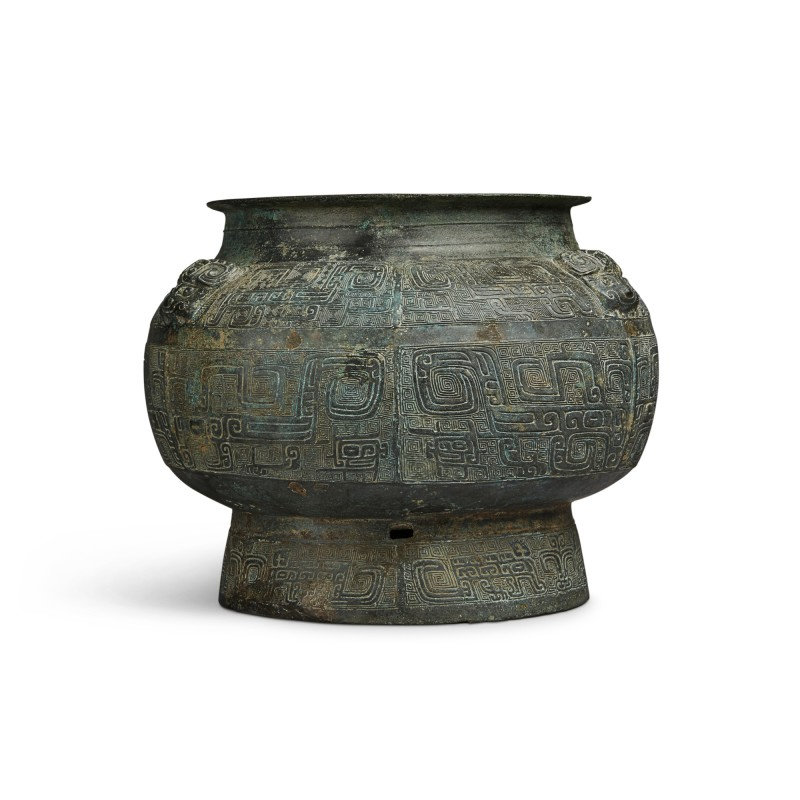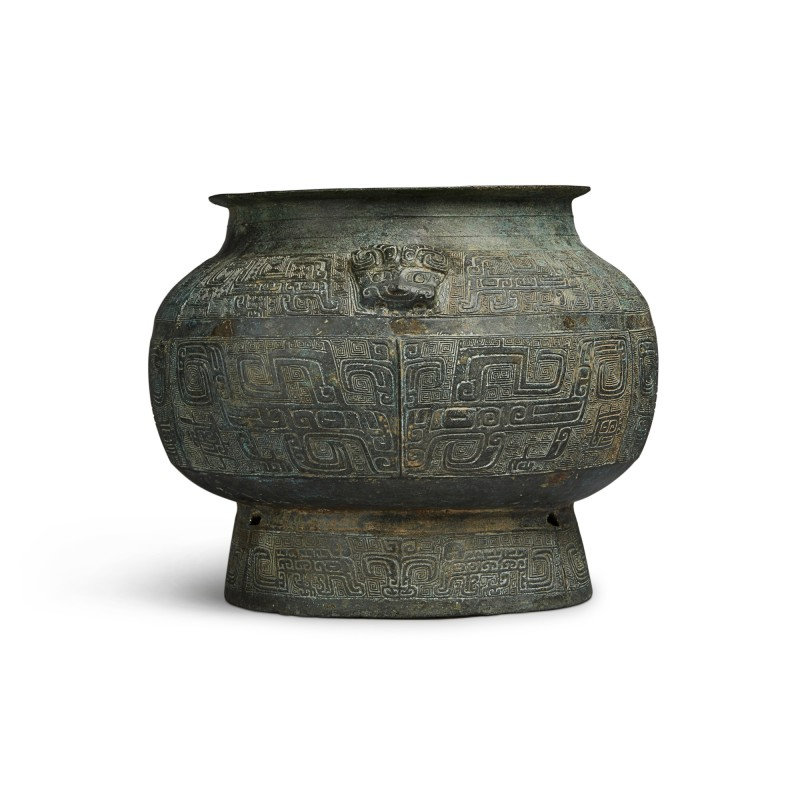 Lot 34. An archaic bronze ritual vessel (Pou), Late Shang dynasty. Diameter 13 in., 33.1 cm. Estimate: 100,000 - 150,000 USD. © Sotheby's 2021
the compressed globular form rising from a tall splayed foot to a short tapering neck surmounted by a wide flaring mouth, the central band crisply cast with three taotie patterns each centered by a narrow flange in low relief, below a band of confronting kuilong divided by three ram masks cast in relief, the base further encircled by a band of kuilong, all against a leiwen ground.
Provenance

:

Japanese
Private Collection.
Offered at Sotheby's New York, 11th-12th September 2012, lot 156
.
Note: Distinguished by its large size and dignified form, the present pou is a magnificent example of bronze vessels created in the second half of the Shang dynasty (c. 1600-1046 BC). Inspired by ceramic prototypes from the Neolithic era, vessels of this type appeared in the Shang bronze casting repertory around the end of the Erligang phase (c. 1500-1300 BC). They were used as food containers for ritual purposes, before disappearing by the beginning of the Western Zhou dynasty (c. 1046-771BC).
Vessels of similar form and design are well represented in public and private collections around the world. See a few closely related examples preserved in museums: one in the National Museum of Asian Art, Smithsonian Institution, Washington D.C. (acc. no. S1987.61), formerly in the collection of Arthur M. Sackler, illustrated in Robert W. Bagley, Shang Ritual Bronzes in the Arthur M. Sackler Collections, vol. 1, Washington and Cambridge,1987, cat. no. 57, where the author also illustrates a related pou excavated in Shaanxi province, ibid., fig. 57.1; another in the Musée Cernuschi, Paris (acc. no. M.C. 8760), ibid., fig. 57.3; and one in the Museum of Fine Arts, Boston (acc. no. 08.455). For examples sold at auction, see a pou formerly in the Tsui Museum of Art, Hong Kong, sold at Christie's New York, 24th March 2011, lot 1239; and one formerly in the Sano Art Museum, Mishima City, Japan, sold in these rooms, 14th September 2011, lot 265.
Sotheby's. Important Chinese Art, New York, 21 September 2021