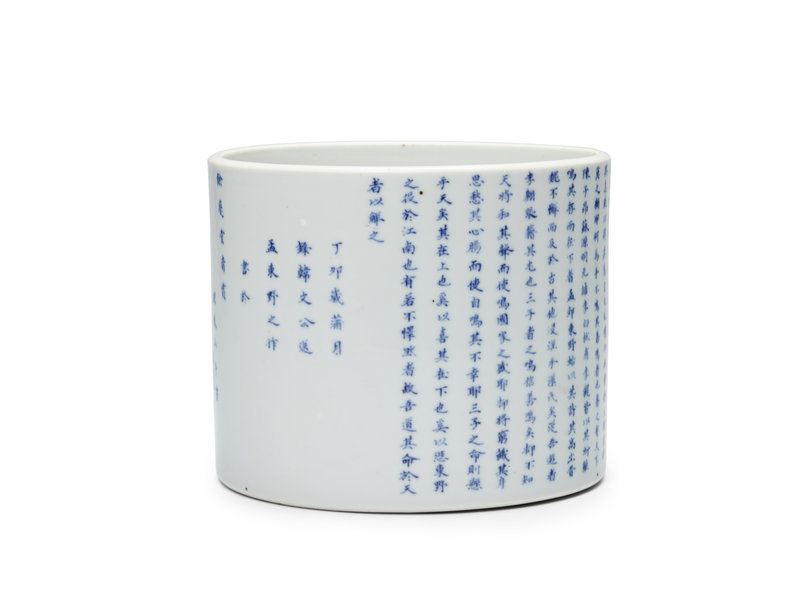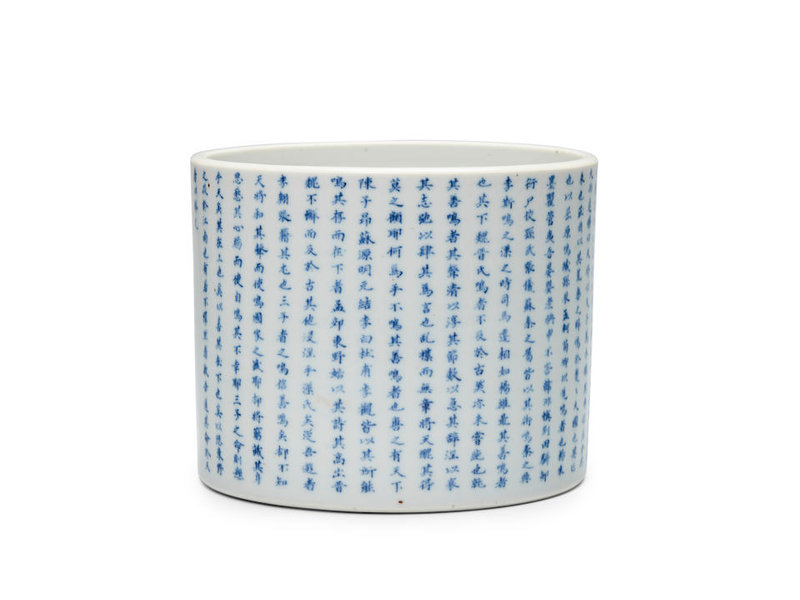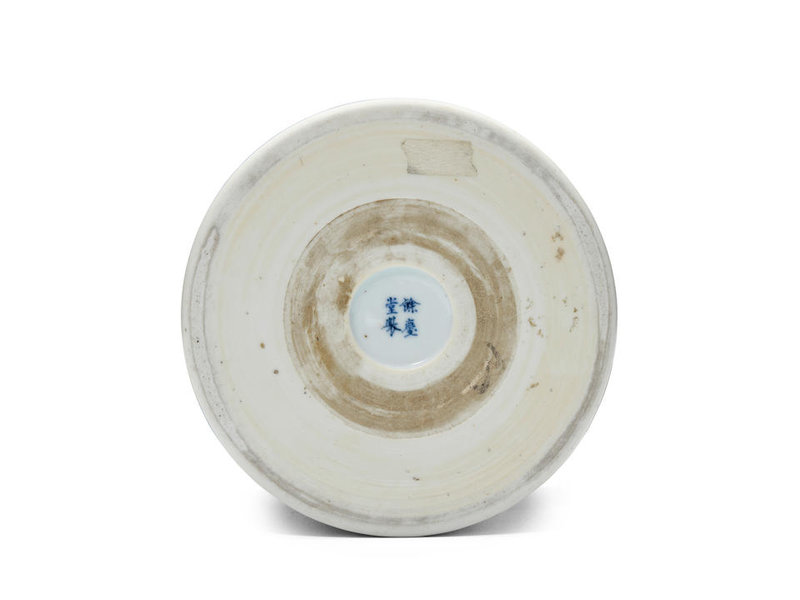 Lot 315. A Fine and Rare Inscribed and Dated Blue and White Brushpot with Poem, Yuqingtang zhi Mark, Kangxi period (1662-1722); 6 7/8in (17.5cm) diameter; 5 1/2in (14cm) high. Estimate US$ 70,000 - 90,000 (€ 59,000 - 76,000). © Bonhams 2001-2021
Of cylindrical shape, stoutly potted, the exterior inscribed with the preface Song Meng Dongye Xu (Farewell to Meng Dongye), followed by an inscription dated dingmao year corresponding to 1687, signed Zhongling shanzi and a seal Baidi shanzi, the base centered with a recessed circle enclosing a four-character hall mark Yuqingtang zhi (Hall of Abundant Blessings), all in underglaze blue.
Provenance: Sotheby's New York, 20 March 2019, lot 512 (Sold 62,500 USD).
Note: Born in Nanyang in modern-day Henan, Han Yu (768-824) is one of the better-known poets of the Tang Dynasty. He advocated a change from the prevailing 'parallel prose' style of his day in favor of a more organic prose structure. He is best remembered for condemning aspects of Buddhism and Taoism that conflicted with Confucian values in his Jian ying Fogu biao for which he was exiled to Chaozhou in the south. His best known poems include Nanshan shi (Southern Mountains) and Qiu huai (Autumn Meditations). Amongst, his prose works his preface to Meng Dongye's farewell, Song Meng Dongye Xu, which we find beautifully inscribed around our brushpot, is an exploration of the tradition of poetry.

Qingyutang (Hall of Abundant Blessings) as a hall name designation appears to have been a popular one and it appears on ceramics from the Kangxi era through the Republic period. In this example it probably refers to a private hall (whereabouts unknown) from the Kangxi reign (1662-1722) for which this brushpot was destined.
Bonhams. Chinese Ceramics, Works of Art and Paintings, New York, 20 Sep 2021