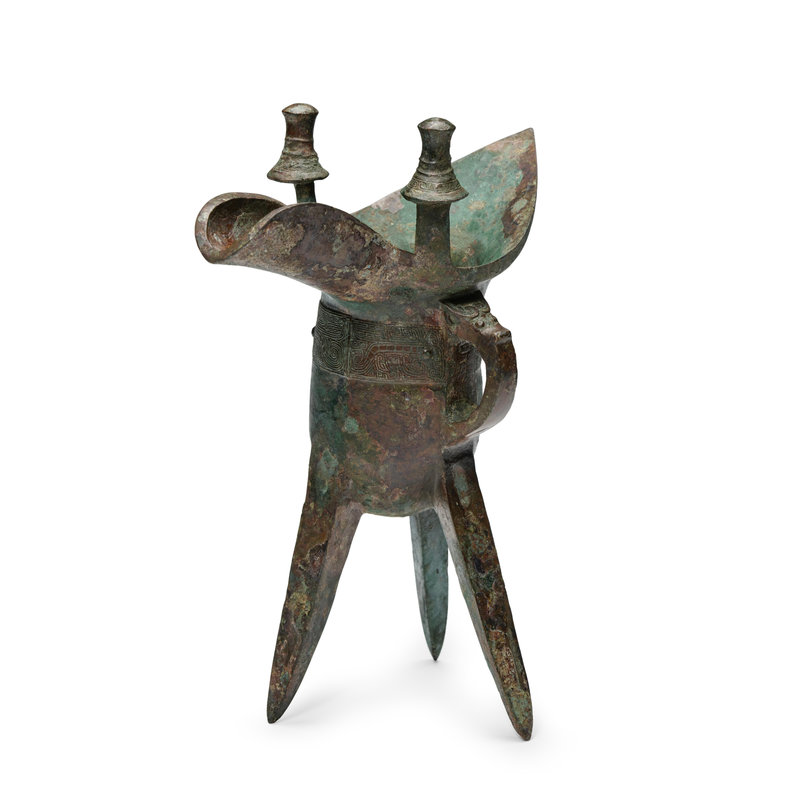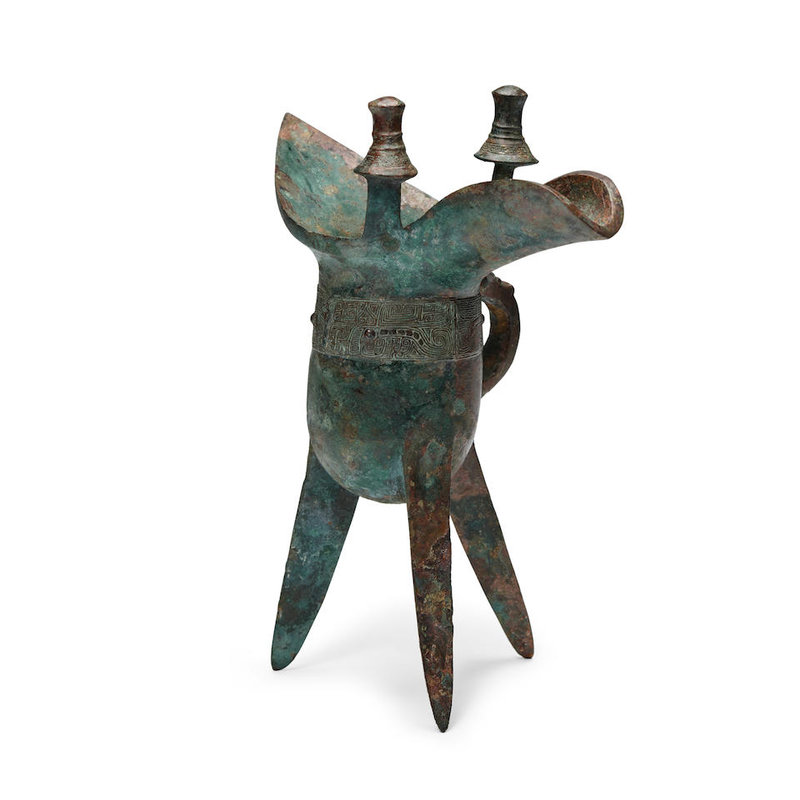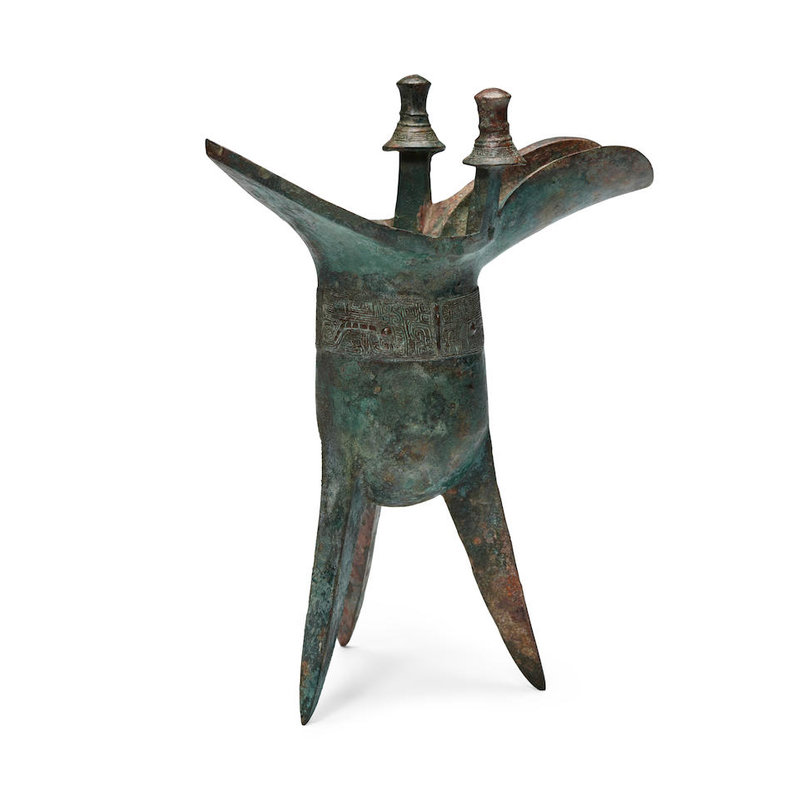 Lot 151. An archaic bronze wine vessel, Gu, Late Shang-Early Western Zhou, 13th-11th centuries BCE; 9 ½in (24.1cm) high. Estimate US$ 50,000 - 70,000 (€ 42,000 - 59,000). Sold for US$ 50,312 (€ 42,961). © Bonhams 2001-2021
With a deep u-shaped body cast in a band below the rim with a dense leiwen-like ground with low-relief vertical flanges suggesting dissolved horned-taotie and with a snake-like row of small bosses on each side, supported on three angled pointed legs, a bovine-headed vertical loop handle on one side, set below the curved spouted rim with two large upright posts with waisted drum finials.
Property from the Estate of Robert P. Youngman.
Note: The bronze jue is a ritual wine vessel with a deep body and open spout for pouring, two pillars for support, and a pointed tail where the mouth rim tapers off. It's greatest popularity came during the Shang dynasty but by the early Western Zhou production of these vessels were suddenly reduced, see Ma Chengyuan, Ancient Chinese Bronzes, Oxford, 1986, pp. 193-194.

For a comparable jue vessel with a similar thin-belt of decoration to the upper body and similarly cast with a bovine-headed handle below two pillars with waisted drum or 'bobbin'-shaped finials, a feature that is far less common than the hemispherical or conical caps frequently encountered, see Bernhard Karlgren and Jan Wirgin, Chinese Bronzes, The Natanael Wessen Collection, The Museum of Far Eastern Antiquities, Stockholm, 1969, pp. 86-87, no. 18.

For another example with conical-cap pillars, see Jessica Rawson, The Bella and P.P. Chiu Collection of Ancient Chinese Bronzes, Hong Kong, 1988, pp. 50-51, no. 11. Another from the Ashmolean Museum, Oxford is illustrated by Christian Deydier, Chinese Bronzes, Friborg, Switzerland, 1980, p. 220, no. 35, which shares the dissolved taotie design in low but fine relief to the central band. The decoration on the Ashmolean example, continues to the spout.

Another Late Shang jue recently sold in our London rooms from the Roger Keverne collection, Moving On (II), 7 June, 2021, lot 428.

For other exzmples of jue, see Masterpieces of Chinese and Japanese Art, Freer Gallery of Art Handbook, 1976, p. 9, no. 56.19.
Bonhams. Chinese Ceramics, Works of Art and Paintings, New York, 20 Sep 2021