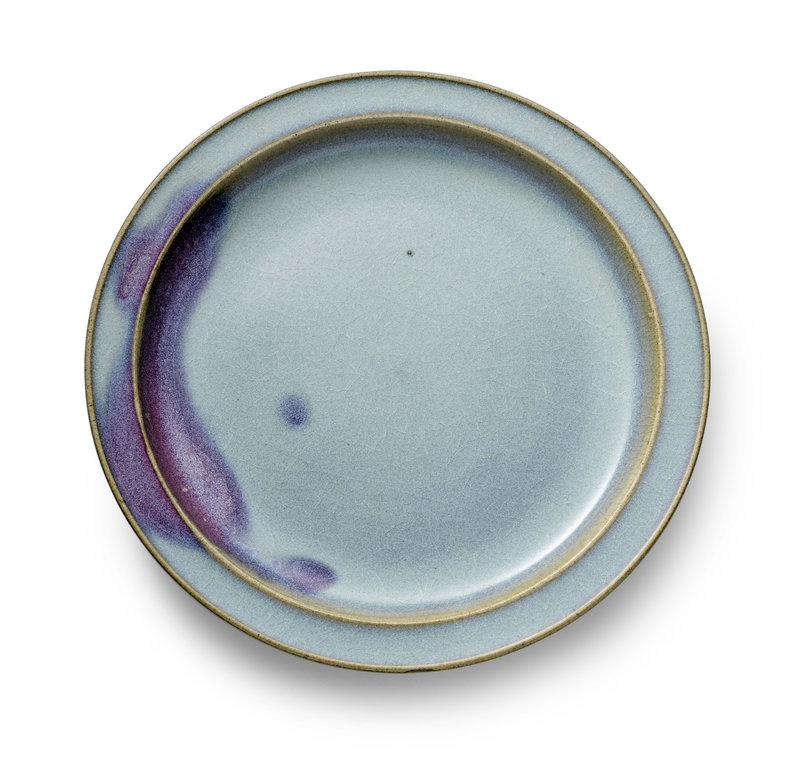 Lot 240. A large Junyao dish, Song-Jin dynasty, 11th-12th century; 8 5/16in (21cm) diameter. Estimate US$ 40,000 - 70,000 (€ 34,000 - 59,000). © Bonhams 2001-2021
The thickly potted dish rising from a short foot rim to a flat everted rim and covered with an elegant turquoise-blue glaze with rich purple splash to one side, the glaze thinning to a mushroom color on the side of the cavetto and at the rim edge and continuing on the underside to the foot and interior of the base, five spur marks visible under the buff foot.
Note: For a slightly smaller dish of identical shape and with the overall turquoise glaze thinning to a mushroom color at the rim edges and splashed almost entirely across its surface with a rich purple glaze, see Margaret Medley, The Chinese Potter, Oxford, 1976, p. 129, pl. III. For yet another slightly smaller dish that bears comparison, see J.J. Lally & Co., Oriental Art, Chinese Ceramics A.D. 400-1400, Selections from an American Collection, March, 2007, no. 7, formerly in the Lord Cunliffe and then T. Y. Chao Collections.

Another, close in size, and also with purple splashes in the Palace Museum, Beijing is illustrated in Gugong Bowuyuan Cang Wenwu Zhenpin Quanji, Liang Song Ciqi I, Vol. 32 (The Complete Collection of Treasures of the Palace Museum, Beijing, Vol. 32, Porcelain of the Song Dynasty (I), Hong Kong, 1996, pl. 230, p. 254.

See also the splashed junyao dish of this type from the Eumorfopoulos Collection, now in the Victoria and Albert Museum, illustrated by Rose Kerr, Song Dynasty Ceramics, London, 2004, pl. 26 right. Another similar dish in the National Palace Museum, Taipei, is illustrated in A Panorama of Ceramics in the Collection of the National Palace Museum: Chun Ware, Taipei, 1999, pp. 148-149, no. 56.
Bonhams. Chinese Ceramics, Works of Art and Paintings, New York, 20 Sep 2021