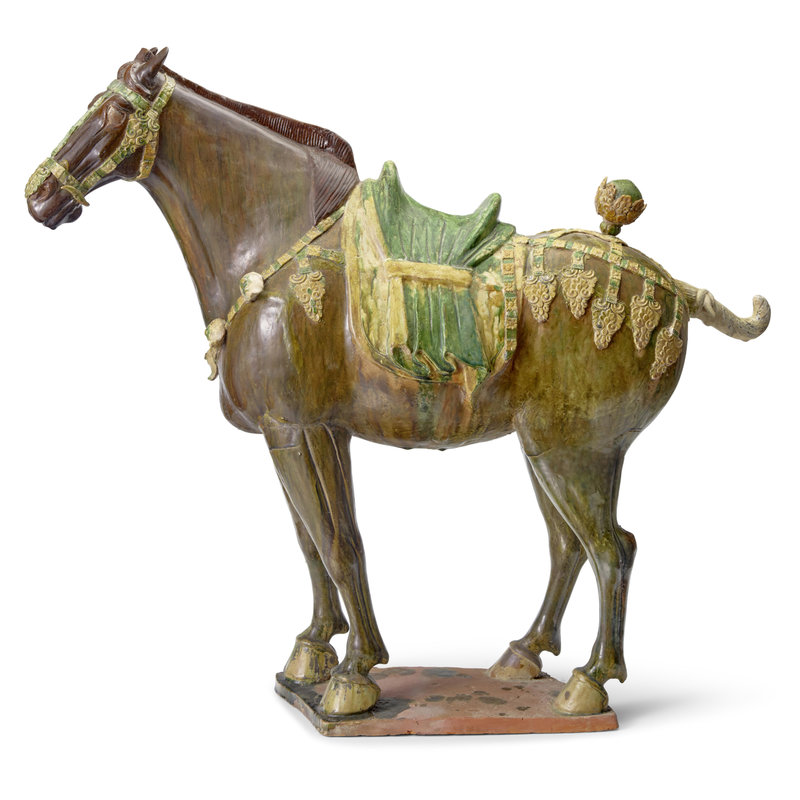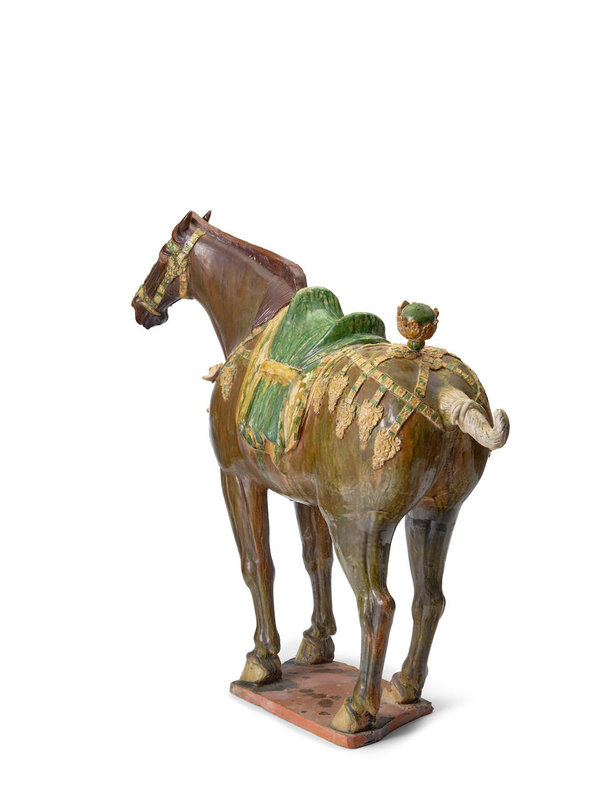 Lot 162. A Massive Caparisoned Sancai-Glazed Ferghana Horse, Tang Dynasty (618-907); 28 1/2in (72.2cm) high; 31 3/4in (80.7cm) long. Estimate US$ 20,000 - 30,000 (€ 17,000 - 26,000). Sold for US$ 31,562 (€ 26,889). © Bonhams 2001-2021
Standing foursquare on a rectangular base, with head turned very slightly to its left, with hogged mane and tail, its powerful chestnut body adorned with exceedingly well-modeled apricot-leaf trappings over the hind quarters, saddle and around the lower neck and head, a removable saddle 'pommel' to the center of the upper hind area behind the saddle, all under vivid glazes of green, yellow, beige and a mottled brown.
Note: A near-identically caparisoned horse of the same size and posture is exhibited at the Museum Of Fine Arts Boston, accession number 46.478 formerly in the Mrs. John Gardner Coolidge Collection, see www.mfa.org/ collections/object/horse-19383. The major difference between the two is the ground color, blue in the MFA example, and the more usual tri-colored glaze of ours. The hangings attached to the strapwork around the body and head might have been cast from the same mold, so similar are they. The same applies to the shape of the saddle and saddle cloth. The other obvious differences are the plain under-saddle cloth and the wavy mane.

Sancai horses of this rare type are distinguished by their foliate-based 'metal' trappings. The elaborate trappings characteristically show the influence of Sassanian art on that of 8th century China. The complex, jewel-like decorations applied to the harness of this horse are mirrored in other Chinese decorative arts of the period. The present foliate plaques are known as 'hazel leaf' or 'apricot leaf.' For actual examples of similar gilt-bronze ornaments unearthed from the tomb of Princess Yongtai, buried in 706, see Y. Mino and J. Robinsion, Beauty and Tranquility: The Eli Lilly Collection of Chinese Art, Indianapolis Museum of Art, 1983, pl. 61, fig. E.

The most magnificent horses, immortalized in Chinese literature and the visual arts, were the Ferghana horses introduced into central China from the West during the Han dynasty (206 BC-AD 220). This beautifully modeled horse captures the spirit and power of this celebrated animal.

The results of Oxford Thermoluminescence test, no. C119a8 (from three areas: the hind quarters, the belly and the head) are consistent with a Tang dynasty dating.
Bonhams. Chinese Ceramics, Works of Art and Paintings, New York, 20 Sep 2021