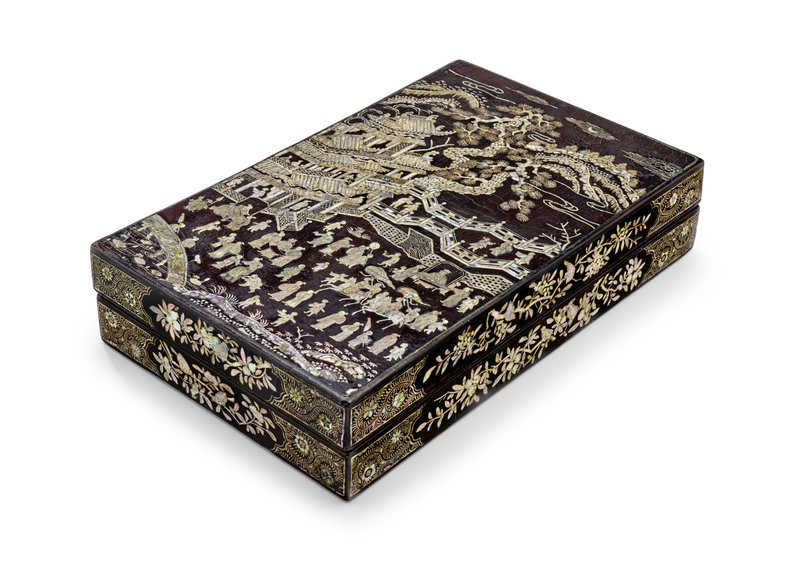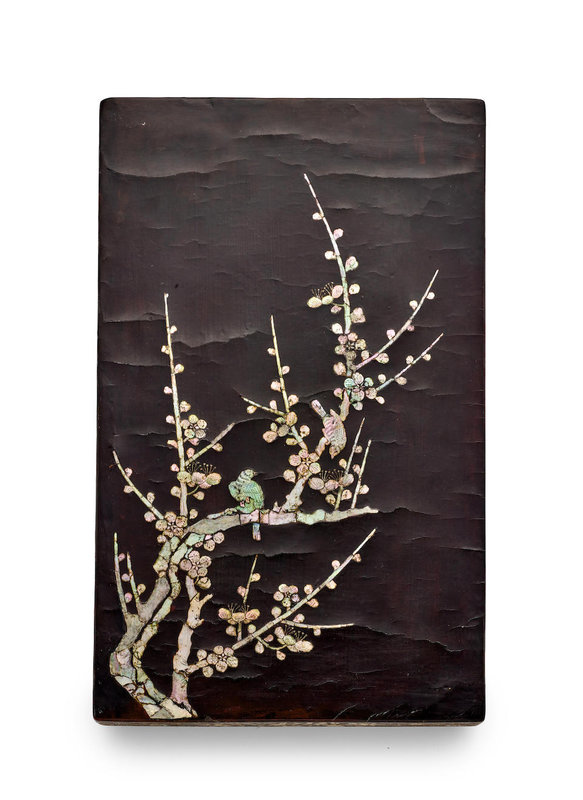 Lot 193. A rare two-sided Mother-of-Pearl-Inlaid Black Lacquer 'Palace under moonlight' Rectangular Box and Cover, Yuan-Early Ming dynasty, 14th-15th century; 16in (40.6cm) long; 9 7/8in (25.2cm) wide; 3 3/8in (8.6cm) deep, wood box. Estimate US$ 15,000 - 20,000 (€ 13,000 - 17,000). Unsold. © Bonhams 2001-2021
The two-part box and cover delicately decorated to the cover with an extensive palace scene with large storied buildings with balustrades, pathways and gardens dotted with many figures, set beneath a glorious pine tree with distant hills and clouds below a crescent moon, numerous figures people the foreground ranging from scholars at various pursuits, noble figures with attendants and figures on horseback sheltered by parasol-wielding servants, the sides of the box and cover decorated with wide ogival panels with birds amidst fruiting branches on a dense fern-like scrolling ground with stylized flower heads, the base inlaid with two birds standing on the branches of a blossoming prunus.
Note: See the catalogue, East Asian Lacquer, Bukchon Art Museum, Seoul, South Korea, 2008, pp. 98-109, no's 1-45 to 1-53 for a range of 14th to 16th century mother-of-pearl-inlaid lacquers with similar depictions. No. 1-53, an ink stone box, has very similar side borders and a large prunus spray inlaid to the underside. For a Yuan dynasty hanging screen with similar equestrian figures sheltered by canopy bearing attendants set in a garden with balustrades before a palace and pines, see L. K. Tsi and H. S. Chang, Dragon and Phoenix, Chinese Lacquer Ware, The Lee Family Collection, Tokyo, The Museum of East Asian Art, Cologne , 1990, pp. 206-207, No. 90.

For an early Ming tray dated to the 14/15th century with another garden setting, see Julia M. White, Masterpieces of Chinese Lacquer from the Mike Healy Collection, Honolulu Academy of Arts, 2002, pp. 38-39, No. 8.

For an octagonal tray, inlaid at its center with a similar prunus spray (plum blossom) and attributed to the Yuan to early Ming period, see James C. Y. Watt and Barbara Brennan Ford, East Asian Lacquer, The Florence and Herbert Irving Collection, Metropolitan Museum of Art, New York, 1991, pp.126-127, no. 55 and also a nine-sided dish with very similar borders to those on the sides of our box and cover, ibid, pp.124-125, No. 54.
Bonhams. Chinese Ceramics, Works of Art and Paintings, New York, 20 Sep 2021