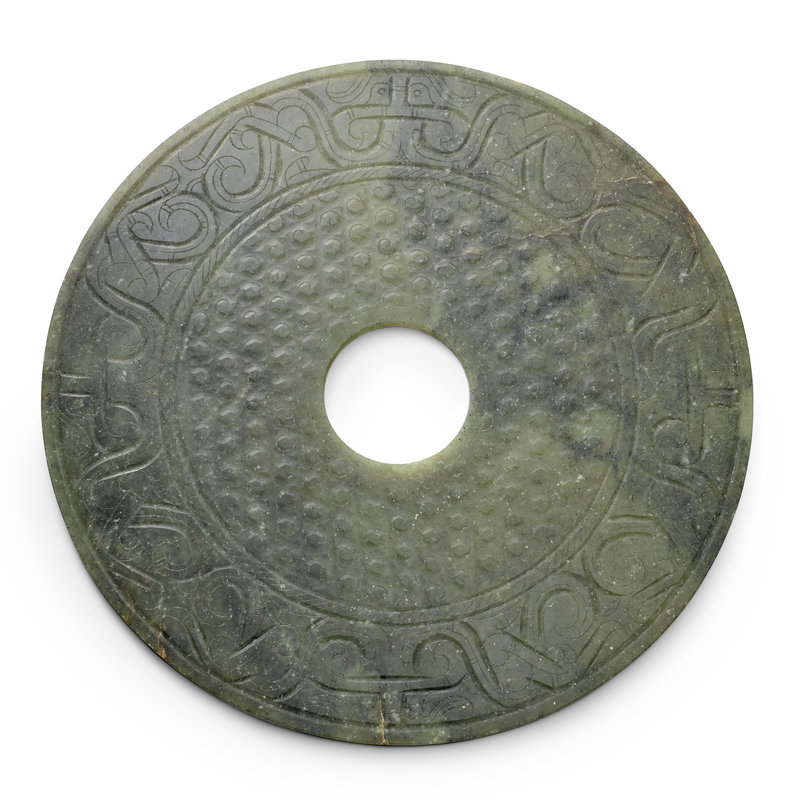 Lot 145. An elegant semi-translucent olive-green nephrite jade Disc, bi, Western Han dynasty (202 BC–9 AD); 9 1/8in (23.1cm) diameter. Estimate US$ 15,000 - 20,000 (€ 13,000 - 17,000). Sold for US$ 15,300 (€ 13,064). © Bonhams 2001-2021
Finely carved on both sides with an inner band of facetted bosses in a network of regular narrow grooves under a wide band of four taotie masks with long horns and and interlocking snake-like bodies, the two friezes separated by a narrow twisted rope band repeated next to the small central aperture, the stone a mottled dark green color.
Property from the Estate of Robert P. Youngman.
Note: For a near identical engraved green jade disc, bi, see J. J Lally & Co. Oriental Art, Archaic Chinese Bronzes, Jades and Works of Art, New York, 1994, no. 42. The Lally example is just slightly smaller than ours. The catalogue entry notes that such discs as these have been excavated from the famous royal Han tombs of Prince Liu Sheng and his consort Dou Wan at Mancheng, Hebei province, dated to the second century BCE. A comparison is drawn with two jade bi with similar engraved taotie design around the outer edge and similar working of the spirals illustrated in Mancheng Han mu fajue baoao (Report on the excavation of the Han tombs at Mancheng), Vol. II, pl. 96 and 209.

Other bi discs of this type are illustrated by Max Loehr and Louisa G. Fitzgerald Huber, Ancient Chinese Jades from the Grenville L. Winthrop Collection in the Fogg Art Museum, Harvard University, 1975, no's. 533 and 534; and Rene-Yvon Lefebvre, Chinese Jades in the Avery Brundage Collection, San Francisco, 1970, pl. XXI.

See a comparable disc sold at Christie's New York, 16 March, 2007, lot 1063, and another pale green jade disc published by J.J. Lally & Co., New York, Ancient Chinese Jade, March 2018, no. 131.
Bonhams. Chinese Ceramics, Works of Art and Paintings, New York, 20 Sep 2021