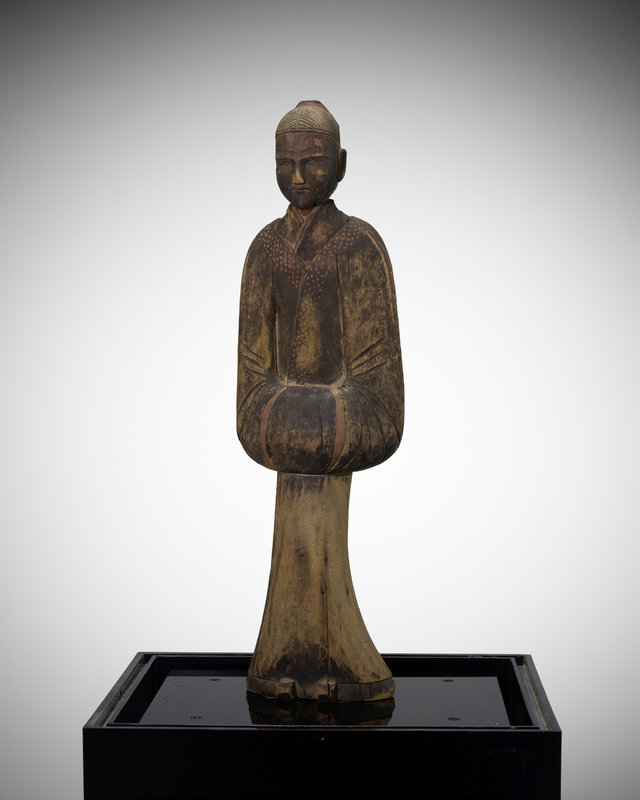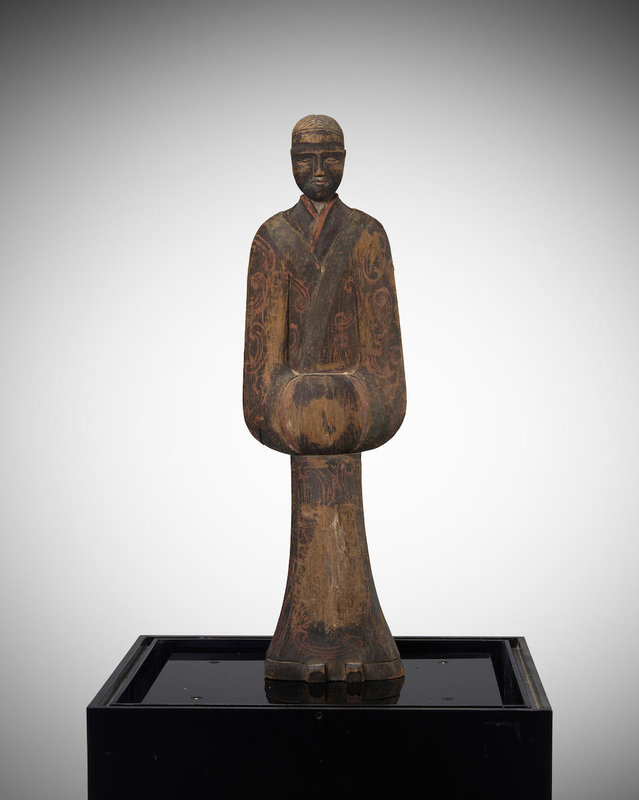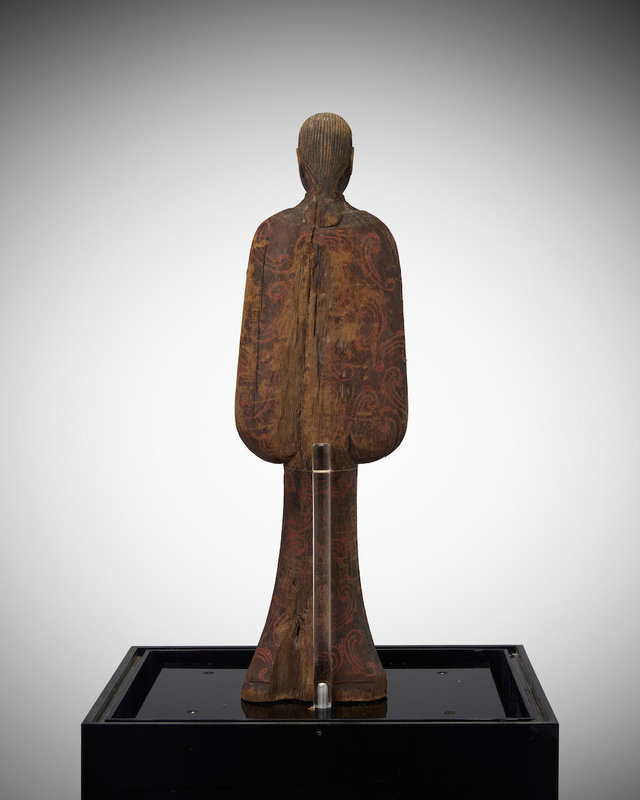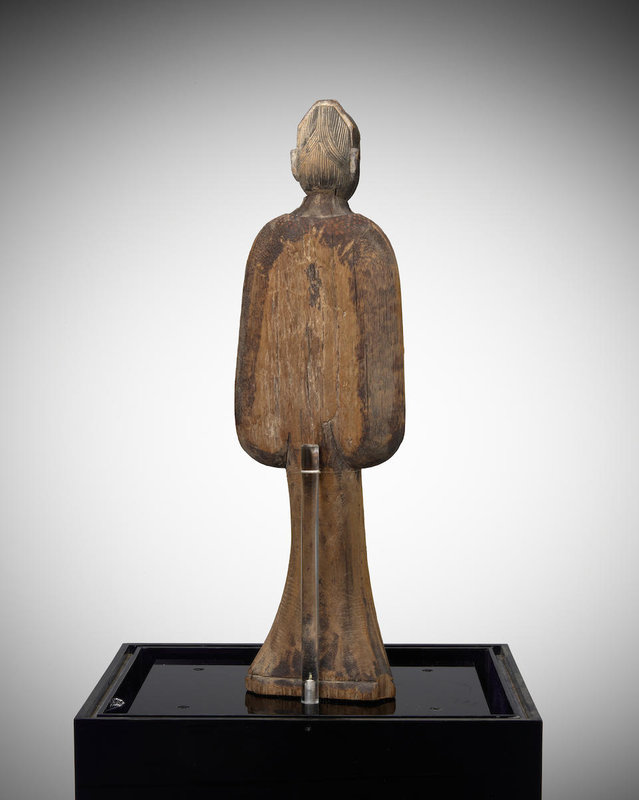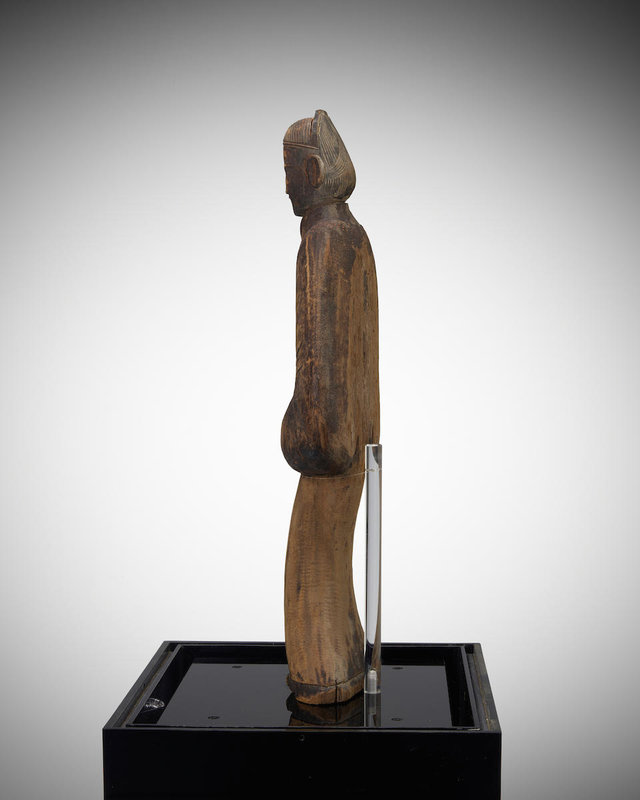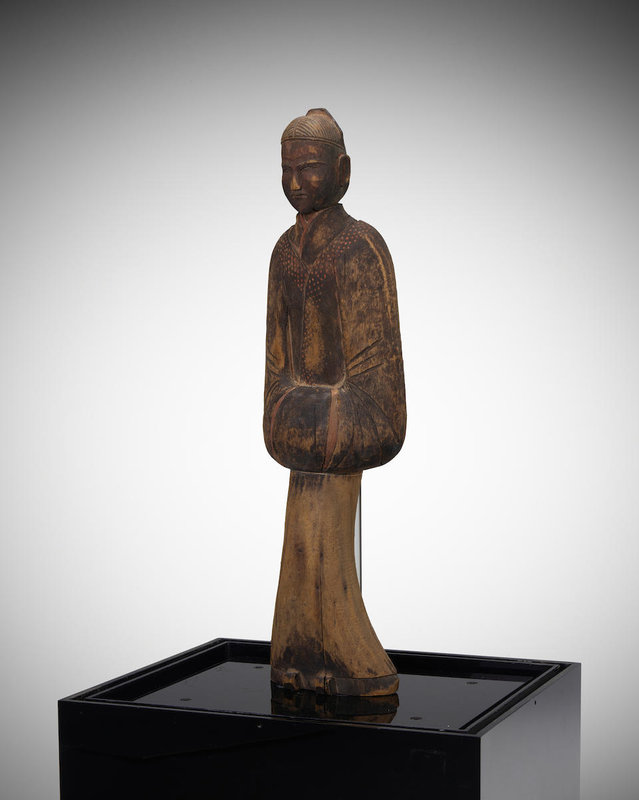 Lot 146. A Rare Pair of Chinese painted wood Figures, Warring States-Western Han Period; 16 3/4in (42.6cm) and 17 1/2in (44.4cm) high. Estimate US$ 15,000 - 20,000 (€ 13,000 - 17,000). Sold for US$ 14,025 (€ 11,975). © Bonhams 2001-2021
Each carved slender figure standing in high-collared robes over inner garments, gently falling over sloping shoulders into heavily gathered sleeves over clasped hands to the front and flaring over narrow legs exposing small shoes, the garments painted overall in black, carmine and white pigments with stylized scrolls and geometric patterns, each knife-cut almond shaped head carved with strong features, one with parted hair brought up and secured by a tie, the other rendered with hair trailing down the back of the robe, the carved details realistically rendered.
Property from the Collection of Louise Taper.
Provenance: Sotheby's New York, Chinese Ceramics and Works of Art, 1-2 June 1992, lot 446.
Note: The earliest recorded secular wood figures have been excavated in the Changsha area in 1936 in a site linked to the state of Chu. Wood figures appear to be replacements for earlier customs of sacrificing servants to serve the deceased in the afterlife. See J.J. Lally & Co. Two Thousand Years of Chinese Sculpture, March 17 to 29, 2008, no. 2, for an example of this type. In his extensive footnote, he notes similar earlier examples in the Princeton Art Museum in Liu, Nylan, and Barbieri-Low, Recarving China's Past New Haven, 2005, pp. 238-241, and Maxwell Hearn and Wen Fong, The Secularization of Art: The State of Ch'u The Metropolitan Museum of Art Museum Bulletin, No. 2, 1973/74, no. 37.

See also an extraordinary pair identified as Shaman or attendants, Warring States Period, 4th/3rd Century BCE, Chu culture, currently on display at the Portland Art Museum, promised gift of Arlene and Harold Schnitzer.
Bonhams. Chinese Ceramics, Works of Art and Paintings, New York, 20 Sep 2021