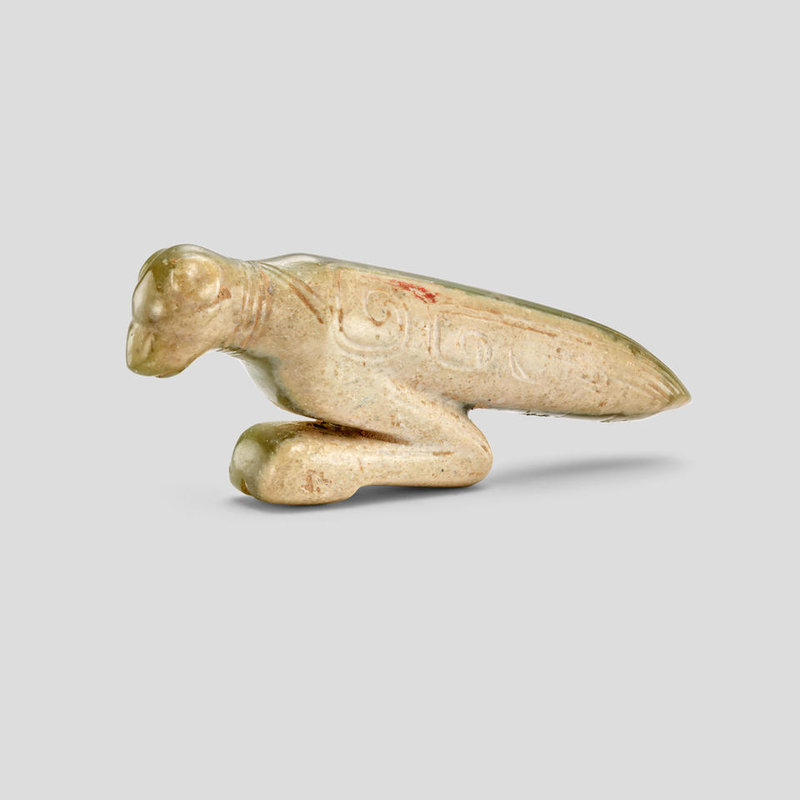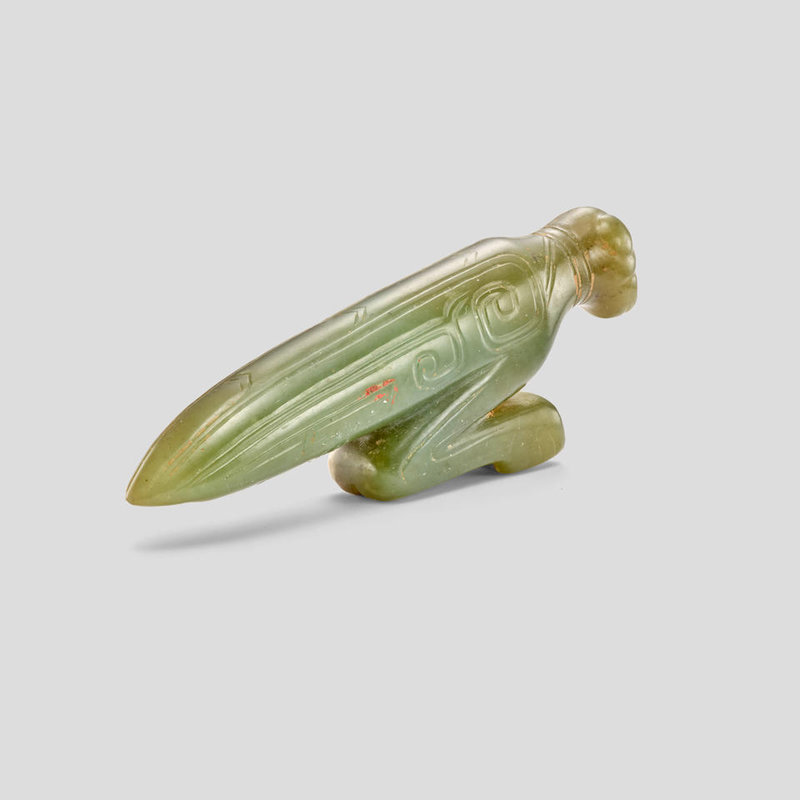 Lot 137. An olive-Green and calcified Jade Praying Mantis pendant, Shang dynasty or later; 2 7/8in (7cm) long. Estimate US$ 15,000 - 20,000 (€ 13,000 - 17,000). Sold for US$ 15,300 (€ 13,064). © Bonhams 2001-2021
The stylized mantis shown with conical body neatly delineated with ridged scrolls forming the wings and simple channels to highlight the two large forelegs, a short neck and simply formed head with large relief eyes, one side almost entirely calcified, pierced through the forelegs for suspension, traces of red pigment.
Property from the Estate of Robert P. Youngman.
Literature: Robert P. Youngman, The Youngman Collection, Chinese Jades, From Neolithic to Qing, Chicago, 2008, p. 48, no. 36
Note: For a similar carving of a praying mantis, see Yinxu fu Hao mu (The Tomb of Lady Hao at Yinxu in Anyang), 1980, reprint Beijing: Wenwu, 1984, p. 165, fig. 85, no. 7 (382), and pl. CXXXIX, no. 1 (382). As a result of burial, the deep olive-green stone has been calcified to an opaque beige on its left side. Some residue of powdered ochre remains on the surface of the stone, which has an overall soft medium polish.

Another insect of similar form but described as a grasshopper is illustrated by Liu Yang, Translucent World, Chinese Jade from the Forbidden City, Sydney, 2000, p.60, no. 14, where the author, citing the publication above, notes that the earliest known jade grasshopper pendant was excavated from the Fuhao tomb at Anyang in Henan (late 13th century BCE) and that jade grasshoppers from this period are normally about 6-8 cm. in length and carved out of a yellowish or greenish stone.

Bonhams. Chinese Ceramics, Works of Art and Paintings, New York, 20 Sep 2021