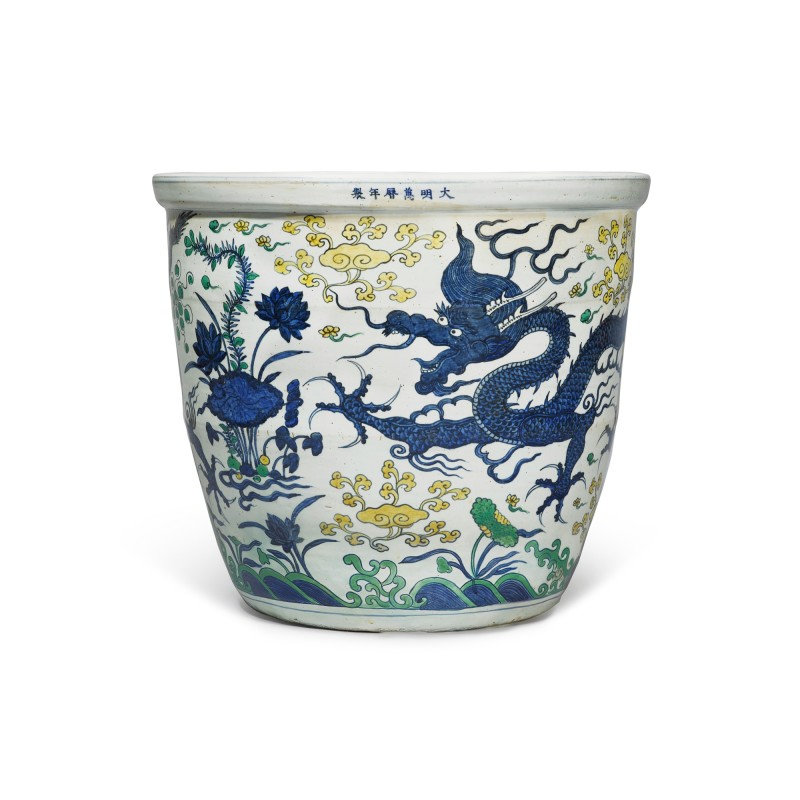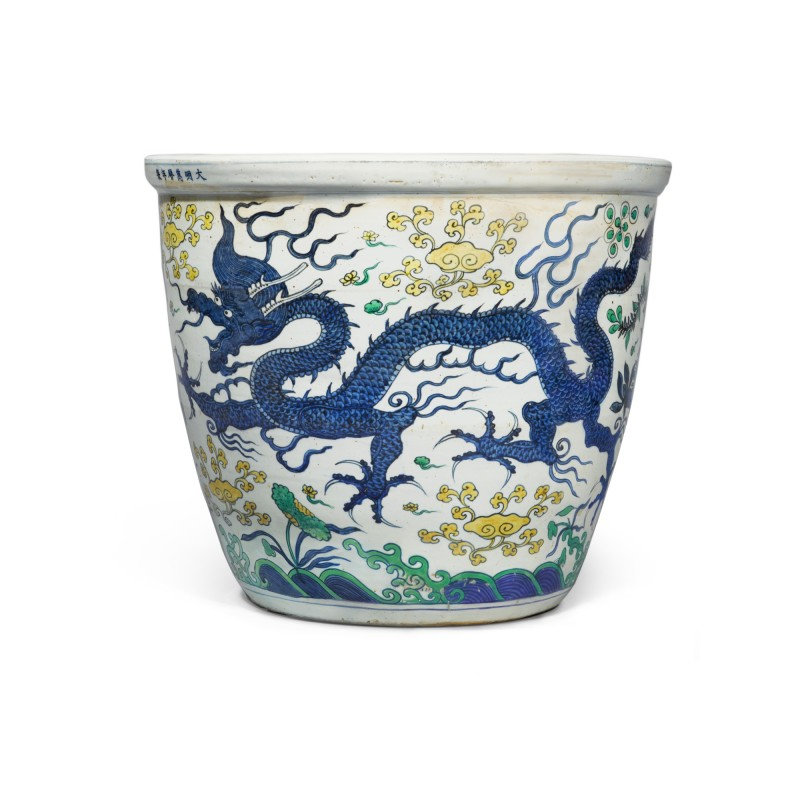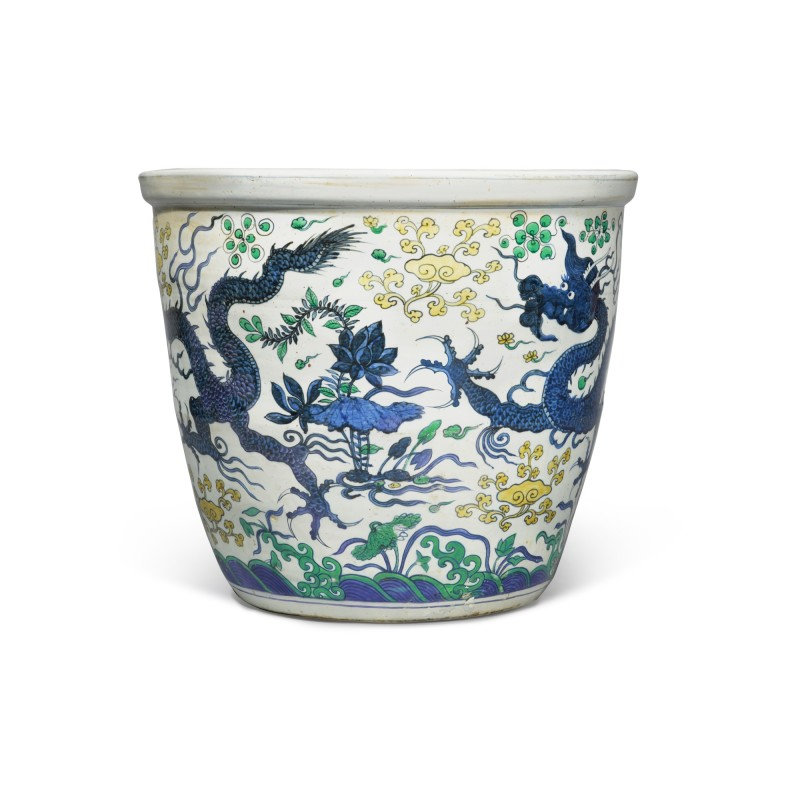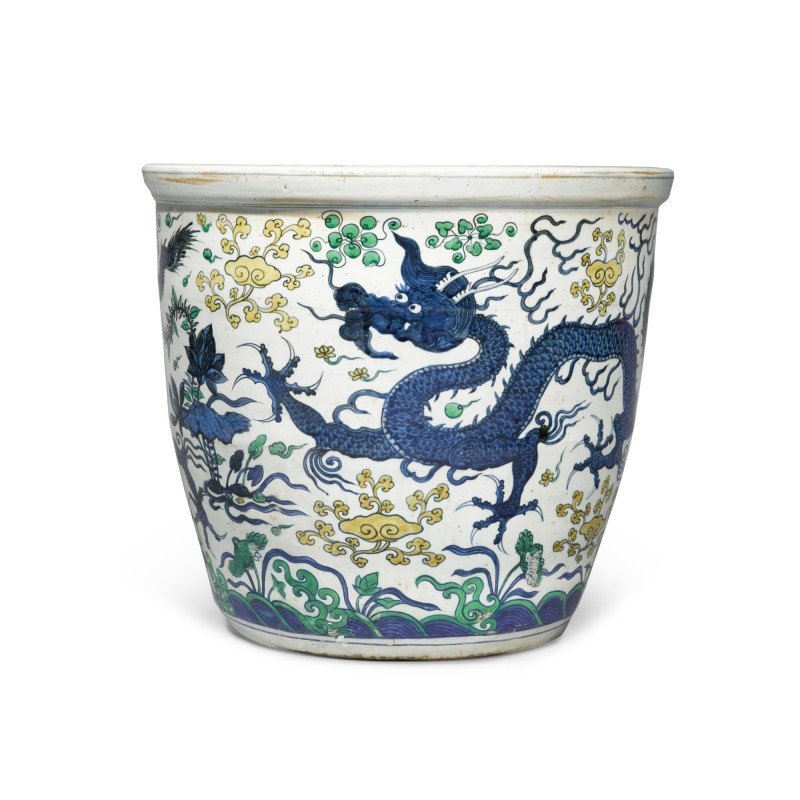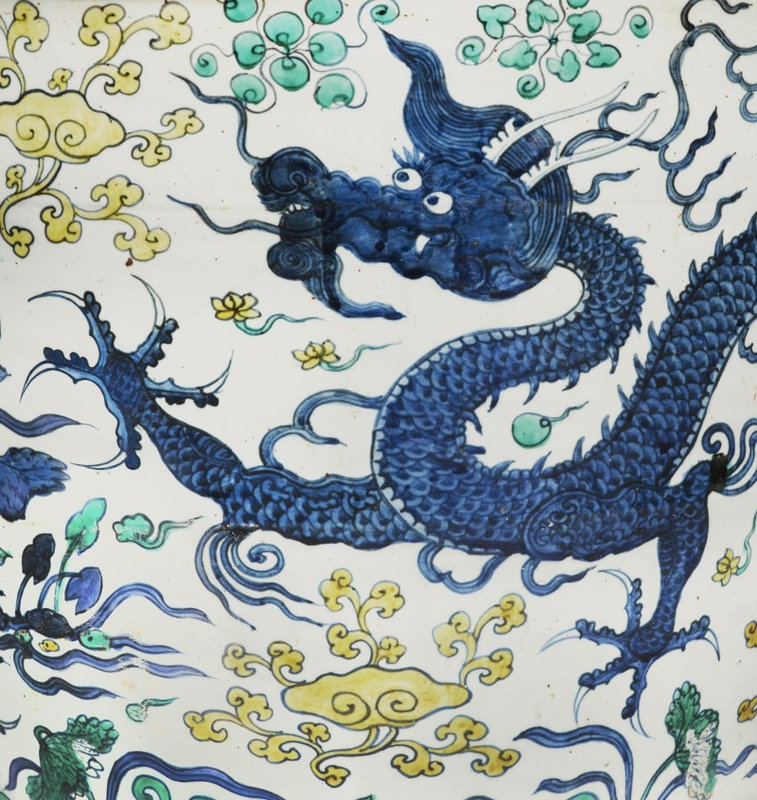 Lot 88. A large wucai 'dragon' jardinière, Mark and period of Wanli (1573-1620). Diameter 22⅜ in., 56.9 cm. Estimate: 60,000 - 80,000 USD. Lot sold: 113,400 USD. © Sotheby's 2021
the deep sides tapering slightly towards the base and rising to a galleried rim, boldly painted with two five-clawed dragons striding above a lotus pond, each with a serpentine scaly body emitting flame wisps, a spiky ridged spine, and sharp talons, the pond teeming with lingzhi, waterweeds, and lotus in green, yellow, or blue enamels, the rim inscribed with a six-character mark in a horizontal line in underglaze blue.
From the Collection of Bruce Dayton and Ruth Stricker Dayton.
Provenance: Christie's New York, 22nd March 1999, lot 288.
Exhibited: Two Hundred Years of Chinese Porcelain 1522-1722, S. Marchant & Son, London, 1998, cat. no. 1.
Note: Large polychrome-enameled basins of this scale, variously referred to as 'fish bowls' or 'jardinières', were produced at the Wanli imperial kilns typically with a dragon or aquatic motif, or in this case, a combination of the two. Here, the integration of the dragon imagery with that of the lotus pond and lingzhi, could be read as an auspicious wish for the emperor to enjoy longevity and harmony in his reign, and by extension for the empire to enjoy the same.
Other Wanli mark and period jardinières featuring five-clawed dragons prowling across a lotus pond where lingzhi grow include one illustrated in Meisterwerk aus China, Korea und Japan, Museum für Ositasiatische Kunst der Stadt Köln, Köln, 1995, pl. 44; one in the collection of the Porzellansammlung, Dresden, which was exhibited in Schätze Chinas in Museen der DDR: Kunsthandwerk und Kunst aus vier Jahrtausenden, Roemerund Pelizaeus-Museum, Hildesheim, 1990, cat. no. 140; one from the collection of Wong Kai Zur, exhibited in Shanghai in 1908, and illustrated in A. W. Bahr, Old Chinese Porcelain and Works of Art in China, London, 1911, pl. XXVIII; and one offered in our Hong Kong rooms, 28th April 1992, lot 59. A related Wanli mark and period jardinière featuring cobalt-blue dragons dashing over waves amidst a field of scrolling yellow lotus, from the Edward T. Chow Collection sold twice in our Hong Kong rooms: first on 19th May 1981, lot 438, and later on 30th October 2002, lot 244. Several examples with the same mark, form, and palette, but with the blue dragons roaming a field of scrolling yellow lingzhi, including one from the collection of Anthony du Boulay sold at Bonhams London, 10th November 2003, lot 126; one sold in our Hong Kong rooms, 23rd October 2005, lot 453; and one from the Percival David Foundation, now in the collection of the British Museum, London (acc. no. PDF.728).
Sotheby's. Important Chinese Art, New York, 21 September 2021