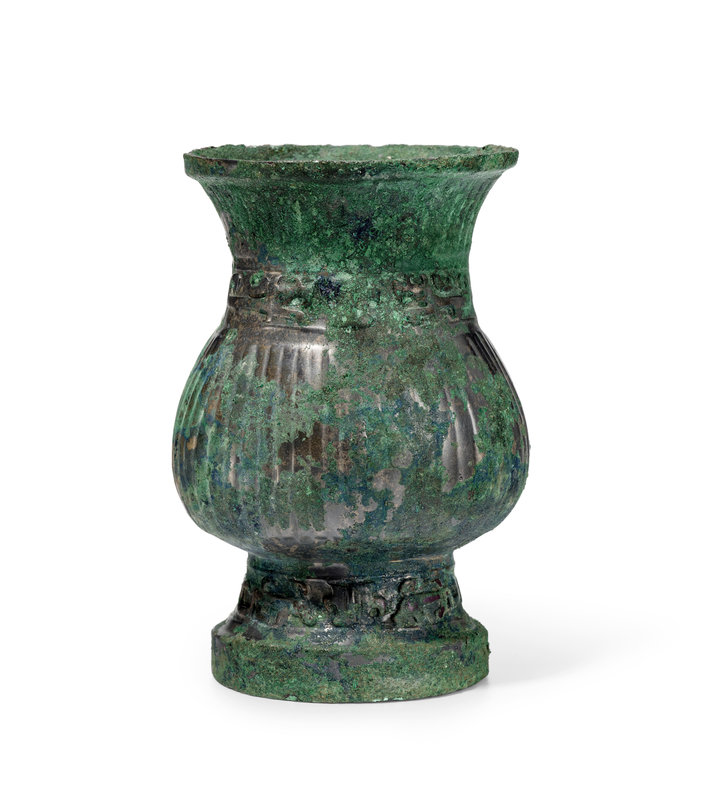 Lot 149. An archaic bronze vessel, zhi, Late Shang dynasty-Early Western Zhou period; 5in (12.7cm) high. Sold for US$ 12,112 (€ 10,342). © Bonhams 2001-2021
Raised on a pedestal foot encircled by a narrow band of taotie masks composed from kui dragons separated by vertical flanges and 'eyes', the band repeated on the waist separating the ribbed body and flared, ribbed neck, the silvery body of the vessel with extensive malachite encrustation.
Property from the Estate of Robert P. Youngman.
Provenance: J.J. Lally & Co., Ltd., New York, November 15, 2007.
Note: For two other examples of very similar profile, one plain and the other with relief taotie and mythical animal decoration, see Bernhard Karlgren and Jan Wirgin, Chinese Bronzes, The Natanael Wessen Collection, The Museum of Far Eastern Antiquities, Stockholm, 1969, pp. 64-69, no's. 12 and 13.
Bonhams. Chinese Ceramics, Works of Art and Paintings, New York, 20 Sep 2021