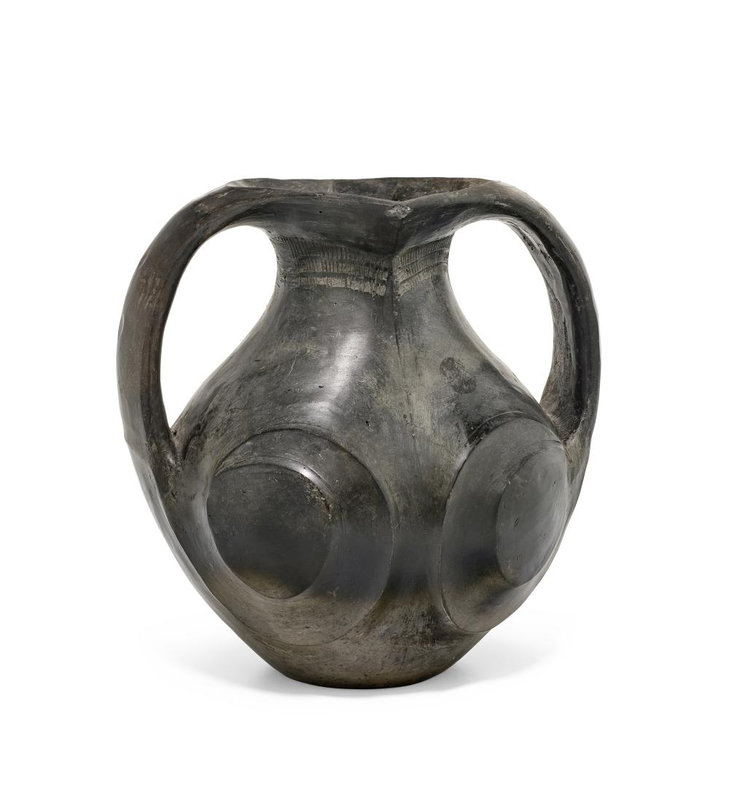 Lot 165. A black pottery two-handled amphora, Western Han Dynasty; 9 1/8in (23.2cm) high. Sold for US$ 4,080 (€ 3,475). © Bonhams 2001-2021
The low-set ovoid body carved with two whorl-shaped reserves on each side and divided by two broad strap handles attached from the mouth rim and the body, bands of geometric patterns carved into the neck.
Note: Many non-Han people lived in southwest China, even after the establishment of the Qin and Han dynasties. Unusually shaped amphorae, such as the present lot, may have been the product of the Qiang, a tribal people who probably came from the steppe but later also lived in the region of the Dian in southwest China. Vessels such as this with lozenge shaped mouths and twin flat handles have been discovered in the Lifan area in present day Sichuan and are thus sometimes known as Lifan ware. A similar vessel in the British Museum (acc no. 1932,0216.1) is illustrated by S. Vainker, Chinese Pottery and Porcelain: From Prehistory to the Present, London, 1991, p.43, fig.30.

For other slightly smaller examples, see Sotheby's, New York, 8 December 2011, lot 143, and also Bonhams, New York, 19 March 2018, lot 8034.
Bonhams. Chinese Ceramics, Works of Art and Paintings, New York, 20 Sep 2021